Center for the Advancement of Women in Communication
Center for the Advancement of Women in Communication
Center for the Advancement of Women in Communication at Rowan University
Welcome to the Center for the Advancement of Women in Communication at Rowan University!
As an affiliate of the Lillian Lodge Kopenhaver Center for the Advancement of Women in Communication at Florida International University, we work collaboratively across our campuses and throughout the country to promote gender equity and foster advancements for women working in all fields of communication, both in academia and in industry. We are committed to empowering women as leaders in communication and upholding diversity and inclusion initiatives in communication practice and research for all, regardless of gender identification. We provide access to renowned guest speakers, mentoring, networking events, and virtual workshops for the benefit of undergraduates, graduate students, early professionals, and seasoned communication experts alike.
We encourage you to explore our website and that of our sister organization, the LLK Center at FIU.
Together, we are listening to, and lifting up, women's voices.   
Dr. Julie Haynes
Director
Upcoming Events
The Changing Face of Communication: Where have we been and where are we going?
Join the Lillian Lodge Kopenhaver Center at FIU in partnership with Rowan University on Monday, November 15 for a virtual workshop with Executive Director and Newsroom Leader at EdSource, Anne Vasquez. This event is free and open to the public.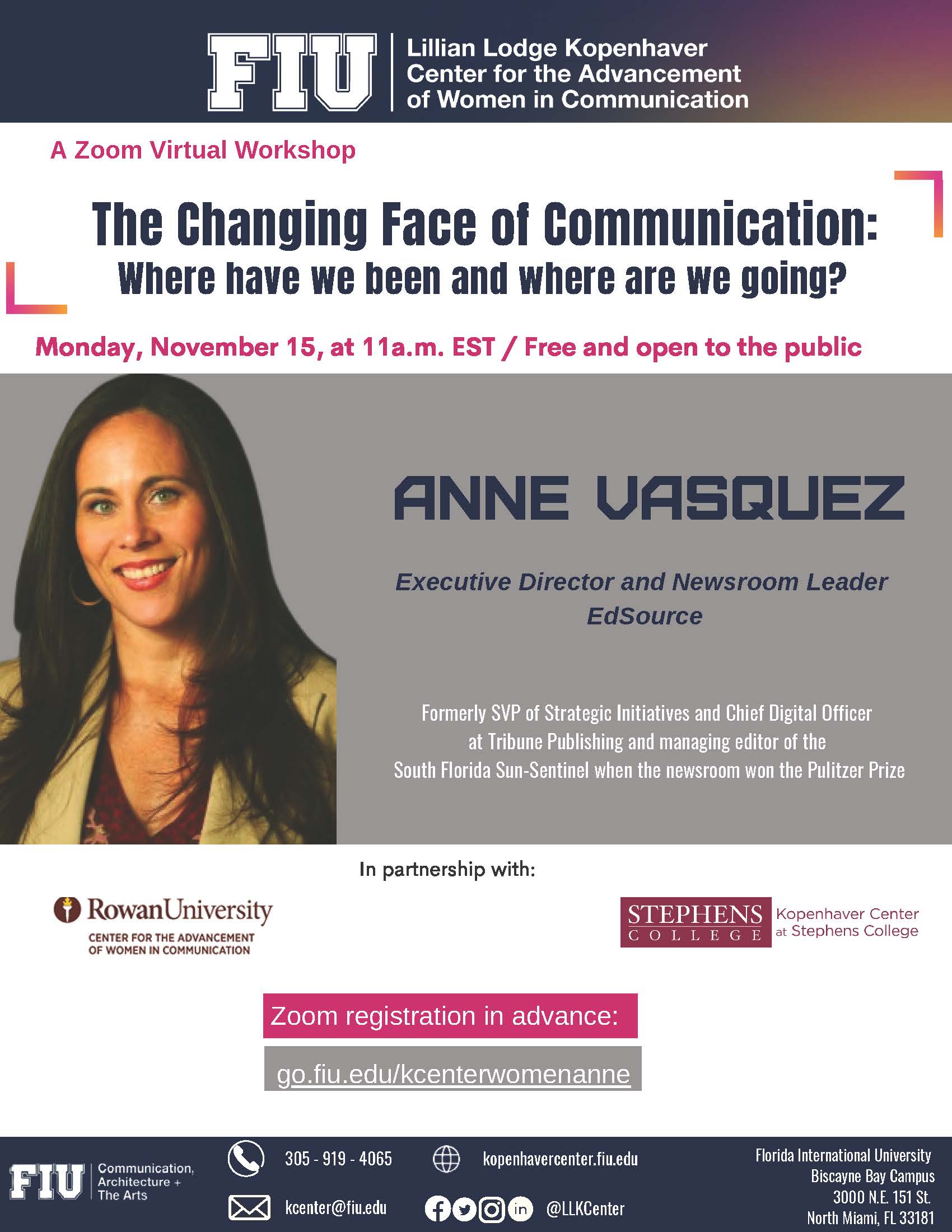 Contact Us
Center for Advancement of Women in Communication at Rowan
260 Victoria Street
Phone:(856) 256-4621
Email: haynes@rowan.edu
Dr. Julie Haynes, Director 

Ric Edelman College of Communication & Creative Arts
6 East High Street
Phone:(856) 256-4340
Email: CCCA@rowan.edu