Center for Sports Communication & Social Impact
Center for Sports Communication & Social Impact
Center for Sports Communication & Social Impact
Welcome to the Center for Sports Communication and Social Impact!
We work with students studying in our 
Sports Communication and Media
 (Sports CaM) program to enhance their academic growth. We provide access to mentoring, renowned guest speakers, networking events, work opportunities and student clubs. 
Our core mission is to advance the success of Sports CaM majors. If you want to prepare for a career on the forefront of sports and find ways to impact others in society, we would love to hear from you.  
Neil HartmanDirector
The Center for Sports Communication & Social Impact welcomes Ruben Amaro, Jr. and Mike Quick to Rowan University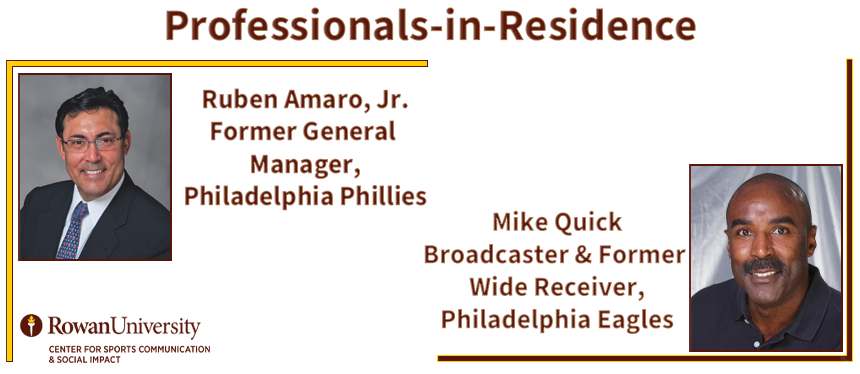 One of the all-time greats for the Philadelphia Eagles, Mike Quick and veteran baseball front office executive, Ruben Amaro, Jr., have joined the Edelman College of Communication & Creative Arts as guest lecturers. Both Quick and Amaro will offer their insights for two Sports Communication and Media courses: Inside the Front Office and History of Sport in Philadelphia.
Quick was a five-time Pro Bowler during his nine seasons as a wide receiver with the Eagles. He has been the radio color analyst for the the team since 1998. Amaro has more than 40 years of baseball experience from bat boy to major league player to general manager and now an analyst for NBC Sports Philadelphia and MLB Network.
An Evening with Brian Dawkins
Speaker Series with Charles Barkley