Scholarships & Awards
Scholarships & Awards
Get recognized for your work with awards and scholarships!
Each year, our department recognizes students through awards and scholarship opportunities. Students may apply for these departmental opportunities in addition to the ones offered from the University and College. Learn more about each opportunity and apply today!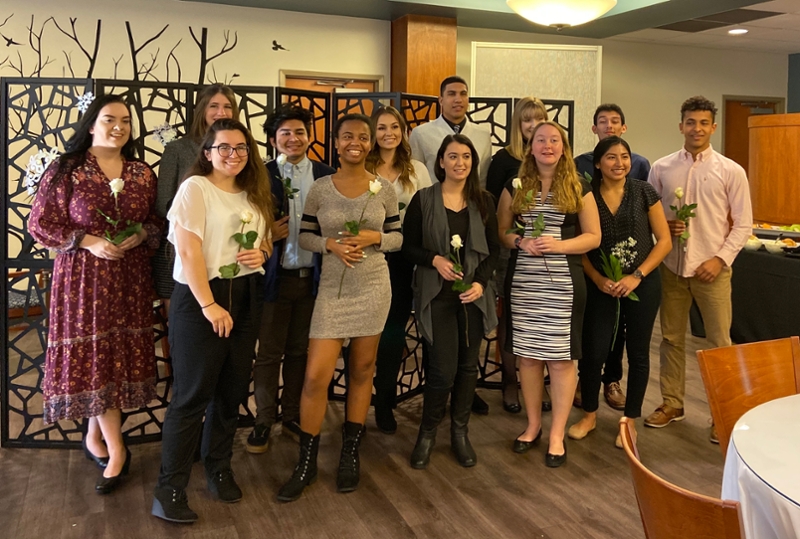 Student leaders are recognized at our annual Induction Brunch in December. 
Scholarship Opportunities
Each year, our department awards over $20,000 in scholarship funds to eligable students. Scholarships recognize student academic performance, financial need, and/or leadership. 
Students may also want to apply for industry scholarships, such as those awarded from the Public Relations Student Soceity of America and Philly Ad Club. Our students regularly win these regional and national scholarships and your professors are happy to help you apply. 
What department scholarships are available?
Department scholarships are awarded in $500-$2,000 increments each spring. 
Laura Bishop Communications Scholarship: Recognizes the academic achievements of a public relations junior with a 3.0 GPA
Colette Bleistine Paying it Forward Scholarship: Funded by the Colette W. Bleistine Paying it Forward Foundation, this scholarship honors the memory of Colette Bleistine.
Colette Bleistine Memorial Scholarship: This scholarship honors the memory of Colette Bleistine, an AJF-PRSSA member, who lost a lifelong battle with cystic fibrosis in 2012. She dedicated her life to building awareness and raising money to support cystic fibrosis research. This scholarship goes to a student who conducts extensive community service and shows leadership in PRSSA.
PR for Good Scholarship: The eligible Public Relations upper-class student possesses a 3.0 GPA. Recipient must hold a leadership position within community service activities and demonstrate a commitment to incorporating social responsibility into public relations strategies. Must be actively involved with the Rowan PRSSA Chapter.
Chris and Melissa Lukach Endowed Scholarship: Scholarship provides support to a public relations major who is currently involved in PRSSA and/or PRaction.
Craig Monroe Scholarship: Scholarship honors the memory of former Dean of the College of Communication, Craig Monroe. Awarded to an advertising junior with a 3.0 GPA and active participating member of ProfAgency.
Bagin Educational Foundation Memorial Scholarship: These awards are given by the Bagin Educational Foundation to honor graduate students with superior academics as well as those who add professionalism to the field of strategic communication.
NSPRA Scholarship: Recognizes a student who is pursuing graduate study in School Public Relations at Rowan University, leading to a School Public Relations Graduate Certificate or a degree in Public Relations with a School Public Relations concentration. The applicant should understand and be able to express the importance of communication and public relations in a Public School setting.
Bagin Educational Awards: Selected students must be graduating in May or have graduated this past summer or past December. The student must demonstrate scholarship, have significant work or internship experience, a superior academic GPA and must have potential for substantial contribution to the field of PR.
How do I apply for a department scholarship?
All students are automatically considered for scholarship opportunities in the department at the end of their junior year. Faculty nominate students and a faculty committee selects winners who are recognized at the end of year college showcase and spring gala. Interested students are encouraged to meet with professors to discuss their nomination. 
Questions about scholarships? Email Department Chair Dr. Suzanne FitzGerald. 
How can I apply for scholarships outside the department?
Rowan University offers enrolled and prospective students millions of dollars in scholarships each year. Many scholarships are awarded at the time of program acceptance, while others are available throughout the year and later in your studies. 
Awards and Recognitions
Annually, students are recognized for their hard work through department awards. These include the Tony & Charlie Awards, Gold Medallions, and nominations for national recognitions.
What are the Tony and Charlie Awards?
Tony and Charlie Awards recognize students who participate in any of the department student groups. Tony Awards are named after former Rowan PRSSA adviser, Anthony (Tony) J. Fulginiti, and are awarded to PRSSA and PRaction members who go above and beyond to develop programing and opportunities for group members.
Charlie Awards are named after Charlie Volpe, who founded Rowan's Ad Club. These awards recognize students who lead Ad Club and ProfAgency. 
How do I apply for a Tony or Charlie Award?
No application necessary! All eligable students are considered and nominated by student group advisers. Students are notified of their award before the annual Spring Gala in May.
What is a Gold Medallion Award?
Awarded to our top senior and graduating students, Medallions recognize students who excel in the academic and professional development skills taught in our department. Recipients are recognized at our annual college showcase and department spring gala.
Gold Medallions recognize excellence in an area of study within public relations and advertising and are awarded to superior students who exhibit dedication to the field, attention to detail, and leadership within the department. Each award recognizes:
Basso-FitzGerald Medallion for Excellence in Strategic Communication
• Great promise as a strategic communication counselor
• Superior academic GPA (3.60 and above in major courses)
• Outstanding University Service
• Outstanding Community Service

Anthony J. Fulginiti Gold Medallion for Excellence in Public Relations
• Superior academic GPA (3.60 and above in major courses)
• Outstanding University Service
• Outstanding Community Service
• Distinguished internship or service project
• Leadership role in PRSSA

Anne. S. Klein Gold Medallion for Professional Public Relations
• Superior academic GPA (3.60 and above in major courses)
• Leadership position in PRSSA
• Leadership position in PRaction
• Significant internships
• Outstanding University Service
• Outstanding Community Service

Hal Vogel Medallion for Excellence in Advertising
• Superior academic GPA (3.0 and above in major courses)
• Leadership qualities in related advertising organizations (Ad Club, Ad Dynamics, ECHO Direct Marketing Challenge, or AAF)
• Outstanding University Service
• Outstanding Community Service
• Strong representation with outside professionals, such as an internship
Donald Bagin Graduate Public Relations Medallion
• Superior academic performance in graduate classes
• Outstanding University Service
• Outstanding Community Service
• Strong representation with outside professionals, such as an internship
How do I apply for a Gold Medallion?
The department will email an application form to all eligible students at the beginning of the spring semester. Submissions are reviewed by the senior capstone faculty who select one winner for each medallion. Recipients are notified in their classes. 
To apply for a 2022 Medallion, complete this form by February 16, 2022.