Internships
Internships
Get a great education and real-world experience with an internship!
Our students intern with some of the biggest and most innovative companies in the area including Subaru, NFL Films, and New York Fashion Week. Many internships are paid and offer students the opportunity to build their portfolios with examples of real work.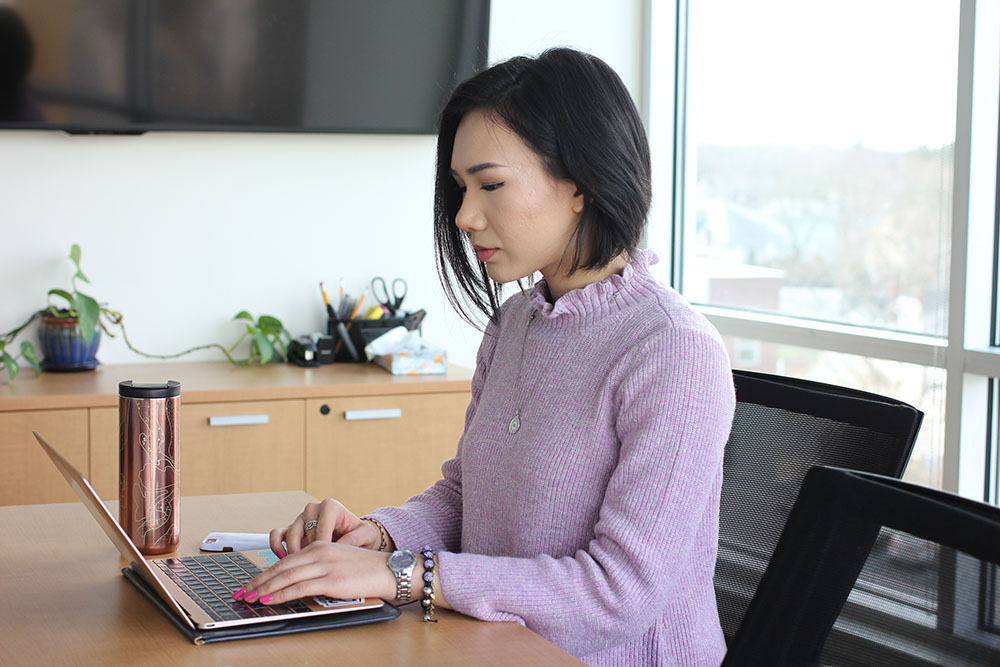 Brittany Eng's recent internship with AKCG Public Relations Counselors turned into a full time job after graduation. 
Learn more about our award-winning internships!
How does internship advising work?

Internship Coordinator Asi Nia-Schoenstein can meet with any PR or Advertising student who is considering an internship. She manages a department database with hundreds of opportunities and connects students with potential employers.

Once an internship is accepted, students who choose to receive credit are assigned a professor who will help them complete the necessary enrollment paperwork. The professor will provide guidance and advice through feedback on weekly logs and can intervene should problems arise between student and employer.
Where do our students intern?

Our students have interned all over the country. Below is just a small sample of recent internships:

NFL Alumni Association
Warner Brothers Discover NYC
Subaru of South Jersey
Spencer and Spirit
Anne Klein Communications Group
Disney 6abc Marketing
Hard Rock Hotel
Philadelphia 76ers
Thomas/Boyd Communications
Office of Cory Booker, United States Senate
Smith Publicity
Stern Strategy Group
SiriusXM Radio
Are internships required?

Starting Fall 2024, Intership is required.
How do I use the PR & Advertising internship database and apply?

Students should contact Ms. Brucker to check if they are academically eligible.  

After approval, studentc can contact Professor Nia-Schoenstein to obain a comprehensive internship database. 
Can I complete a virtual internship?

Yes! Virtual internships are a great option for students and employers. Our students have participated in many virtual internships including Sony, Politico, and the NFL Alumni Association. Curious how virtual internships work? Check out our virtual internship workshop to learn more:
What are the pre-requisites for earning internship credit?

Students should complete the basic sequence in their major before attempting to take an internship class.

Advertising majors: Introduction to Advertising, Introduction to Public Relations, Introduction to PR/Advertising Research, Advertising Copywriting, and Account Planning
Public Relations majors: Introduction to Advertising, Introduction to Public Relations, Introduction to PR/Advertising Research, Basic PR Writing, Advanced PR Writing
What are the requirements for PR & Advertising internship credit?

Advertising Majors

Advertising Copywriting & Account planning

Minimum of GPA 2.5

 

PR majors

Basic PR Writing & Advanced PR Writing

Minimum of GPA 2.5

 

If taken for credit, internships require a workload of 120 hours for 3-credit courses, and 240 hours for 6-credit courses. Internships taken for credit require completing both on-site work with the employer, and academic work with the instructor who is supervising all internship students for that semester.

As with all other classes, processing of student enrollment in internship credits should happen at the beginning of the semester for which credits will be claimed. Retroactive requests cannot be granteed, even if the student can prove completion of all workload at one of the employers in the internship database. Please talk to an academic advisor as you are planning your internship, to ensure you are completing all approval processes in due time.
How can I submit a position to the internship database?
Are internships paid?

Your decision. Many of our employers choose to recognize the value added by our interns by providing a stipend to cover various expenses associated with the student's travel and living expenses. Others pay an hourly rate and others pay per project or activity. 

Paid internship programs, or regular job listings can also be forwarded to students who meet your selection criteria. Please contact the program advisor, Professor Nia-Schoenstein for details. 
What is the typical workload of an internship?

For non-credit internships: students and employers develop their own working schedule and set of responsibilities. We recommend that this is carefully recorded down before the start of the internship. 

For credit-bearing internships: employers decide how to configure the position.

Credit-bearing internships require processing and approval before the beginning of the semester in which credits will be awarded for the internship experience. Ensure you have completed all required paperwork, to avoid unnecessary aggravation. 
Typical workload includes about 120 hours for 3-credit internships; and 240 hours for 6-credit internships. These credits are counted toward the student's enrollment (load, tuition, and any applicable university fees).
Credit-bearing internships are subject to department policies. Students are required to file work logs, samples of work completed for the employers, and participate in meetings and activities with the faculty who supervise all student interns. Internship grades count toward the student's GPA. 
Employers supervising credit-bearing internship must file periodic evaluations (typically, midway and at the end of the internship) with the internship program faculty supervisor. 
Who should I contact with questions about internships?

Our Professional Advisor, Ms. Brucker will help students with academic eligibility and Prof. Nia-Schoenstein will share the Internship database after approval. 

Our Department Chair, Dr. Basso can assist students with enrolling in internship classes and getting approval for internship credit.