Advising
Advising
You are in good hands with our professional advisors
All students are assigned a professional advisor in the Public Relations and Advertising programs. Ms. Lori Brucker meets daily with undergraduate students and Dr. Bokyung Kim meets with graduate students to help plan schedules, check graduation requirements, and even locate internship opportunities.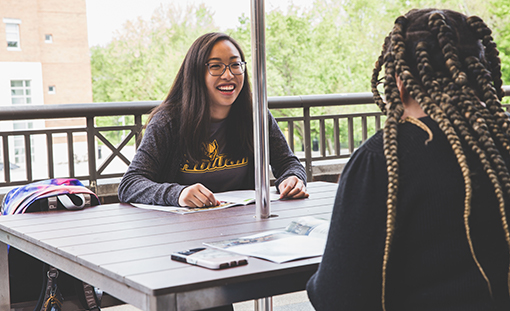 Advisors are happy to meet on your schedule to plan classes, internships, and career opportunities.
Program Advising Sheets
Looking to enroll in one of our undergraduate or graduate programs? Advising sheets list all required classes and should be reviewed by your advisor to make sure you graduate on time: 
Meet your advisors
Ms. Lori Brucker is passionate about helping students start their careers in Public Relations, Advertising, and Strategic Communication. She has served at Rowan University in advising for over two decades, bringing experience and innovation to the Department of PR & Advertising. 
She has a BS from the U. of Scranton, an MPA with a specialization in Human Resources from Kutztown U. and is ABD as a doctoral student in the Education Leadership Program at Rowan U. She also holds a Career Service Provider Certification from the Nstional Career Development Association And Human Resource Certification from the Society of Human Resource Management since 1993. 
Ms. Brucker meets with students daily in-person and virtually. Email her today to discuss your future in PR or Advertising! 
---
Dr. Bokyung (Bo) Kim currently teaches graduate and undergraduate public relations courses and serves as the Graduate Coordinator of the M.A. in Strategic Communication Program at Rowan. Her scholarship is based primarily in corporate communication research and consulting, including corporate transparency, relationship/reputation management, and social media public relations. 
Dr. Kim's research has been published in 13 leading preferred journals and 35 peer-reviewed conference papers, including International Journal of Strategic Communication, Journal of Medical Internet Research - Formative Research, Journal of Contingencies & Crisis Management, Journalism & Mass Communication Quarterly, and more. Email her today to discuss the MA in Strategic Communication!
How to make the most of advising
Get what you want from your academic experience at Rowan University

Ask about double-major in Advertising and Public Relations. Talk to your academic advisor to ensure you are making the right choice and to plan your academic work so you can graduate on (your) time. Most double-majors are taking some summer or winter classes, or taking an additional semester to make the most of their undergraduate experience. 
Explore options for minors and certificates in other communication and creative arts programs, or in other fields offered at Rowan University. Some of our majors choose to include options from business, languages, or humanities; others choose our programs to complement their interests in science, math, and engineering. 
Interested in a graduate degree, certificate, or class? Ask now about the BA+MA option. You could use your 'senior privilege' to get early admission into the Master's Program. Or get a graduate certificate program. Or take that one graduate class you want to include in your Bachelor's degree. Contact Dr. Kim, the Graduate Program Coordinator. 
Mind the deadlines

Graduation can feel like a race against multiple and competing deadlines. Mind the warning, suggestions, and opportunities Ms. Block sends to your student mailbox. If you have questions or concerns, set up an appointment. 
Time vs. timing: make sure you are taking the right courses in the right sequence. This will make your life easier to manage. See the recommended course sequence by following the link to your program in the table below. 
Most capstone courses are now offered during fall, spring, and even summer semesters. Talk to your academic advisor to ensure you are taking the right classes in the right order. 
Ask for help, or a second opinion

Talk to your academic advisor whenever you have a question, or at least once every semester. Discussion topics may include course requirements, academic performance, internship and professional opportunities.
Best kept secret in the academic world: faculty office hours can be used to talk about (almost) anything. Give your professor the chance to know you as a person, to learn about your goals and your hopes. First and foremost, you want to stay on-point academically--and make it easy for your instructors to write letter of recommendation when you need them for your next internship or your next job.
(Relatively new) program updates

Things to know about  changes in undergraduate degree requirements for Public Relations and Advertising majors

Communication Theory (CMS 04250) is now a related elective for both majors, not a required class.
Internships are not required for graduation. They are highly recommended for your professional success. 
PR/Advertising Law and Ethics (PR 06355) is a required class for both majors.
PR majors must earn a B- or higher in Basic Writing to be eligible to take Advanced Writing. Students who cannot meet this requirement are encouraged to pursue other degree options.