Alumni & Hall of Fame
Alumni & Hall of Fame
"Legends walk these halls..."
Alumni of the Public Relations and Advertising programs at Rowan University go on to great careers as industry leaders. They found multi-billion dollar corpoprations, global nonprofits, and lead some of the most innovative agencies in the area. Notable alumni are nominated for membership into the Hall of Fame after 15 years or more of industry experience. Learn more about the award-winning alumni who are eager to meet with current students and mentor new graduates.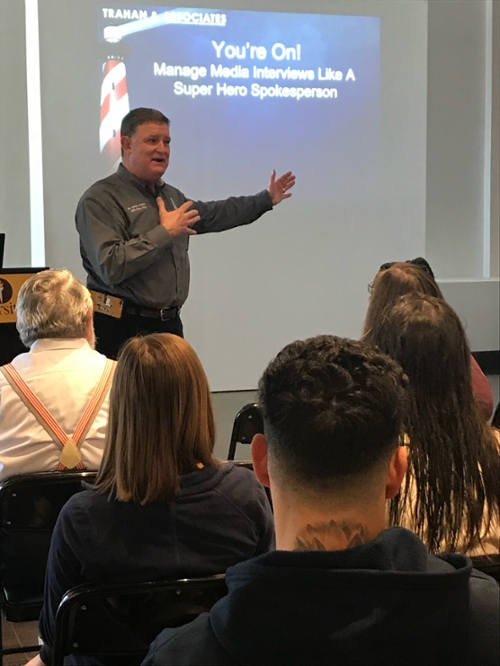 The department also recognizes the contributions of leaders in Public Relations and Advertising through a Department Hall of Fame. Inducted members, like Joe Trahan (above), give a Master Class each spring and are recognized for their work during the annual Spring Gala in May. 
Notable Alumni
Ric Edelman (1980): Edelman Financial

Ric Edelman graduated from Rowan in 1980. In 1986, Ric founded Edelman Financial, a nationally known financial firm, and has written a number of books. He's contributed to Rowan's fossil park and planetarium. In 2019, Ric and his wife Jean donated  $10 million in scholarship funds to the newly named Ric Edelman College of Communication & Creative Arts.
Kathy Ziprik (1981): PR Consultant

Kathy Ziprik graduated from Rowan in 1981. She earned her master's degree at The University of Georgia in 1982. Since 1997, Kathy has run her own public relations consulting firm for building product manufacturers. 
Linda Pollock (1983,1992): GSK

Linda Pollock graduated with her bachelor's in 1983 and her master's in 1992. Both degrees were in public relations. She worked at GlaxoSmithKline (GSK) Pharmaceutical company for 21 years. By the time she left GSK, Linda was Communications Manager, Global Learning and Development. Linda is now an adjunct professor at Drexel University, Rowan University and Widener University. 
John LaPlace (1986): Ernst & Young

John LaPlace graduated from Rowan in 1986. Since then, he's become an experienced account executive, working for public relations agencies including Trent & Company and Deloitte. In 2011, he became the Associate Director and National Public Relations Leader for Ernst & Young. 
Dr. Toni Buckley (1992): HealthSTAR Public Relations

Dr. Toni Buckley graduated in 1992 with a bachelor's in communication. She's worked at a number of agencies, such as Harris, Baio & McCullough and HealthSTAR Public Relations. Since 2010, Toni has worked as an adjunct at several universities, including Rowan University. Toni is currently President of her own agency and recently earned a doctorate (Ed.D) from St. Joseph's University.
David Fulginiti (1993, 1995): HB&M

David Fulginiti earned his bachelor's and master's degrees from Rowan University. David has worked at several agencies such as IE communication and Ketchum Public Relations. Most recently, he was an Account Executive for HB&M. 
Angela Collom (1995): American College of Physicians

Collom graduated from Rowan in 1995. Angela started her career working at public relations agencies such as Dorland Global. In 2008, she became a Senior Public Relations Associate at the American College of Physicians. 
Kirk Parsons (1997): Mazzoni Center

Kirk Parsons graduated in 1997 with a double major in communication and public relations. He started as a lead account executive with Star Group. He held other communication positions at City Sports and Greater Philadelphia NAMIWalks before moving to his current position at Mazzoni Center. Kirk is now a Recovery Specialist, working to develop and implement outreach plans for Greater Philadelphia. 
Heidi Rule (1997): National Organ Donor Awareness Campaign

Heidi Rule earned her degree in Communications/Public Relations in 1997.  After graduation Heidi embarked on a journey through small PR firms and landed in the racing world, providing teams with proactive media relations for many years. Heidi is now a para-professional for behavioral/emotional support to elementary school children and provides administrative functions for a local small business. She co-created the National Organ Donor Awareness Campaign with Daniel Seymour & Kirk Parsons.
Shawn Salvatore (1997): Harris, Baio & McCullough

Shawn Salvatore graduated from Rowan in 1997. Shawn has worked at Harris, Baio & McCullough since 1997. He has worked in the activation of sponsorships for NASCAR racing teams, and worked with clients from all around the world. Shawn is currently the Executive Vice President of Harris, Baio & McCullough. 
Daniel Seymour (1998): Carolinas HealthCare System

Daniel Seymour graduated in 1998 with his bachelor's in communication. He began his career at the Please Touch Museum in Philadelphia as a Public Relations and Marketing Manager. Daniel went on to work for the City of Charlotte and Gap before shifting his career path. He graduated with his ASN from the Carolinas College of Health and Services in 2014, and now works as a registered nurse within the Carolinas HealthCare System. 
Adam Jaffe (2000): Cellebrite

Adam Jaffe graduated in 2000 with his bachelor's degree in public relations. After graduation, Adam worked in communication and marketing for a number of tech companies such as iMedia and Infragistics. He later worked for Microsoft for more than nine years in its marketing department. Currently, Adam is the Vice President of Global Communication for Cellebrite. 
Dan O'Neill (2000): Iron Mountain

Dan O'Neill graduated from Rowan in 2000. After graduation, Dan worked at Brownstein Group for four years. Since 2007, Dan has worked for Iron Mountain. He began as a senior public relations manager, filling multiple roles before filling his current job as Vice President of Customer Experience & Portfolio Marketing.
Andrea Pujat Borean (2001, 2003): Care Centrix

Andrea Borean first graduated from Rowan University in 2001 with her bachelor's and graduated again in 2003 with her master's in public relations. She worked in Marketing and Production at PaperClip Communications after graduation. After leaving PaperClip Communications, she worked for Nokia in Human Resources and Talent Acquisition for six years. She's now at Care Centrix in Phoenix, Arizona as a Senior Talent Acquisition Specialist. Andrea has also directed ABsloute Recruit, her own  agency, since 2014. 
Kelli Solomkin (2001): Association of Independent Mortgage Experts

Kelli Solomkin graduated from Rowan in 2001 with her bachelor's in communication, and again in 2002 with her masters in public relations. She's held a number of positions since graduating, including Program Manager at Southwest Conference Planners and Director of Education & Member Management for Arizona Grantmakers Forum. She was recently the Executive Director for the Association of Independent Mortgage Experts. 
Linda Alexander (2002): Anthony J. Jannetti, Inc.

Linda Alexander graduated from Rowan in 2002 with her bachelor's in communication and a specialization in public relations. She started her career as a public relations and marketing associate at Presbyterian Medical Center. She's now working at Anthony J. Jannetti, where she's been for more than 13 years. She is currently the Director of Association Services. 
Alene Brennan (2002): Virtua Health

Alene Brennan graduated with her bachelor's in 2002. Alene worked for Campbell's for three years. She worked at Virtua Health for six years within its marketing department. In 2007, she started her own health coaching business, where she still works to partner clients with personalized health programs. 
Katie Hardesty (2002): Cooper Foundation

Katie Hardesty graduated in 2002 and started out working for the Mayor of Cherry Hill. In 2005, she became the Director of Public Relations and Special Events for Cherry Hill Library. In 2018, she moved to Cooper University Health Care as the Community Programs and Grant Manager for the Cooper Foundation. 
Mark Marmur (2002, 2004): Allergan

Mark Marmur graduated with his bachelor's in 2002 and his master's in 2004. Both degrees were in public relations. He worked as an account executive at MCS Healthcare Public Relations for three years. For seven years, Mark worked at Makovsky, a public relations agency in New York. After leaving Makovsky, he moved to the United Kingdom and is now the Associate Vice President, International Communications & Public Relations at Allergan. 
Natalie Neczypor (2002): C4F2 Results

Natalie Neczypor graduated from Rowan in 2002 with two degrees in Public Relations and Information Systems. She was the National President of the Public Relations Society of America in 2002. Natalie worked for three public relations agencies over five years before moving to C4F2 Results. 
Nicole Patzer Weiss (2002): Tokyo International School

Nicole Patzer Weiss graduated in 2002 with her bachelor's in communication. She worked for Toys R Us as a public relations specialist for three years. Later, she moved to Mercedes Benz, where she worked for eight years in public relations and social media. In 2014, she moved to Japan and worked as the Admissions Director for the Tokyo International School. 
Courtney Eitel Nelson (2003): CMA Results

Courtney Eitel Nelson graduated in 2003 with a bachelor's in communication and a minor in women's studies. In 2006, she was a public relations assistant for Vonage. She later left her position to work for the American Heart Association for 11 years. As of 2019, she's the Client Director for CMA Results. 
Chris Schenk (2003): Old Academy Players

Chris Schenk graduated from Rowan in 2003 with his bachelor's in public relations. Chris was a public relations director for the Old Academy Players in Philadelphia. He later earned a master's degree in education and became a math teacher. Chris unfortunately passed away from cancer in 2012. 
Christopher Lukach (2004): AKCG Public Relations Counselors

Christopher Lukach graduated in 2004 with a bachelor's degree in communication. Since graduating, he's worked at Anne Klein Communication Group (AKCG). He's held multiple positions in the agency, such as account executive and Chief Operating Officer. As of 2014, Chris became the president of AKCG. 
Suzanne Robertson (2004): Lockheed Martin

Suzanne Robertson graduated in 2004 with her bachelor's in communication and a specialization in public relations. She started her career in the non-profit industry, working for five years at AIDS Coalition of South Jersey. She briefly worked for former governor Chris Christie as an event planner. As of 2013, she's worked for Lockheed Martin, where she's currently in Subcontract Program Management.
Arianna Stefanoni (2006): Icahn Automotive

Arianna Stefanoni graduated in 2006 with her bachelor's in communication. She's since worked at Anne Klein Communication Group, Campbell Soup Company and Pepperidge Farms. As of 2018, she's the Director of Communication for Icahn Automotive. 
Department Hall of Fame
Dr. Donald Bagin: Founder of School PR

Donald Bagin was a Rowan University professor for more than 40 years. At only 25, he was the youngest tenured full-time professor in the history of Glassboro State University. He started Rowan's graduate public relations program, the first in the world to offer school public relations. He taught more than 2,000 students at Rowan and was named by PR Reporter as one of the best public relations teachers in the country before passing in 2008. 

Before starting at Rowan University, he served as public information officer for the New Jersey State Department of Education and taught at both Souderton and Neshaminy high schools. At 28, Bagin helped coordinate media for the Glassboro Summit Conference between U.S. President Johnson and Russian Premier Kosygin. Over 1,400 media outlets attended the summit meeting. 

While at Rowan, he created a communications management newsletter in 1981. This would grow into educational videos, audios, publications and conferences used by major companies, universities and non-profits. After working on the publication for over a decade, he sold the company. At the time, the newsletter had 50,000 subscribers and 25-full time employees. 

In 1986 the National School Public Relations Association recognized Dr. Bagin with the president's award for his work in school public relations and communication. He was a nationally recognized public speaker on school public relations and communication management. He wrote more than 300 articles and 15 books regarding public relations and education. His PR textbook is used in all over the United States and was translated in Chinese and Polish. Dr. Bagin joined the Hall of Fame for his pioneering work in educational public relations
Ann Barklew: Ethics Leader

Ann Barklew started her career as a high school English and Journalism administrator in the Missouri and California school systems before moving into public relations. She now hold over 30 years of experience in the field. 

Barkelew was named by her peers as "Public Relations Professional of the Year" in 1995. Four years later, she was named one of the Most Influential Women in Business in Minnesota by City Business. In 2001, she received the Fleishman-Hillard's Lifetime Achievement Award, as well as the Arthur W. Page Society Distinguished Service Award in 2003. 

While in the public sector, she was vice president of corporate affairs for Munsingwear and the chief public relations officer for the Los Angeles County Office of Education, California's largest countywide public-school population. From 1982 to 1994, Barkelew was the corporate vice president of public relations for Dayton Hudson Corporation. In 1987, she helped prevent a takeover of the corporation. 
Robert Dilenschneider: Author

Robert Dilenschneider began his career in PR in 1967 in New York shortly after receiving his M.A. in journalism from Ohio State, and a B.A. from the University of Notre Dame. As of 2012, Dilenschneider also holds two honorary Doctorate degrees. In 2001, he earned the honorary Doctorate of Public Service Degree from Muskingum College, and in 2012, he received an honorary Doctorate of Humane Letters from the University of New Haven.

In 1986, he became the president and CEO of Hill and Knowlton Inc, a position he held until 1991. While there he tripled revenues and delivered over $30 million in profit.  In 1991, Dilenschneider formed his own business, The Dilenschneider Group. The group is a global public relations and communications consulting firm based in New York City. It provides strategic advice and counsel to several Fortune 500 companies and others all over the world. 

Out of the public relations sector, Dilenschneider currently serves as a Trustee of the Institute of International Education and is a member of the North American Advisory Board of The Michael Smurfit School of University College Dublin. He is also a judge for The Olin Award. a program of the Olin School of Business at Washington University in St. Louis. Dilenschneider continues to serve on multiple corporate boards, such as the Economic Clubs of New York and Chicago. 

Dilenschneider has written fourteen books related to public relations, business, career decisions, and more. He's lectured in several professional organizations and colleges, including University of Notre Dame, Ohio State University, New York University and The Harvard Business School.
Anthony Fulginiti: Founder of Rowan PRSSA

Anthony Fulginiti is a retired long-time faculty member of Rowan University. He began his academic career in 1976 when it was Glassboro State College. At that time, the public relations program only had two courses. His influence helped shaped the graduate program by initially offering module courses. He also developed PR courses and advanced communication techniques to provide students with real-world experiences by simulating agency settings. 

With support from Anne Klein, he founded the Anthony J. Fulginiti Chapter of PRSSA. The chapter now has more than 2,000 alumni and has earned more than 250 awards and national honors. In 1993, the Rowan PRSSA chapter began "Organ Donor Day" which led to a national competition for all U.S. chapters that is still in place today.
In addition to his work at Rowan University, Fulginiti has written for a number of communication publications. He is a coauthor of the educational textbook Practical Public Relations: Theories and Techniques That Make a Difference with the late Dr. Donald Bagin.

Fulginiti has earned many awards throughout his career. In 1987, The Public Relations Society of America awarded Fulginiti Outstanding Educator Award and inaugurated an award in his name for Contribution to Public Relations Education. In 1991, PRSA inducted Fulginiti into the PRSA College of Fellows for his lifetime achievements. Fulginiti joined the Hall of Fame for his contributions to public relations education and PRSA-PRSSA. 
Dr. James Grunig: PR Theorist

James E. Grunig has over 20 years of experience in the public relations field. Best known for his four models of public relations, Grunig continues to improve the field with his research. In 1964, Grunig received his B.S from Iowa State University in Agricultural Journalism. He continued his education at the University of Wisconsin with a M.S in Agricultural Economics and received a Ph.D in 1968. He was also awarded four honorary doctorates by the Universidad San Martin de Porres of Lima, Peru in 2006, the University of Bucharest in Romania in 2008, Istanbul University in Turkey in 2009, and the University of Quebec at Montreal in Canada in 2011.

Grunig is best known for his theories, including the four models of Public Relations. These four models are Press Agentry, Public Information, Two-Way Asymmetrical, and Two-Way Symmetrical. He's also known for other theories, including Guidelines for Measuring Relationships in Public Relations and researching public relations as a strategic management function. 

He is the first winner of the Pathfinder Award for excellence in academic research on public relations. It was awarded by the Institute for Public Relations Research and Education in 1984. During this time, he was a professor at the University of Maryland, where in his 36 years, he advised 75 Master's theses and 25 doctoral dissertations. 
Dr. Patrick Jackson: PR Theorist

Patrick Jackson was born in 1932 and raised in Grand Rapids, Michigan. Growing up, he spent his time reading about the World Wars and delivering local newspapers. Jackson attended Kenyon College in Ohio for two years but left his education early to support his family. He would eventually return to school and earned a master's degree in organizational development from the New England Graduate School. 

He continued with his work in journalism by running papers in multiple locations. He eventually formed Jackson, King and Griffith to help others gain a voice in the media. It later became Jackson Jackson and Wagner in 1956. The business celebrated its 60th year of practice in 2016. Within the business, he was the senior counsel and was noted for developing new public relations strategies and techniques. 

Jackson worked in various public relations professional programs, garnering over 50 years of experience. He co-authored Public Relations Practices with Allen Center, a principle case study text used by practitioners and over 250 colleges. He would go on to hold multiple esteemed positions, including trustee of the PRSA Foundation, President of the Public Relations Society of America, and curriculum adviser to six university public relations sequences. Often called the "public relations counselor's counsel," he was committed to teaching other practitioners about the direction the profession was going and the strategy, techniques and philosophy needed to get there.
Anne Klein: Founder of AKCG

Anne Klein is well-known for her contributions to public relations and has received numerous awards for her achievements. She was one of nineteen women in her class when she graduated from The Wharton School at the University of Pennsylvania. At her first professional job in SEPTA, she found herself discriminated for her gender. She used her frustrations to start her own public relations agency.

Klein is best known for her agency, Anne Klein & Associates, founded in Mount Laurel in 1982, focusing on strategic planning, crisis communication and community outreach. She was president of the company until 2014. She co-authored a book titled On the Cusp: The Women of Penn '64, highlighting stories of the women who graduated with her in 1964. She belongs to the College of Fellows of the Public Relations Society of America. 

In 2004, Klein was inducted in the Philadelphia Public Relations Association's (PPRA) Hall of Fame. She was elected as a Woman of Distinction by the Philadelphia Business Journal and was recognized for Lifetime Achievement by the Public Relations Society of America's Philadelphia chapter. Klein and her husband are committed to supporting young professionals by endowing several scholarships across regional universities and trade associations. 
Dean Kruckeburg: Author and Professor

Dean Kruckeburg, APR, is a currently a professor at the University of Iowa. He graduated with a B.A in English from Wartburg College, earned an M.A. in Journalism from Northern Illinois University and a Ph.D. in Mass Communication from the University of Iowa. 

Kruckeburg's experience lies in education, creating programs in multiple universities, including the United Arab Emirates University in 1994. He's taught at the University of Northern Iowa, University of Minnesota and Northwest Missouri State University. This earned him the Outstanding Educator award from PRSA in 1995. In 1997, he received the Pathfinder Award from the Institute of Public Relations for his PR research. 

Outside of education, Kruckeburg's research has contributed to the industry. In 2003, he was the co-researcher of a study released by the Institute of Public Relations. The study rank 66 countries according to the likelihood that their daily newspaper reporters seek or accept bribery for editorial coverage. He co-authored "Public Relations and Community: A Reconstructed Theory," which won the first annual PRIDE Award from the Speech Communication Association Commission on PR.
Richard Maloney: Pulitzer Prize Winner

Richard Maloney is a retired public relations professional. He studied at Temple University, earning his BS in Radio, Television and Film. His career began as a news reporter for KYW Newsradio from 1970-1990. In March 1977, he reported exclusive news regarding a memo promising additional state funding. This report was blamed by some for sparking a work stoppage that cause most of the Philadelphia transit system to shut down. 

Maloney left in 1990 to become Vice President of Communications at the Greater Philadelphia Chamber of Commerce. While there for five years, he was responsible for all advertising, public and media relations for the 6,000-member chamber. Her personally wrote and edited all speeches and government testimonies by the Chamber. From 1995 to 1998, Maloney was the Senior Director of PR/Operations for Blue Cross. 

After leaving Blue Cross, he would go on to work for SEPTA as its Director of Public Affairs and Marketing. While working as a spokesperson for the public transit system, he implemented crisis communications strategy for a protracted labor negotiation and week-long regional transit strike. He's since retired from the position.  He's won several awards over his long career, including two DuPont Columbia Citations, the Pulitzer Prize of broadcast journalism.  He was inducted into the Hall of Fame for his expertise in public affairs.
Wilma Mathews: IABC Leader

Wilma Mathews studied at Stratford college. She has over 30 years of experience in domestic and international public relations, as well as communication management and implementation. She's been recognized for her work and achievements throughout the years. 

Mathews worked in a variety of industries, including companies such as AT&T, Arizona State University and a weekly newspaper. With her wide experience, she's coached hundreds of executives in presenting and media relation techniques. As a Gold Quill winner for media relations and writing, she's spoken in front of professional, civic, government and academic audiences all over the world. Her articles contributed to trade and professional organizations regarding strategic and media relations planning. 

She currently serves on the executive board of Friends of the Phoenix Public Library and was the advisor of Arizona State University PRSSA chapter. Mathews was also two-time executive board member of the International Association of Business Communicators (IABC). In 2008, she retired from Arizona State University's Public Affairs. 
Mark McElreath: PR Ethics Leader

Born in Houston, Mark McElreath served in the United States Marine Corps before pursuing law and public relations. He's now an accredited member of the Public Relations Society of America and the International Association of Business Communicators (ABC). He received his Ph.D from the University of Wisconsin. He taught at the University of Maryland as a senior professor in the public relations sequence, and Towson University, where he worked for over 25 years. 

McElreath was instrumental in establishing the current code of ethics for the International Association of Business Communicators. As an expert in public relation ethics, he co-authored a book on public relations planning and was instrumental to establishing the current code of ethics for the International Association of Business Communicators. He was inducted into the Hall of Fame for his contributions to ethical strategic communications. 
Betsy Plank: PRSSA Founder

As the "First Lady of Public Relations," Betsy Plank was best known for her long public relations career, working in the industry for sixty-three years. Born and raised in Alabama, she received a bachelor's degree in history from the University of Alabama. Before working in public relations, she moved to Chicago and briefly worked in radio broadcasting. 

Throughout her career, Plank was known to be a trailblazer, being the first women to fill several public relations positions. Her career began in 1960 when she started working with Daniel J Edelman Inc, where she worked as the executive vice president and treasurer. In 1973, she briefly moved to AT&T before going to Illinois Bell to direct external affairs. 

When she saw the University of Alabama had no program for public relations, she began to develop and advance PR education. She'd later found Plank Center for Leadership in Public Relations at the University of Alabama. Plank would go on to help create PRSSA to teach students about the practice and make connections in the industry. In 1989, the PRSA Foundation established its scholarship endowment fund in her name, funding students at over 40 colleges in the United States

She was the first person to receive three of PRSA's top individual awards: The Gold Anvil Award in 1977, the Paul M. Lund Public Service Award in 1989 and the Patrick Jackson Award for Distinguished Service to PRSA in 2001. She was honored with the Arthur W. Page Society's Distinguished Lifetime Achievement Award. 
Dr. Jef Richards: Advertising Scholar

Jef Richards is currently a professor and chair of the Department of Advertising and Public Relations at Michigan State University. He attended three universities, including Rochester Institute of Technology for his B.A. in 1977, Indiana University for his J.D in 1981, the University of Wisconsin for his Ph.D. in 1988. Prior to working at Michigan State University, Richards was a professor of advertising at the University of Texas – Austin from 1988-2010. He also served as the chair of the department from 1998 to 2002. 

Within his academic career, Richards has worked on a number of research projects. His research has been published in over 80 articles, books, and chapters. It covers advertising regulatory and social media issues. He serves on multiple editorial boards, including the Journal of Advertising and the Journal of Consumer Affairs. He is an associate editor of the International Journal of Internet Marketing and Advertising. Richards joined the Hall of Fame for his seminal work in advertising research
Fraser Seitel: PR Textbook Author

Fraser Seitel is a veteran of the public relations industry, with three decades of experience. He's best known as the author of Pearson text, The Practice of Public Relations, which is now in its 13th edition. Seitel also coauthored "Rethinking Reputation" and "Idea Wise: How To Transform Your Ideas."

In the 1980s, Seitel was a senior counselor at Burson-Marsteller, as well as senior vice president and director of public affairs at Chase Manhattan Bank. In the past, he also served as a spokesman for the Rockefeller family. He left Chase after 22 years in 1992. After leaving, Seitel and his associates founded Emerald Partners, a management and communications consultancy firm. He's counseled hundreds of corporations, non-profits and individuals in topics including speech writing, financial communication, and consumer relations. 

Seitel is a contributor to multiple cable television shows such as Fox and Friends, Wall Street Journal Report, and Inside Politics. Online, he's an internet columnist at odwyerpr.com, covering news on public relations and PR firms. He's currently an adjunct professor of public relations in the School of Continuing and Professional Development at New York University.
Joe Trahan: Crisis Management Leader

Joe Trahan, Ph.D., APR, Fellow PRSA, is a New Orleans native with 30 years of public relations experience. Trahan graduated from Tulane University with a B.A. in military history, Ball State University with a M.A. in Public Relations, and The University of Southern Mississippi with a Ph.D. in Mass Communication. He started his career in the US Army Reserve and was a former commander of the 314th Public Affairs Operations Center in Alabama. 

Since 1998, he's trained over 3,500 people in media relations all over the world, including England, Norway, Mexico and the Netherlands. In 2003, Trahan founded his own media relations company, Trahan and Associates. His expertise lies in governmental, educational and non-profit public relations. 

Trahan is an accredited member of the Public Relations Society of America, and Fellow of the Public Relations Society of America. He's also a former member of the National PRSA Board of Directors. He continues to be an instructor for FEMA, teaching Public Information Courses. Trahan was inducted into the Hall of Fame for his seminal contributions to public affairs and public relations education. 
Donald Wright: Professor

Fresno, and a Ph.D. from the University of Minnesota. He's currently chair and professor in public relations at Boston University's College of Communication. He has lectured in more than 30 countries. 

Since 1992, Wright has directed Chicago-based the PR Executive Forum, an annual professional development seminar program. He is a research fellow and longtime member of the Board of Trustees for the Institute for Public Relations. Wright's work experience is related to consulting at multiple Fortune 500 companies including Bayer, FedEx and Deer & Company. 

Wright's work has earned him multiple awards, such as the Outstanding Educator Award, and the Jackson Jackson & Wagner Behavioral Science Prize from PRSA. PR Week Magazine recognized him as one of the Top 10 public relations educators in the US and as the "15 Leading Lights" in US Public Relations.