Student Groups
Student Groups
Students
Our students learn and achieve while at Rowan. Beginning as early as freshman year, students can join and become active in extracurricular activities: members of Cinema Workshop, the student filmmaking organization; RTN -the Rowan Television Network, the on-campus student run cable television channel; and Rowan Radio 89.7 WGLS -FM, the university's broadcast radio station.
Media Clubs
The Radio, Television & Film Department offers numerous clubs and other extracurricular experiences for students to get involved after class. From producing Television and Radio Shows to creating short films on the RED Scarlet and Canon 7D, the RTF clubs offer "real world" experience outside the classroom.

Rowan Television Network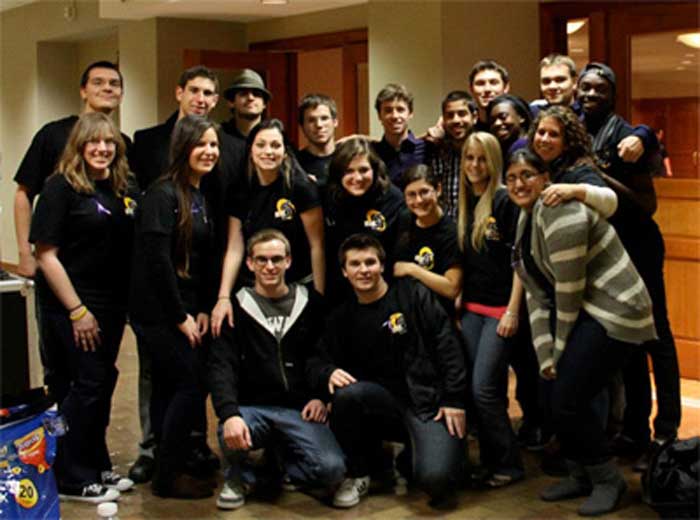 Established in 1993, the Rowan Television Network (RTN) delivers 24 hours of continuous programming to the entire Rowan community. Run completely by students, RTN features a variety of programs catering to a diverse audience. By covering campus events, celebrating cultural history months, and creating original programming, RTN strives to promote unity and awareness. You can watch RTN by tuning into to channel 5 on the Rowan campus or by visiting the RTN Ustream Page.
RTN offers students the opportunity to produce, direct, or star in their own TV programs. Members also have the option to receive one-on-one trainings with professional equipment. RTN members work with HD broadcast quality equipment and software including four high definition Panasonic P2 ENG Cameras, Newtek TriCaster HD portable studio system, Final Cut Pro, Adobe Premiere, Avid Media Composer, and more. RTN continuously progresses in its professionalism and extended coverage with its dedicated crew and access to advanced technology.
Meetings take place Tuesdays at 9:15pm in Bozorth rm 112 (open to all majors). Live video production occurs throughout the week in the Bozorth Studios and throughout campus. Contact RTN by phone at 856-347-0RTN(0786), by email at rtnch5@gmail.com or visit its web site at RTNCH5.tv.
Cinema Workshop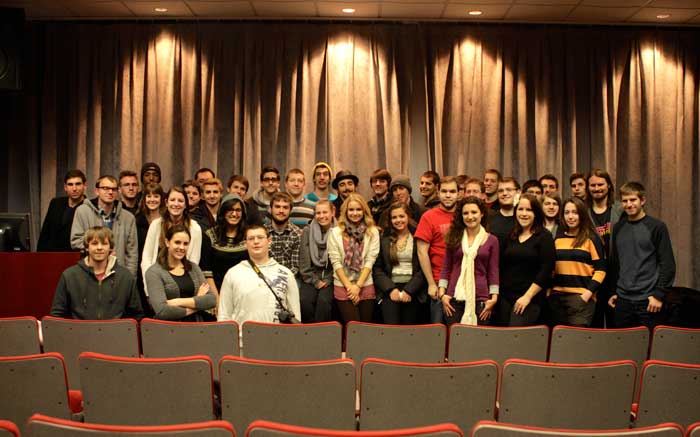 Cinema Workshop has been Rowan University's student filmmaking club for over 25 years. Cinema Workshop offers students the opportunity to work on film, video and multimedia projects outside the classroom experience. Students take skills learned in production classes and apply them to creative work either more personal or larger in scope than what is possible within the confines of a 15 week course of study.
After a peer-oriented pitch and approval process, Cinema Workshop provides grants in the form of goods and services through post-production, culminating in a year-end screening of often award-winning films and videos. In addition to production, Cinema Workshop actively promotes cinema studies by organizing screenings of old and new Hollywood movies, foreign films, and independent cinema. These screenings are not exclusively for the benefit of Cinema Workshop members, but for the entire student body.
Cinema Workshop also provides a link to former members, many of whom are working professionals in the field of film and video production.
For more information please visit Cinema Workshop's website.
WGLS FM (89.7FM) Rowan Radio
WGLS-FM is a regional radio service with a potential audience of almost 1.3 million people. The broadcast signal covers South Jersey, parts of Philadelphia and Delaware.
The studios are located in the College of Communication on the campus of Rowan University in Glassboro, New Jersey. Twenty-four hours a day a staff of independent volunteers and students broadcast a variety of musical, cultural, educational, entertaining and informative programs of interest to the Rowan University and South Jersey communities.
For more information, please check out the WGLS website.