Interdisciplinary Programs: New Media Minor
Interdisciplinary Programs: New Media Minor
Interdisciplinary Programs: Minor in New Media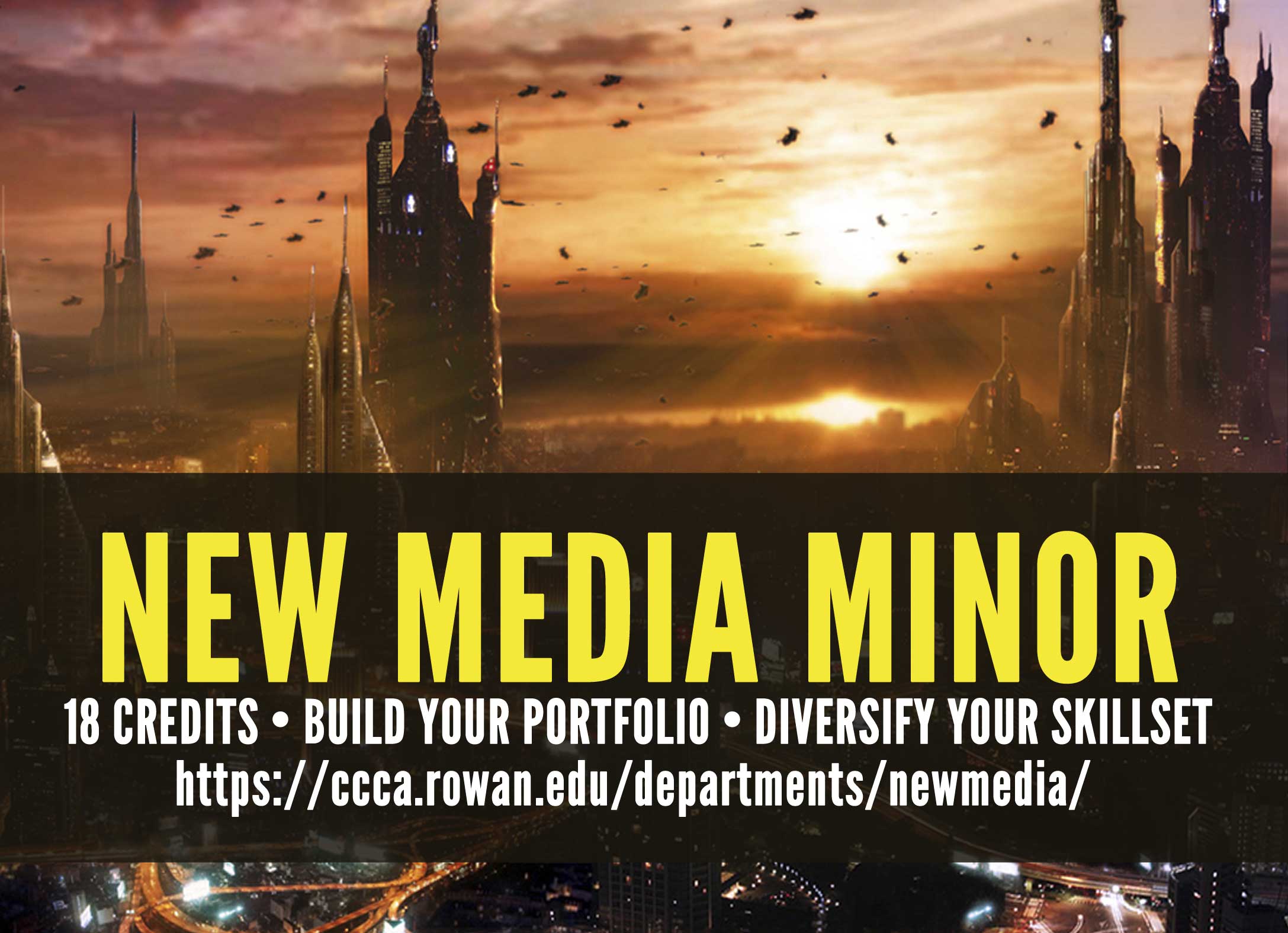 New Media Minor Advising Sheet

New Media Minor Advising Sheet (PDF)
New Media Minor Postcard (PDF)
Mission
The New Media Minor will allow students to explore evolving media with a focus on the expressive qualities of interactive and digital technology.
The Minor is designed to emphasize technical proficiency, digital literacy, and digital professionalism. Students will build skills and competencies that can be applied to scholarly and professional contexts. Courses in the minor are grounded in both the theory and use of disruptive media practices, empowering students to confidently and critically create digital content.
Overview
The Minor in New Media is an interdisciplinary program of study offered within the Edelman College of Communication and Creative Arts. Students will take 18 credit hours (six courses) including 2 required core courses and 4 related electives. The specific list of courses can be found in the advising sheet.
The Minor in New Media allows students to receive advanced and specialized education for critical analysis, skill development and application. The minor defines New Media as evolving communication that focuses on interactive and digital technology.
While interactivity is woven into the structure of all majors in the College of Communication and Creative Arts, this minor allows students to explore new, evolving media and how these practices may inform their career.
The minor is open to all students who are enrolled in a major housed within the College of Communication and Creative Arts. Students whose majors are housed outside of the College of Communication and Creative Arts may enroll in the program with the permission of the New Media Minor Coordinator (Jonathan Olshefski - olshefski@rowan.edu).
Objectives
The New Media Minor will provide opportunities for students to:
  Examine and explore concepts and theories within the study of New Media, which will involve:

grounding students in the study of New Media from applied, critical, ethical, and theoretical perspectives.

strengthening students' digital literacy with respect to:

theoretical, conceptual, and historical examinations of digital media.

critical examinations of messages, relationships, and audience in the digital sphere.




Develop confidence and ability in New Media production, which will include:

providing students with a well-rounded technical proficiency that translates to practical, applied skills in publishing content of all sorts within a digital context.

helping students understand the business and economic fundamentals of New Media.

aiding students in post-undergraduate opportunities by allowing for the creation and reflection of a digital portfolio of work that is relevant to their chosen professional path.

Cultivate ethical approaches to entrepreneurship, creativity, and global/social awareness within professional, civic and personal spheres of life.
Contact & Advising Information
Jonathan Olshefski
olshefski@rowan.edu
New Media Minor Coordinator