Keynote Speaker Katie Barnes: The Intersection of Identity, Sports, and Journalism
Keynote Speaker Katie Barnes: The Intersection of Identity, Sports, and Journalism
Keynote Speaker Katie Barnes: The Intersection of Identity, Sports, and Journalism
February 15th marked the National Girls and Women in Sports Day celebration, a series of events hosted by several Edelman CCCA departments and programs, in conjunction with the Office of Diversity, Equity, & Inclusion and the Center for Women and Gender Studies, as well as the SJICR. Chief among these events was the virtual keynote from Katie Barnes, an ESPN journalist best known for their writing on the subject of LGBTQ+ athletes in professional women's sports.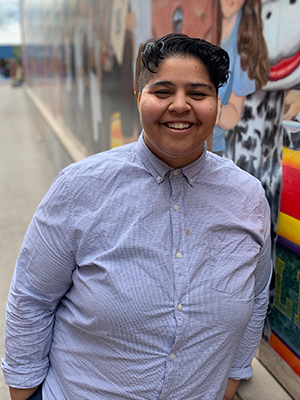 There's a certain amount of responsibility that comes with being a journalist in a position so unique as Katie Barnes. By their own admission, they "sit at a very specific intersection," being BIPOC and nonbinary in the field of sports journalism. As one of the few people in their position, they feel it is necessary to tell the stories that others ignore, stories such as that of Layshia Clarendon–an athlete that Barnes wrote a cover story on, earlier this year. This was a unique experience for them– being able to interview someone who was also mixed and nonbinary and have an honest discussion about their lives. At the same time, there was a tremendous amount of pressure on them to do justice by Clarendon and his vulnerability in speaking with them. Overall, though, Barnes admitted that they felt this was one of the proudest moments of their career, and they were honored to be the one to bring it to fruition. 
Barnes' experience with this story is representative of one of their biggest considerations when it comes to writing stories for ESPN. Their writing is not appearing on an obscure, small-scale network: ESPN is one of the biggest sources for sports coverage and journalism in the nation, and Barnes said they need to remain aware of that every time they write. Even if a story doesn't get as much attention as others on the platform, it still receives exponentially more traffic than a story on a different platform might, no matter the subject matter. 
However, this also works to their benefit. Because of the scope of ESPN, the network is very aware of the fact that it must tell stories of all athletes, including LGBTQ+ ones. Beyond just covering the wealth of identities that exist in professional sports, Barnes reflected that it is also important to display the intersectionality between certain identities, illustrating the spaces where people such as Barnes initially thought they alone occupied. Despite the recent boom in coverage of multiple identities, there are still groups that are falling to the wayside. For example, the narratives around LGBTQ+ female athletes often center on traditionally feminine, white women– often neglecting to cover athletes of color and genderqueer/gender non-conforming athletes.
Representation of diverse identities through journalism is one of the best ways to increase the audience and support for diverse and unique identities, especially within professional sports. With journalists like Katie Barnes, sports coverage sites are showing more and more celebration of diverse identities. 
For more information on our department programs, organizations, or events, please visit the
Edelman CCCA
website or the
Diversity, Equity, & Inclusion Blog
homepage. If you have a suggestion or a story idea for our blog, send us an email at
ccca@rowan.edu
.