DEI and Art Education: The AENJ Symposium at Rowan University
DEI and Art Education: The AENJ Symposium at Rowan University
DEI and Art Education: The AENJ Symposium at Rowan University
The Art Educators of New Jersey (AENJ) is a nonprofit organization that is dedicated to promoting and maintaining high standards of visual arts education within the state of New Jersey. Established in 1938, the organization is one of the most prominent art educator associations in the state. One of their events is a bi-yearly symposium. This spring, the AENJ symposium was held on our very own campus, sponsored by Edelman CCCA, the College of Education, and the Departments of Art and STEAM Education. 
The focus of this symposium was on Diversity, Equity, & Inclusion within the field of visual art education. As Dr. Jane Graziano — an Art Education professor and the coordinator of the event — said, "[This year's symposium] was designed to help teachers assess and understand their OUTLOOK to develop a deeper understanding of its impact on their classroom OUTCOME."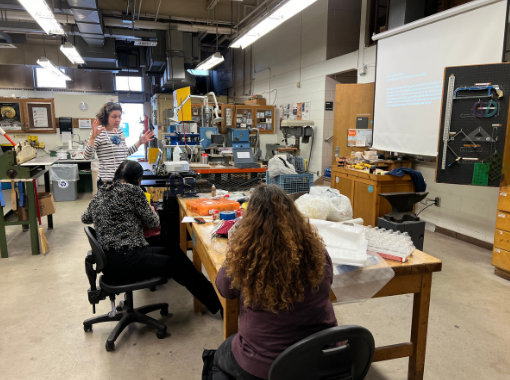 This was achieved through a variety of programming including workshops and panel discussions, all of which focused on how to bring DEI into the classroom. Some of these included  "From littles to lots and doodles to oodles" with Art Department Chair, Donna Sweigart, and several other panels and workshops such as "Exploring Cultural Competency'' and "Wooden Liberation & Freedom". Aimed at educators, these workshops addressed methods for incorporating DEI into teaching practices and the backbone of the classroom itself. 
The arts have traditionally been a medium driven by marginalized groups, utilized as an outlet and method for self-expression and exploration. The AENJ's focus on DEI for this year's symposium is reflective of the way that artist groups and organizations are experiencing a shift towards highlighting the voices of these marginalized artists and bringing them the platform they deserve. The attendees definitely felt this theme carry through to them, and the reaction was overwhelmingly positive. Dr. Graziano shared, "Attendees felt presentations and workshops were informative and gave teachers new ways to address DEI in their own classrooms." 
While the various panels and workshops constituted the majority of the event, the highlight was undoubtedly the keynote given by Dr. Wanda Knight. Dr. Knight is an Associate Professor of Art Education; African American Studies; and Women's, Gender, & Sexuality Studies; as well as the Equity, Diversity, & Inclusion At-Large Commissioner at Penn State University. She is also the current president-elect of the National Art Education Association (NAEA). Her keynote addressed the importance of intention when it comes to DEI within the art room. She proposed considerations for art educators and invited them to identify and assess their outlook toward student achievement and the classroom environment. 
Overall, what this event made clear is that it is important to address DEI on the students' levels, and to consider what educators can do to improve their experiences. Whether it be through curriculum, pedagogy, or classroom management, there are plenty of ways to ensure that the classroom is a safe space for all students and that education is being presented in an inclusive way. 
For more information on our department programs, organizations, or events, please visit the Edelman CCCA website or the Diversity, Equity, & Inclusion Blog homepage. If you have a suggestion or a story idea for our blog, send us an email at ccca@rowan.edu.