Carlough Alumni Profile
Carlough Alumni Profile
"Doing It Is the Most Important Thing": How Joe Carlough Self-Published His Way to a Career in Writing
By Jason Luther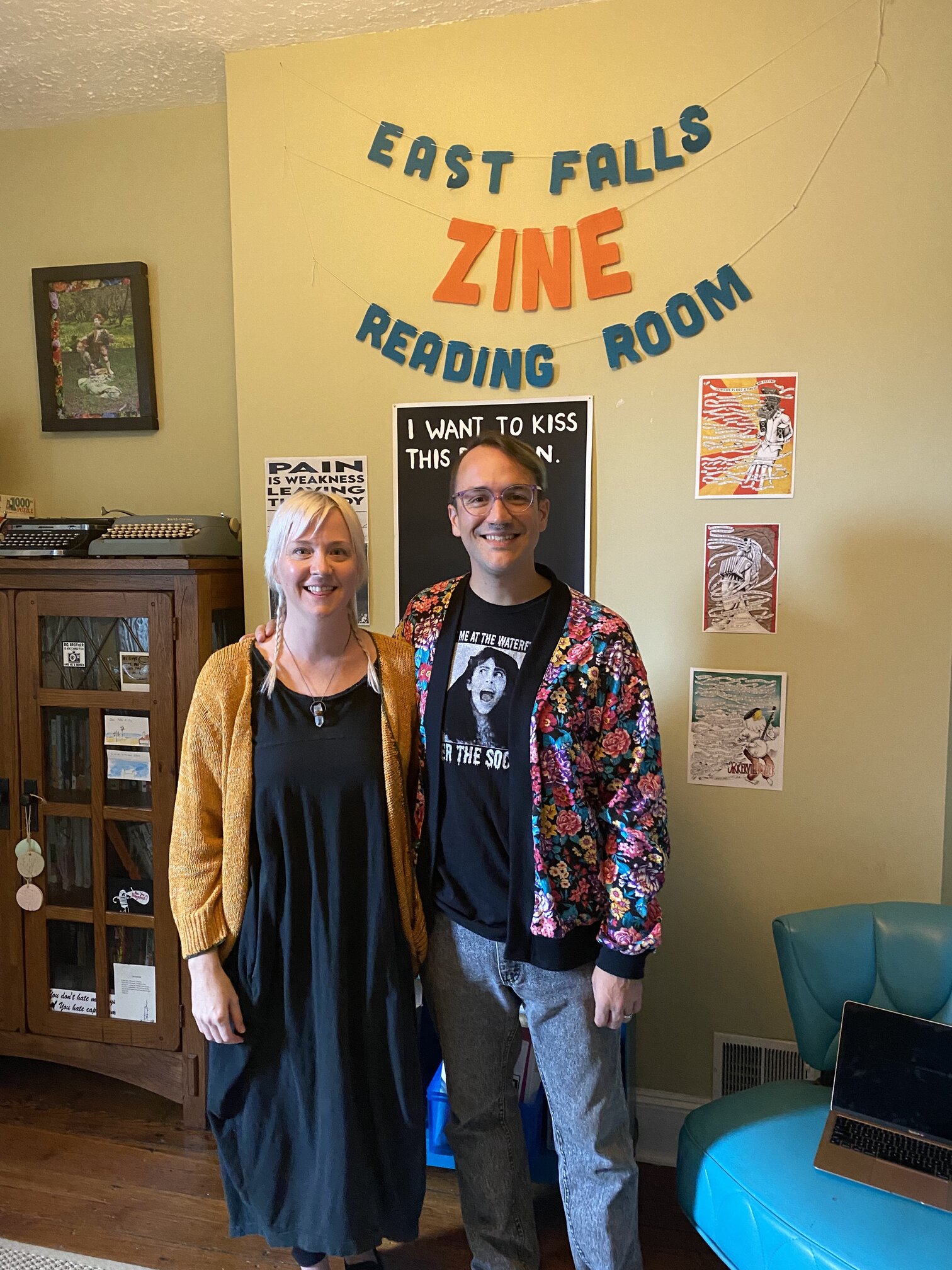 Before Joe Carlough (class of '09) graduated from Writing Arts, he was already deeply invested in DIY culture: setting up a live "zombie sea shanty" performance at the local coffee house; researching his thesis, Self-Publishing and Independent Presses Effects on Traditional Publication (which is dedicated to Associate Professor of Writing Arts Jennifer Courtney — "J Courts" as he affectionately called her at the time); and spending most of his Rowan copy allotment to publish his zine, Today Terrific. While Carlough was hardly as prolific then as he is now (during the last week of October 2022 he is busy publishing 7,000 prints – a new personal record), he fondly recalls giving away copies of zines to friends, leaving them around in carrels in the library and on random benches, and trading with various authors who visited campus — two of whom later contributed to his zines. 
Fast forward to Fall 2022, as Carlough celebrates his 15th "zine-aversary," he reflects on his many accomplishments: sending close to 30,000 zines into the world, launching a publishing house (Displaced Snail), and successfully funding several unique projects on Kickstarter including a guidebook for walking tours of Philadelphia co-authored with his in-house partner-in-crime Katie Haegele. Joe also runs This and That Tapes, a cassette-only music label that features several artists both near and far, including poet and songwriter Spencer Moody of Seattle's Murder City Devils (how'd they connect? "I just emailed him" says Carlough). Whether he's running thousands of pages of zines through his salvaged collator machine, designing J-cards for tape cases ("cassettes are the zines of the music world"), or writing one of 400 reviews of horror films, Carlough's prolific output has led him to connect with other writers, organizations, and artists in Philly and beyond – and to make a living doing it. He's partnered with Portland State University, Random House authors, and non-profits like the Mütter Museum and Womanly Mag. Occasionally he even makes zines for hire, as he's done for the Indiana-based Joyful Noise Recordings music label.
Arguably the best evidence of both Joe and Katie's life's work is in their own living room, which is home to the East Falls Zine Reading Room. Part zine library, part personal archive, part underground event space, the EFZRR houses over 1,600 zines, neatly arranged in salvaged DVD boxes, CD and baseball card binders, some tucked away in vintage shelves and others laid out for perusing on a lectern (you can also browse their catalog online). There are poetry zines, personal zines, zines about music, zines about cats, zines they made, and zines they collected over the years ("of stuff we like and people we met," as Katie succinctly put it).
Joe and Katie primarily use the EFZRR to host Zine Library Days where folks on their mailing list are invited to come hang out and browse the collection; however, they also host other events that help celebrate the work they do, including zine release parties and live shows of bands on This and That Tapes. While Joe is the first to admit he's taken an unconventional approach to a career in writing and publishing, much of it is summed up by his do-it-yourself ethic. As he noted, "Doing it is the most important thing."