First-Year Writing Program
First-Year Writing Program
First-Year Writing Program
Rowan's Writing Arts department is home to the First-Year Writing Program, a program designed to foster and strengthen the critical reading and writing skills that students need to succeed at the university and beyond. The First-Year Writing Program's courses not only fulfill part of the university's Rowan Core (general education) requirements for communicative literacy but also develop students' awareness of the many forms of discourse happening all around them and engage students' voices in those public conversations. Students learn to become rhetorically adept writers who can respond to a variety of academic, personal, civic, and professional writing situations.

Through a curriculum that recognizes composition beyond the printed page, Rowan students develop writing skills through critical reading and thinking and by analyzing and communicating complex ideas in varied genres. Students grow as thinkers and writers through the synthesis of research skills, information literacy, critical rhetorical awareness, and creative insights. As a result, students become more effective and more powerful communicators.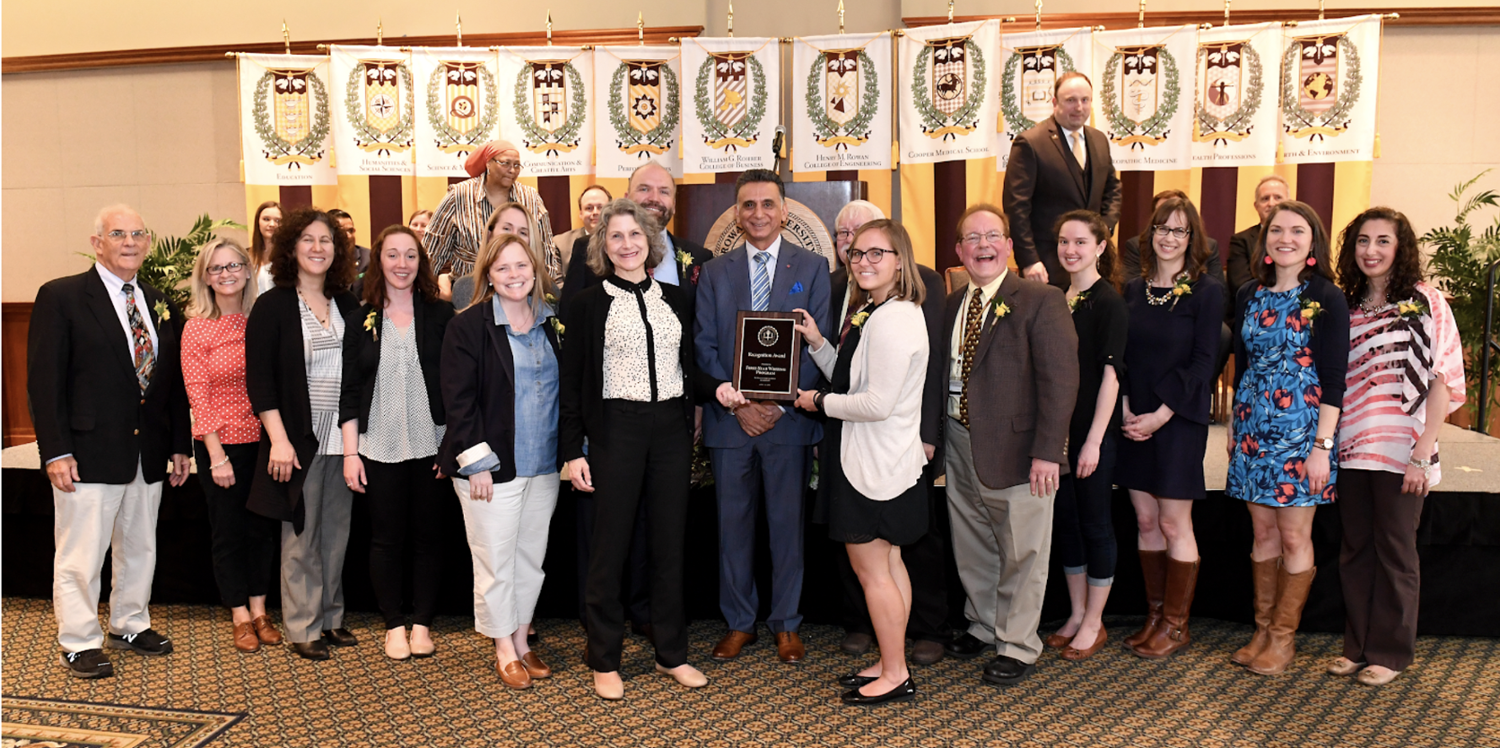 The First-Year Writing Program won the 2018 Rowan Values Team Award for Student Centeredness
CORE VALUES and LEARNING OUTCOMES
The First-Year Writing Program seeks to help students discover that they are already writers, while acknowledging that all writers have more to learn. The curriculum as a whole is shaped by the five Core Values of the First-Year Writing Program, which align with the current best practices in the discipline of writing studies and the Council of Writing Program Administrators' specific learning outcomes established for first-year composition. Specifically, the program guides students to understand that writing is a practice and a process, that writing and research involve joining an ongoing conversation, that writing is rhetorically situated, that information literacy is an essential part of writing, and that writing comes with ethical responsibilities. All of our courses are portfolio-based, which emphasizes the growth and development of student writing through ongoing revision. Learning outcomes for individual courses uniquely build the skills of writers at each level, and these outcomes, based on the Core Values, fortify writerly sensibilities.
COURSES and PLACEMENT
In addition to College Composition I (COMP 01111) and Composition II (COMP 01112), the two required courses in the Rowan Core composition sequence, the First-Year Writing Program also offers Foundations for College Writing (COMP 01103), a basic writing course that earns free elective credits, and Intensive College Composition I (COMP 01105), a 4-credit version of Composition I that offers additional weekly support at the Rowan Writing Center.  More information on courses and placement is available here.
POSITION STATEMENT ON LANGUAGE AND CORRECTNESS
Effective communication occurs when writers understand the impact/effects of language and make linguistic choices that are rhetorically situated and appropriate to a writer's purpose. 
The choice to use gender inclusive language, for example, more accurately reflects and respects the multitude of gender identities in the classroom and in the world. Likewise, our program recognizes that "standard" or "edited academic" English, the dialect of English historically valued by universities, originates from white, middle-class English; faculty and students may want to challenge/avoid reinforcing the idea that this "standard" English is superior, even as they acknowledge that this dialect is still expected in a variety of contexts and has been linked to power and social mobility. Our program believes the following: that linguistic diversity is an asset; that standard written English is not always the best or most appropriate choice for every writing situation, nor for every writer; and that students should be able to make their own rhetorical choices when it comes to language, taking into account context and considering both the risks and rewards that can come from potentially not aligning with audience expectations. We encourage colleagues beyond our program to do the same. Our position statement--written for faculty--is available here.
POSITION STATEMENT ON RESPONSIBLE DISCOURSE
Rowan's First-Year Writing Program believes in the power of language and discourse, and we understand how both can be informed and shaped by our individual experiences and identities. As instructors, we are committed to creating safe and inclusive spaces where students can express themselves freely, and we recognize the vast opportunities for free expression that are made possible only through the cultivation of a classroom community by building bonds between all community members. 
As educators, it is our goal to nurture, promote, and advocate for our students' voices--and not to silence them. We are, therefore, committed to freedom of speech and expression with the knowledge that "Freedom of Speech" does not and should not equate to speech without repercussions and/or consequence. Words have power, and we hold classroom community members accountable for what and how we communicate. For these reasons, we are all (students and faculty) called to challenge, interrogate, and push back on ideas that promote misinformation, which is defined as "false or inaccurate information, especially that which is deliberately intended to deceive," and hate speech, which is defined as, "speech expressing hatred of a particular group of people." These forms of discourse have no place in our acts of communication. For these very reasons, we believe that the use of language, in all of its forms, cannot and should not be used to perpetuate ideas or ideological beliefs that are not only harmful to the intersecting identities of those in our classroom communities but are rooted in hate and misinformation.
Indeed, expressly because we seek to promote the free exchange of rational, respectful, and reasonable ideas, the First-Year Writing program firmly believes in the perpetual need to do the following:
Affirm our civic responsibility to promote truth and combat hate, in all contexts 
Affirm that communication acts that perpetuate lies and hate must be identified and stopped, fervently and quickly
Affirm that a "neutral" stance on the spread of misinformation and hateful ideologies merely permits hate and misinformation to be perpetuated and amplified
Identify and call out misinformation in the contexts of all writing and research we encounter
Acknowledge that differences of opinions among individuals are inevitable and valuable aspects of discourse, and communication acts that explicitly or implicitly perpetuate lies and hateful ideologies are abhorrent and inherently destructive to the goals of promoting discourse that includes a range of rational and respectful perspectives
Recognize that valuing freedom of speech and expression does not mean treating all speech acts equally or supporting speech free of consequence
Engage in the act of calling out (by identifying, acknowledging, interrogating, disrupting, and resisting) bad faith arguments--or arguments that lack a baseline of respect for the rights, dignity, and autonomy of others, only seeking to dominate discourse without valuing and tending to a range of perspectives, especially those that have historically been marginalized 
Empower students to act on their responsibility to identify and challenge instances of misinformation and hate in their own work and in the work of their peers
Use language as a way to both understand and respect our differences as empathetic bodies and as witnesses to our experiences and the experiences of others
Enact our commitment to the guidelines and regulations of Title VI and Title IX to ensure that classroom stakeholders are not the object of discrimination based on race, color, national origin, religion, gender, or sexual orientation
Actively engage in the stated mission of the College of Communication and Creative Arts by practicing Anti-Racism in all aspects of our professional lives
If you feel that you are someone you know is the victim of discrimination, you can report it here.
FYWP WEB SITES
The First-Year Writing Program hosts additional web sites for students and faculty with more detailed content about our program and courses.
FYW Student Support Site: https://www.rowanfyw.org/ 
FYW Instructor Support Site: https://www.rowanfirstyearwriting.com/ (Many pages are password-protected. If you are a current faculty member and forgot the password, please contact the program coordinator for access.)
CONTACT US
The First-Year Writing Program is located in Victoria Hall, at 260 Victoria Street, Glassboro, NJ, 08028. Students, advisors, administrators, and Rowan faculty with inquiries can email fyw@rowan.edu or contact one of the following people from our office.
          Program Coordinator: Jude Miller (millerju@rowan.edu), 856-256-4345
          Secretary: Rose Attanasi (attanasi@rowan.edu), 856-256-4096
          Secretary: Dawn Schulde (schulde@rowan.edu), 856-256-4345