MA Symposium 2012
MA Symposium 2012
MA Symposium 2012
At the conclusion of each Spring semester, Seminar II students participate in the MA Symposium. During this multi-evening event, students present portions of their Master's Projects to faculty, family, friends, and colleagues. The Symposium showcases the students' hard work and talent, and emphasizes the range of creative and academic projects they complete.
A highlight of the Symposium is the presentation of the Libro Medallion Award, given to one outstanding MA student each year.
The Spring 2012 MA Projects
Frankie Anderson-Harris | Shimmer Shack
A young adult science fiction novel about a young girl who goes missing and the struggles her best friend has as he investigates her disappearance.
Darlene Antonelli | Online Faces in Online Spaces
A project that analyzes identity creation and maintenance on social networking sites like Facebook and OkCupid, as well as the online role-playing game World of Warcraft.
Samantha Brown | The Great Birds of the Ossenobas
A children's fantasy novel that includes elements of science fiction. Jesse and Guillermo find lasting friendship and courage to face their fears through their adventures and struggles in saving the Great Birds of the Ossenobas from an evil witch who desires the birds' magic.
Rebecca Force | The Snow Also Rises
A collection of poems that attempts to bring new life to the intertextuality of literature, art, and, in particular, philosophy.
Joshua Hoftiezer | Here's to You
A fictionalized memoir that follows Josh, a twenty-something narrator, from a rural New York wasteland down to the suburban environs of Auburn, Alabama. Josh's southern dreams soon come to an end when a twist of events forces him into the heart of New Jersey and under the roof of his estranged father.
Jessica Landolfi | Tweet This: Twitter and the Virtual Discourse Community
A research piece that explores the social media phenomenon, Twitter.
Julianna Lopez | Earth Mage
A young adult fantasy novel set in the year 2100, when human greed has destroyed nature and its resources. The Earth Mages, a select group of beings from an alternative universe called Light Haven, come to protect and cleanse natural energy sources.
Joseph McGee | Six-Guns & Shadows
A paranormal, western novel, that infuses American history with a darkly imagined frontier. Six-Guns and Shadows balances action, intrigue, and suspense while inviting readers to invest themselves in dynamic characters.
Tamikka Malloy | Wanting Manhattan
A young adult historical novel set in Harlem, 1933, where Audrey Lenox, a headstrong and sometimes rebellious 14-year-old, longs to get into the iconic Cotton Club. This coming-of-age novel explores race, religion, and gender roles during the Depression.
Daniel Marks | A Dented Can
Meghan O'Donnell | untitled
A multimodal collection of collages and poetry that explores the space between dreams and reality.
Deborah Off | Apples of Gold in Settings of Silver
A collection of personal essays that details the author's life as a wife and mother of five children. The collection follows her Christian journey from an insecure girl to a confident woman of faith.
Diana Riker | So-Long Sofa: Putting Down the Burger and Picking up the Gym Shorts
A nonfiction, multigenre piece that chronicles the author's attempts to lose weight over a period of seven months. The author employs self-deprecating humor throughout as she shares her frustrations and triumphs.
Emily Yuengel | The Grammar Controvery: Has Technology Really Ruined Grammar?
A research project that examines the common belief that technology negatively affects grammar usage.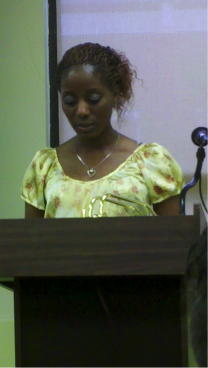 Tamikka Malloy reading Wanting Manhattan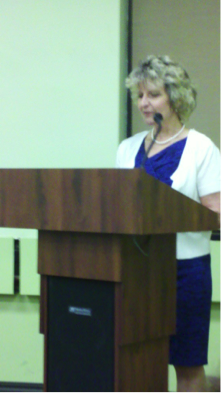 Deborah Off reading Apples of Gold in Settings of Silver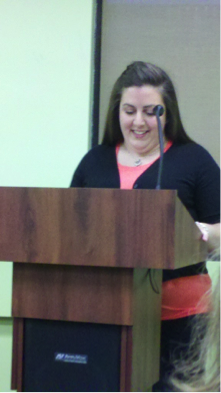 Jessica Landolfi reading Tweet This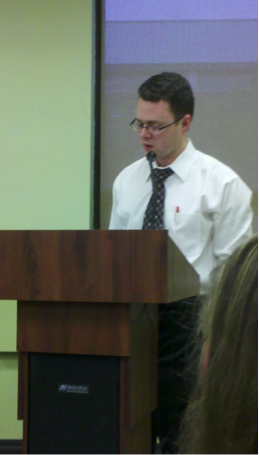 Joshua Hoftiezer reading Here's to You


Meghan O'Donnell presenting her MA project
The Toni Libro Medallion Award
The 2012 winner of the Libro Medallion is Joseph McGee. McGee is currently teaching writing at Salem Community College, Atlantic Cape College, and Rowan University. He is also enrolled in the MFA program at Vermont College of Fine Arts.
Writing about his experiences in the MA program for the College Annual Report, Joe stated "It meant a great deal to me to receive the Toni Libro medallion award for outstanding Master of Arts in Writing student. The medallion is a validation of everything I have done in the last two years, a validation of the decision I made long ago in Professor Chang's office, the decision to pursue my love of words and my desire to tell stories. As I go forward in my career, hoping for continued success and the satisfaction of finding my way, I will fondly reflect on my time at Rowan. And I will always be grateful to the program and the faculty of the MA in Writing."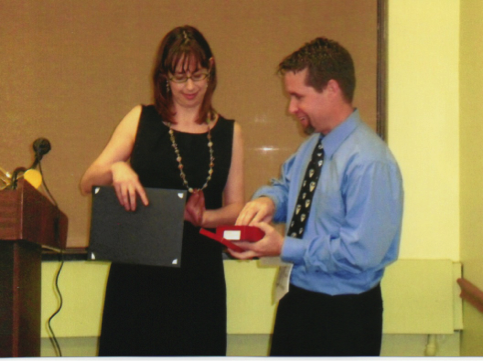 Dr. Courtney presenting Joe McGee with the Libro Medallion