Current Department News
Current Department News
Art Department News
April 2022
Rowan Symposium for Interdisciplinary Arts Spring 2022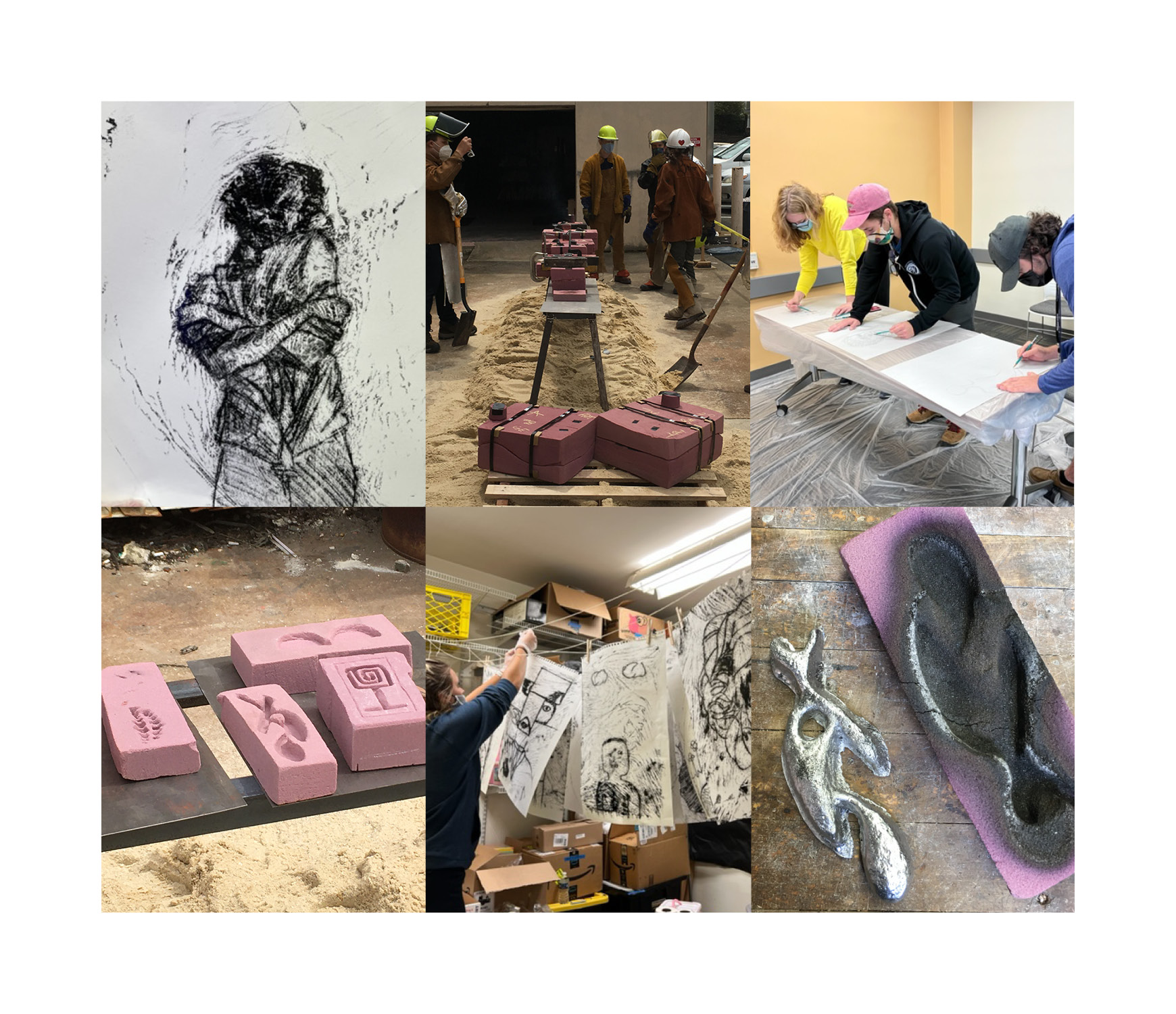 The "Symposium for Interdisciplinary Arts" offers a hands-on approach in introducing other areas of making and thinking to Rowan students at the Art department and beyond. There are 14 different workshops to be conducted by various Arts Faculty through April 4th-8th, 2022. 
Free to all, but limited space is available.
Registration is required; Please sign up here: https://bit.ly/RSfIAS2022
For any questions please contact the program head: Mina Zarfsaz at zarfsaz@rowan.edu
Program Guide for Rowan Symposium for Interdisciplinary Arts Spring 2022
Poster for Rowan Symposium for Interdisciplinary Arts Spring 2022
Session Details
Intro to Paper Quilling / Westby 103
Session 1 (Tuesday April 5, 2022 8:00AM-10:30AM)
Session 2 (Thursday, April 7, 2022 8:00AM-10:30AM)
Professor: Iris Richardson
Paper quilling is the art of cutting paper into long thin strips, rolling and pinching the pieces into different shapes, and then gluing the shapes together to create 3D art. We will create a 5X7 work of art.
What's in the bag? Collage and the Creative Process / Westby 205
Session 1 (Monday, April 4, 2022 2:00 PM-4:45 PM)
Session 2 (Wednesday, April 6, 2022, 2:00 PM - 4:45 PM)
Professor: Alicia Finger
If you love experimenting and being surprised, this workshop for you! In this workshop we will being focusing on the creative process through the use of collage. Together we will discuss the history of collage, how collage fits in our contemporary art world, and spend some time creating and collaborating.
What's in a picture: Illustration as visual storytelling / Westby 219
(Friday, April 8, 2022, 9:00AM - 1:00PM, followed by (optional) additional studio time.)
Professors: Adam Gustavson & Kyle Margiotta
Illustration is a discipline in the visual arts that pulls from nearly every other studio area. It is not relegated to a single style, medium, or market; rather, it is visual art with the responsibility of communication.
What it communicates can often be distilled into a punchline, a narrative, a mystery... even just a feeling. An illustration often serves as support for written media, but even this is not always the case. At their essence, illustrations are pictures made through a collaborative process, which serve a purpose and communicate an idea.
In this workshop, students will learn the steps involved in this collaborative process, through a creative exercise involving archival photo reference, observation, memory, and the influence of art history.
Fabricating Forms: Collaborative Textile Installation / Westby 103
Session 1 (Monday, April 4, 2022, 2:00PM - 4:45PM)
Session 2 (Wednesday, April 6, 2022, 2:00PM-4:45PM)
Professor: Addison Namnoum
In this workshop, we will make material interventions on fabric (weavings, braidings, knottings, and cuts) as well as learn how to make photographic dye transfers to create dynamic sculptural forms using fabric.
Each participant will have the opportunity to work individually on their own component, then later we will assemble the work collaboratively with the entire group to make a final installation. Through the collaborative installation process, we will explore formal questions of visual mass, space, line, form, and color. We will also discuss the rich conceptual language and histories of textile art that is available for us to tap into: how textile is craft, how textile is political, and how textile binds us together.
Sand Carving and Aluminum Casting / Westby 103
Session 1 (Thursday, April 7th, 2022, 11:00AM)
Session 2 (Thursday, April 7th, 2022, 2:00PM)
Professor: Emily Baker
I will be doing a carving activity on Thursday where students can come in and carve a big block of resin-bonded sand. Then, we will cast the piece on Saturday. The carving will all be done on one block so the piece will be communal.
Casting Concrete: Making a Geometric Planter / Westby 103
(Tuesday, April 5, 2022, 8:00AM-10:30AM)
Professor: Kate Testa
In this one day workshop students will learn the basics of mold making and casting while creating a geometric concrete planter. As an introduction into building 3-dimensionally, each participant will will build a single use hollow form molds that will be cast with concrete. Other mold making processes and materials will be discussed.
Artist talk with Jess Aquino - dying workshop to follow / TBA
(Friday, April 8, 2022, 10:00AM-11:00AM)
TBA
Mind & Body Monoprinting / Westby 111
Session 1 (Tuesday, April 5, 2022, 12:30PM-1:45PM)
Session 2 (Tuesday, April 5, 2022, 3:30PM-4:45PM)
Professor: Elizabeth Shores
Following a slide presentation about self-portraiture and movement activities, participants will monoprint their most powerful self. Previous artmaking experience not required.
NITE-LITE / Westby 219
(Wednesday, April 6, 2022, 5:00PM-9:00PM)
Professors: Jen Kitson & Mina Zarfsaz
Come play with light and sound! We will prototype ideas in a collaborative setting and activate a public space or structure. Bring a cell phone or camera to document, a laptop if you have one; wear appropriate clothing for outdoor activities.
March 2022
Student Chapter of the National Art Education Association at the NAEA annual conference in New York City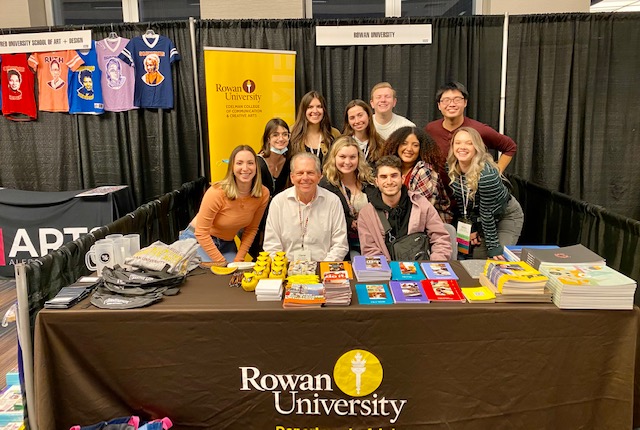 Fourteen student's from the Rowan Student Chapter of the National Art Education Association attended the NAEA annual conference in New York City from March 3-5, 2022.  Rowan University had a section in the Exhibitor's Hall of the Hilton Midtown promoting the Art Department and the Edelman College of Communication and Creative Arts to more than 3,000 art educators, administrators, students, and museum people. At our recruitment table we received more that 85 names and email addresses of individuals and districts requesting a virtual classroom visit from the Department of Art.

Our Art Education students participated in working with Dr. Neglia at the Rowan table to promote the college and also attend workshops, hear keynote speakers, visit art museums, network and participate in a variety of opportunities presented at the conference.
November 2019
Students at the National Gallery of Art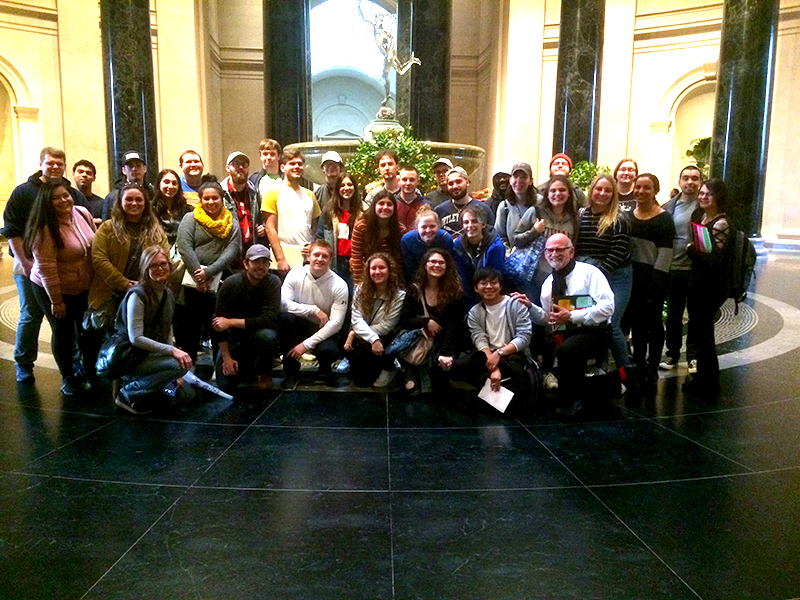 Professor Adelson's History of American Art class in the rotunda of the National Gallery of Art in Washington, DC during a visit on November 19, 2019.
July 2019
Congratulations to Khai Nguyen (junior) for his award of a Mellon Fellowship in the Summer Academy at the Philadelphia Museum of Art. This is the new initiative at the museum to introduce students of diverse backgrounds to museum careers. 
June 2019
Student Jon Hem (senior) has work accepted in two juried exhibitions. His "Exploding Atom" was accepted for Rites of Passage, an international undergraduate exhibition of thirteen artists representing 12 schools. The June exhibition will be at the Manifest Gallery in Cincinnati, Ohio. His work "Rectilinear Tectonic" accepted for the Clay Matters: National Ceramics Competition at the Epperson Gallery of Ceramic Arts in Crockett, California. The exhibition ended May 5. 
Rowan will be well-represented at Arrowmont School of Arts and Crafts this summer in Gatlinburg, Tennessee. The awardees for the department's 2019 Arrowmont Scholarships are seniors Christina Glinos and Jon Hem. They will be selecting workshops to advance specific art-making skills. In addition, senior Leann Carlson has been accepted into Arrowmont's work-study program for the summer. 


May 2019
Jan Conradi (design faculty) displayed a group of student posters in a collaborative project with faculty from Iowa State University and Youngstown State University at the 14th annual UCDA Design Education Summit: Collaborate. She was also a panelist in the session "Maximizing Value and Minimizing Chaos in Creative Collaborations." The national conference was held May 19 - 21 in Johnson City, Tennessee.

Herb Appelson was recognized with a CCCA Excellence in Service Award for his work in the Department of Art for 2018-19. The award provides recognition for the often unseen efforts by faculty who help support their programs with ongoing, uncompensated, day-to-day service.



April 2019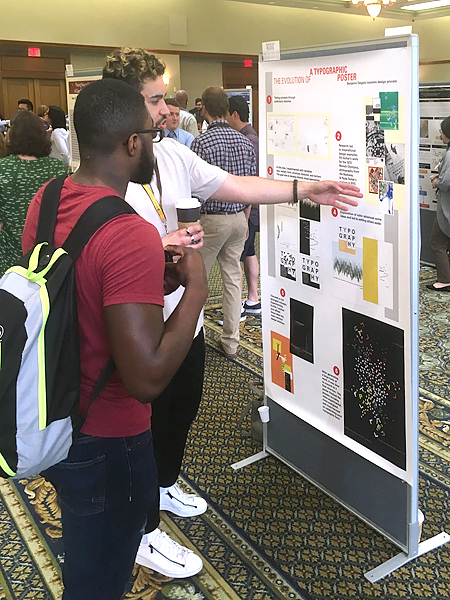 Ben Delgado explains his work to one of the visitors at RUSSS.
Student Benjamin Delgado (senior) was a presenter at RUSSS (Rowan Student Scholars Symposium), April 25-26. His poster presentation focused on his personal design process in the "The Evolution of a Typographic Poster.
March 2019
Jim Greenwell (Studio Technician) is showing new work at Cumberland County College Arts and Innovation Center in Millville, New Jersey along with distinguished alumni Mike Iannone, Jack Larimore, former adjunct Peter Park and Josh Steelman. "Grains and Planes" will be on display through April 23, 2019.
Welcome (and congratulations) to Hamilton Pedrick (2018) who is now Media Technician for the Department of Art. Hamilton will manage large format printing and personnel in the Media Lab for the rest of this semester. In the fall, he's on his way to University of Delaware, where he has been accepted into the MFA program with a full scholarship and a Teaching Assistantship. He'll continue to develop his creative work in Photography.
February 2019
Phillip Scarpone (sculpture faculty) is exhibiting new work in exhibition "2019 CFEVA Member Selections" at the Center for Emerging Visual Artists, Felicity R. Benoliel Gallery in Philadelphia through April 5th.
Caitlin Cocco (faculty) was awarded a professional development grant through the Denis Mercier Endowed Professional Development Fund. Caitlin will use this funding to attend the 107th Annual Conference of the College Art Association in NYC in February.
December 2018
Steven Descusatis (design faculty) recently was interviewed about his work for The Philadelphia Collaborative. You can read the interview here: thephlcollaborative.com/blog/2018/11/12/steve-decusatis
John Mitchell (faculty) participated in the "New Radicals" exhibition that was guest-curated by Aubrey Levinthal (former faculty) at the Cerulean Arts Gallery in Philadelphia through December 8. ceruleanarts.com/pages/new-radicals
Phillip Scarpone (sculpture faculty) is exhibiting in "Philadelphia Sculptors Presents" at the City Hall Gallery, Philadelphia, PA through December 7th. His work was also shown in two exhibitions during October: a solo exhibition "Let the Tail Go with the Hide" curated by Daniel Giordano at the Karpeles Manuscript Museum in Newburgh, NY, and in "Chance Meeting" a two-person exhibition at Pilote Studios Gallery in Philadelphia.
Rosemary Castiglioni (painting faculty) has work included in the publication ART HEALS. Purchases from Penn Medicine, Lancaster General Hospital.



November 2018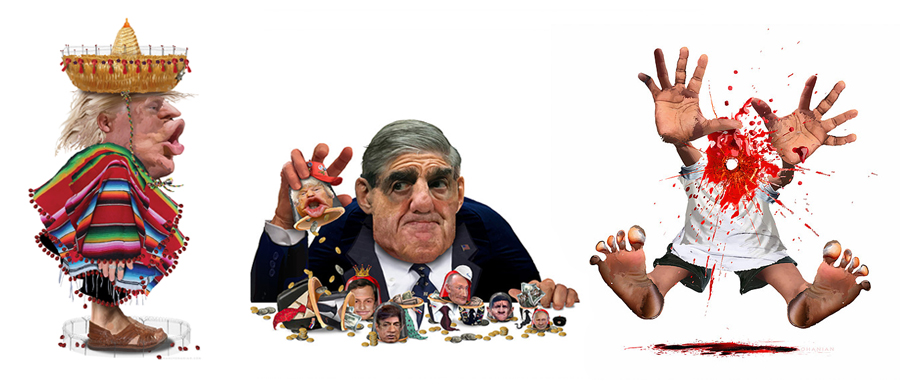 Illustrations: President of the United States; Robert Mueller Investigates; Don't Shoot
Professor Nancy Ohanian wins a major award. The National Press Foundation has announced that Ohanian, whose syndicated political illustrations are published in some 250 newspapers each week, has won the Clifford K. and James T. Berryman Award for Editorial Cartoons. She is the first full time educator to win the Berryman since the NPF launched its awards program nearly 30 years ago. She will be honored during an awards ceremony in Washington, D.C. on February 13th. Her body of work has skewered elected officials from both major parties but she's found a particularly rich target in President Donald Trump. See more of her work at https://www.nancyohanian.com/. Read the complete article about this award here.



Firing up the Foundry. Phillip Scarpone led the intermediate sculpture students through the process of pouring bronze and aluminum in the Westby Foundry. Photos by Bridgette Heisler.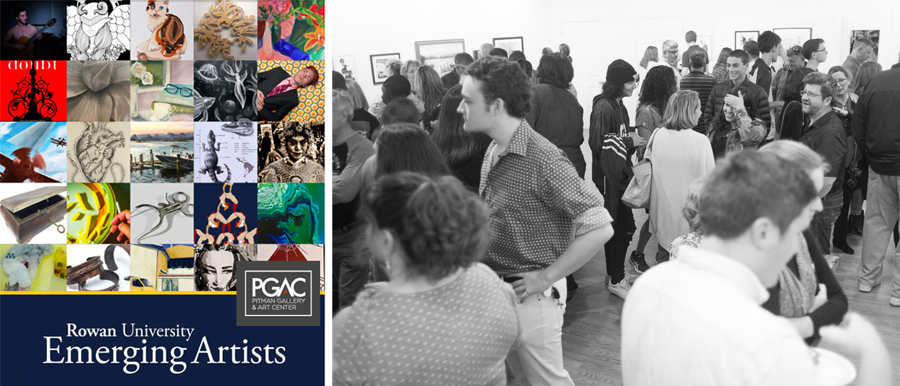 The Emerging Artists exhibition will be shown at The Pitman Gallery & Art Center in Pitman, New Jersey through November 24th. This juried exhibition includes a wide range of works from more than 30 artists who are current students or recent graduates of Rowan University. The opening reception on Friday, November 2 brought out an enthusiastic crowd. Thank you to PGAC for displaying these works and to the Gloucester County Cultural & Heritage Commission for a grant to support this exhibition. (Photos by Martin Picturesque Photo)
October 2018

 Posters by Jason Petrocella, Cassidy Greene, Madison McShea, Jenn Parisi, Kaitlyn Wargo
Register. Vote. This poster exhibition will hang in the Westby Student Gallery until October 6th. The exhibition includes more than 40 posters designed by students at Rowan University (Jan Conradi, Professor), Iowa State University (Lisa Fontaine, Professor), and Youngstown State University (RJ Thompson, Professor).
Herb Appelson's (Art) relief print was accepted for the 118th Anniversary International Exhibition of Works on Paper at the Wayne Art Center in Wayne, PA from October 14 through November 20. 
Alicia Finger (faculty) has a piece in Catalyst, a group exhibition at the Spillway Collective in the Crane Arts Building in Philadelphia from now until Friday, October 5. 
Megan Jean (senior) has a photograph "The Girl" is accepted into the RAW 2018 Exhibition at the Noyes Arts Garage of Stockton University, 2200 Fairmount Avenue in Atlantic City. The exhibition hangs until January 27, 2019. The opening reception is October 12, and there is a closing reception on January 11, 2019.
September 2018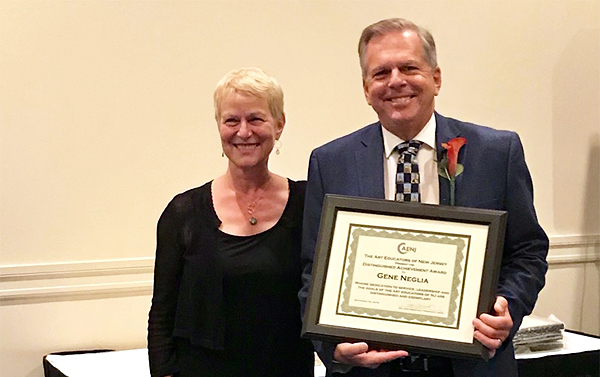 Art Education faculty Jane Graziano and Gene Neglia
Gene Neglia receives the New Jersey Teacher of the Year Award for Distinguished Achievement at the annual conference of the Art Educators of New Jersey (AENJ). This award honors a member of the association for long-term dedication to the visual art profession, to AENJ goals and leadership, and whose teaching experience is recognized as exemplary. Congratulations to Gene!
Welcome New Faculty! The department is pleased welcome Phillip Scarpone and Jenny Drumgoole in new positions as full-time Lecturers. Phillip Scarpone, sculpture area coordinator, joins us from Pittsburgh, where he was at Carnegie Mellon University, School of Art in Pittsburgh as Instructor in Sculpture. Jenny is a familiar face since she has been teaching in the Department of Art for several years; she will coordinate the photography area. We are happy to have them both as members of our team.
Celebrate with Ice Cream to start a new year. When faculty, students and staff gathered to welcome new students and faculty and greet old friends, we shared ice cream sundaes and rootbeer floats. This tasty event was September 12, and also celebrated the opening of the Core Portfolio Review and shared information about activities and clubs in the department.
August 2018
Lisa Courtney (senior) completed her summer internship at Cree in Durham, North Carolina. She said, "I focused on package design and layouts for new product packaging. I also worked on some print collateral created some infographic branding for new SmartCast technology."
Nick Boccaleri (senior) interned at AKCG (formerly Anne Klein Communications Group), a national public relations firm in Mount Laurel, New Jersey. He said, "I designed a range of materials, including company brochures, letterheads, newsletters, and PowerPoint presentations."
Jan Conradi (Professor, Graphic Design) has a solo exhibition, La Vita in Italia, at the Pitman Gallery and Art Center in Pitman, New Jersey through the month of August. The exhibition has been selected for display in the Wanderlife Gallery in Philadelphia, Pennsylvania, for the month of October. It features her photography of Italy in locations ranging from the Italian Alps to Campania and Sicily.
July 2018
Nancy Sophy (painting faculty) is one of four artists whose work is highlighted by Seraphin Gallery at The Yard, a co-working space in the heart of Center City. The Yard is at 21 South 11th Street, Philadelphia. The opening reception is Thursday, July 19th.
June 2018
Christina Czajkowski (senior) will represent Rowan when Star Wheel Printers presents its third annual exhibition of graduating printmakers First Edition 2018: New Philadelphia Printmakers. The exhibition opened at the Fleisher Art Memorial's Center for Works on Paper on May 7 and runs through June 15.
Jill Gower (Associate Professor) is preparing to exhibit her fine jewelry line at JA New York, at the Javits Center, July 15-17. She's featured in the New Designer Profiles too: www.jewelry-logic.com/new-designer-gallery-profile-jill-kathleen-designs/

May 2018
Jan Conradi and Robert Whyte (design faculty) were co-presenters at the 13th annual National UCDA Design Education Summit: Good Design Works in Youngstown, Ohio on May 21. Their presentation was "Who wants to visit New Jersey? Designing for enlightened tourism."
Several students are gaining professional experience with design internships this summer, including:
Nick Boccaleri, at AKCG ((formerly Anne Klein Communications Group), a national public relations firm in Mount Laurel, NJ
Paige Buza, working with the Director of the Communications Center for PSE&G (Public Service Electric and Gas) in Hancock's Bridge, NJ
Samantha DiVirgilio, working for The Student Center at Rowan University.
Matthew Yaros, at the New York Red Bulls professional soccer club based in Harrison, NJ
April 2018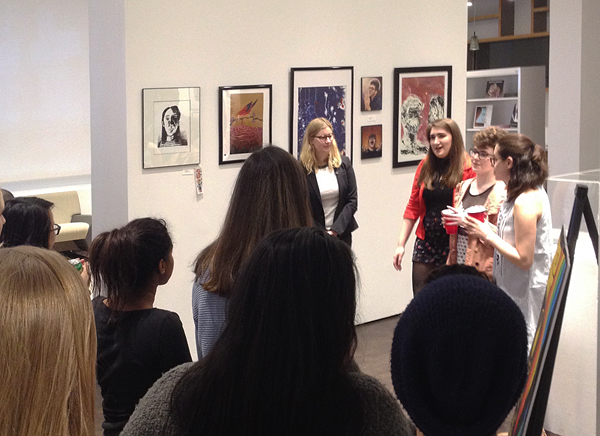 The Rowan Arts Collective (TRAC) Juried Exhibition was held at the Rowan University Art Gallery on High Street and featured work of students studying in the department. Our Artist in Residence, Sidney Mullis, juried the show. The winners were: Best in show—Nicholas Hentz; 2nd Place—Leann Carlson; 3rd Place—Nicolas Palmero; E-Board's Choice—Brianna Jarzyna
Chad States (photography faculty) has an exhibition, La Vie En Rose, at Vox Populi in Philadelphia. In addition, on April 21 he is presenting a new video piece, I've Been Thinking About Forever, a rumination on time, boredom, fascination, anxiety and connectedness.  http://voxpopuligallery.org/calendar-event/ive-been-thinking-about-forever/
March 2018
Aubrey Levinthal (painting faculty) as visiting artist at the University of Cincinnati, Aubrey presented a lecture about her work on March 22. Also, her work will be represented by the Nancy Margolis Gallery at this year's Volta NY at Pier 90 in New York, NY from March 7-11.
Skeff Thomas (Professor, ceramics) is exhibiting in 012 – 12: Spanning the Spectrum of Ceramic Art at the Mendolson Gallery in Pittsburgh, PA from March 11- 17. He will also exhibit at the Philadelphia Invitational Furniture Show, April 13 – 15 at the 23rd Street Armory in Philadelphia. More info is available at: www.philadelphiafurnitureshow.com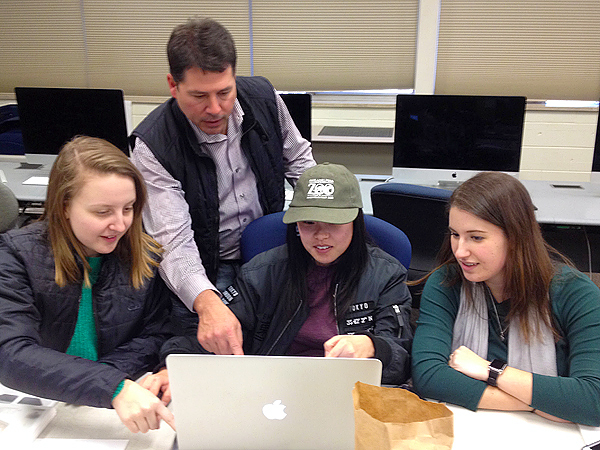 Designer Scott Franko visited Rowan on March 26-27. He recently moved to Sneads Ferry, North Carolina after 25 years of design work and business ownership in the Chicago area. Scott gave a thought-provoking presentation about balancing work, life, passion for design, and the sometimes logistically challenging aspects of signage and custom fabrication. He also spent an afternoon doing critiques as the Graphic Design 8 students worked in teams to develop branding systems promoting NJ Tourism topics.
February 2018
Jan Conradi (Professor, graphic design) has a solo exhibition of photography, Italian Moments, at the Coni Wolf Gallery in York, Pennsylvania from February 2 through March 3, 2018.
Michelle Haberl (drawing faculty) is currently showing works in the exhibit, Small Beauties, at Era Contemporary in Philadelphia and New York. Next month she'll have work in Small Worlds: Annual Small Works Show, at The Plastic Club in Philadelphia from March 4 through 22.  
January 2018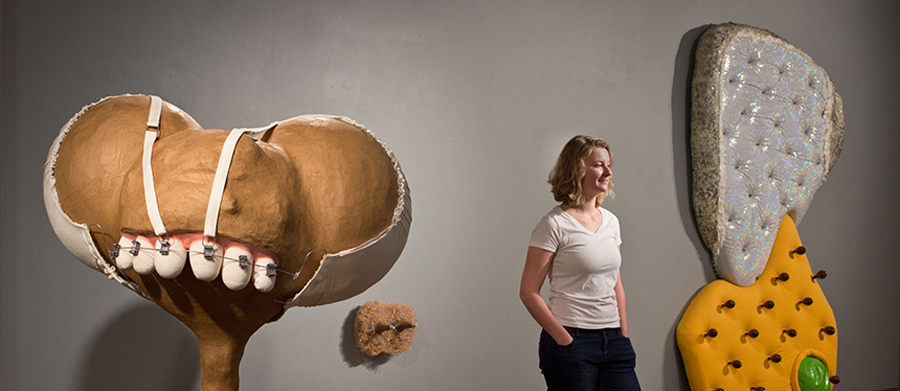 Welcome to Sidney Mullis, 2018 Artist in Residence
Sidney Mullis lives and works in State College, PA. Her current work includes constructed performance-based video, interactive objects and sculpture. She has exhibited in a number of locations including Berlin, Germany and Tokyo, Japan. She has had solo shows at the Leslie Lohman Museum (NYC), Future Tenant Gallery (Pittsburgh), Lock Haven University, University of Mary Washington, and more. Recent group exhibitions include Galleri Heike Arndt (Berlin), Trestle Gallery (NYC), Galleri Urbane (Dallas), pehrspace (LA), and Area 405 (Baltimore). Sidney Mullis is the recipient of the MASS MoCA residency, Ox-Bow MFA Residency, and a Creative Achievement Award from Penn State University. Sidney Mullis is represented by Galleri Urbane (Dallas, TX).
We look forward to having her in our department to share ideas and inspiration with students and faculty. Learn more at her website: www.sidneymullis.com
November 2017 

Blurring the Lines: Art Faculty of CCCA. This exhibition showcases the diversity and strength of creative practices by current faculty and teaching staff. It can be viewed in the Rowan University Art Gallery from November 18 – December 16.
Abby Ondar (junior) represented Rowan University's graphic design program in the AIGA exhibition Represent. Her work for FitSmart, including symbol set, poster, website and video promotion, was created in Ryan Penn's Graphic Design 3 course. The exhibit is hanging until November 30 at Bluecadet in Philadelphia, PA.
Herb Appelson received an honorable mention for his artwork which was included in the American Color Print Society Annual Members Exhibition at The Plastic Club in Philadelphia, PA. www.plasticclub.org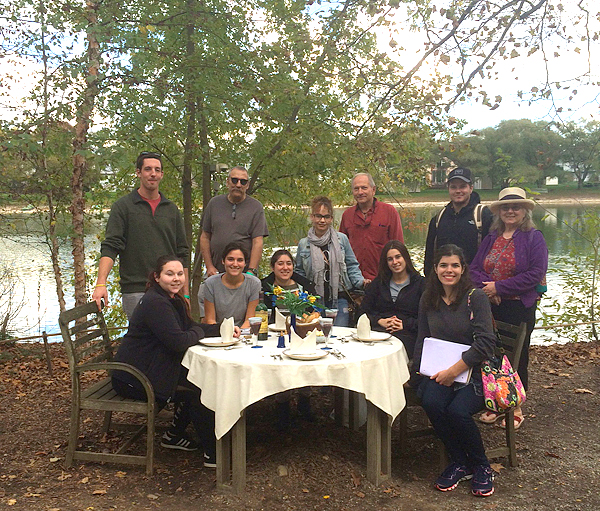 Students with Bruce Daniels, project manager of Grounds for Sculpture.
 
The special topics course Nature and American Art visited Grounds for Sculpture in Hamilton, NJ on November 2.  They enjoyed a lecture and guided walking tour with Bruce Daniels, project manager, who has worked on the site since its inception 25 years ago.  Daniels was instrumental in transforming the derelict remains of the NJ State Fairgrounds into what it has become today: an arboretum and park with more than 200 outdoor sculpture and an idyllic venue for viewing art in nature. 
October 2017 
Jan Conradi (Professor, graphic design) was editor for the book "Rocco Piscatello: Poster Works for FIT." In addition, she was moderator for a panel discussion with Rocco Piscatello, R. Roger Remington, and Willi Kunz about modernist design and typography at FIT, October 26. The panel was part of the book launch celebration at FIT in New York, NY. 
http://www.piscatello.com/projects/rocco-piscatello-poster-works-for-fit/
Jenny Drumgoole (photography faculty) has been selected as the 2017 Digital Artist in Residence for the Main Line Art Center in Haverford, Pennsylvania. She is notable as "a video-based performance artist who inserts herself into marginal spaces for pseudo-celebrity within popular culture."  www.mainlineart.org/digital-artist-in-residence/
Mina Zarfsaz (digital media faculty) is organizing a lecture at Ulises Bookstore in Philadelphia on Oct 13 in support of local female and queer artists who are working in tech and new media. In addition, she is preparing work for a solo exhibition Dead Ringer at the contemporary art space and collective, Vox Populi, in Philadelphia. December 1, 2017 through January 21, 2018.  voxpopuligallery.org/exhibitions/mina-zarfsaz/
September 2017
Steve DeCusatis (design faculty) had two logo designs selected for publication in LogoLounge Volume 10. This will be their biggest volume ever and is available October 20th. 40,000 logos were reviewed by LogoLounge's international judging panel of design superstars including Andreas Karl, Aaron Draplin, Von Glitschka, Alex Tass, Chad Michael, Yo Santosa, Emily Oberman, Su Mathews Hale, Felix Sockwell and Alex Trochut. 
Jill Gower (Associate Professor, metals & jewelry) has a solo exhibition Retouched, at the Ombré Gallery of contemporary art jewelry in Cincinnati, Ohio. Her work is on display from
September 9 – October 8.  ombregallery.com
Aubrey Levinthal (painting faculty) is having a solo exhibition of her paintings with the Nancy Margolis Gallery, New York, NY. The exhibition opened September 7th and continues through October 14th. www.nancymargolisgallery.com/aubrey-levinthal/
Nancy Sophy (painting faculty) a new painting entitled "Magic Garden," included in a group show of gallery artists at Seraphin Gallery at 1108 Pine St in Philadelphia.
Skeff Thomas (Professor, ceramics) is exhibiting in Material Matters at the Brooklyn Waterfront Artists' Coalition in Red Hook, Brooklyn, NY from September 23 – October 15. He will also be exhibiting at the annual Festival of Fine Craft at Wheaton Arts and Cultural Center on October 7 - 8, 2017.
August 2017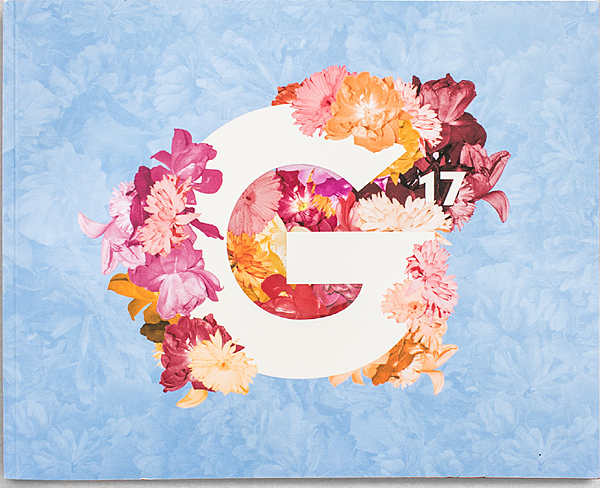 The 2017 Gallery wins an international award!
This year's design team was Justin Visentin, art director; Jooahn Kwon, assistant art director; Gina Scamuffa, senior designer; and Brianna Jarzyna, Eva Louderback, Rachel Manyin, designers. They are excited to announce that their book won a pewter in the category: Books, Fine Editions for the The Gold Ink Awards. Presented by Printing Impressions, this annual international competition receives thousands of entries from printers around the world and is noted as the industry's most prestigious print award. The book was printed by Garrison Printing in Pennsauken, NJ. It is supported by the Rowan University Student Government Association www.piworld.com/extension/gold-ink-awards/
Jim Greenwell (art technician) and Jackie Greenwell are exhibiting in the group show ABOUT TIME! Artist's Interpretation of the Ubiquitous Clock at Wheaton Arts and Cultural Center in Millville, NJ. The show runs from August 26 to October 8, with an opening reception on September 10.
Skeffington Thomas (Professor, ceramics) is the lead for a University Senate Task Force which has been awarded a $20,000 grant by the American Cancer Society's Tobacco-free Generation Campus Initiative.
Kate Pollard (faculty, photography) is currently exhibition her work as part of What the World Needs Now: Atlanta Celebrates Photography, The B Complex Gallery in Atlanta, Georgia. She has two exhibitions opening in October: the 2017 National Photography Fellowship: Developed Work at the Midwest Center for Photography in Wichita, Kansas; and PHOTO '17 at the Multiple Exposures Gallery in Alexandria, Virginia. And over the summer, her work was included in Analog V. Digital, at the Foley Gallery in New York, NY.
Mina Zarfsaz (faculty, digital media) and collaborator Matthew Belknap produced the resident artist project: A Corporeal Orchestration of Sounds at the Icebox Project Space in Philadelphia, PA. This is an interactive installation founded in the crossroads between the uniqueness of an individual, bit, beat, sound, and their ability–through collective intervention–to change not only the music, conductor, and orchestra but also the space itself. The installation was on view from August 18-27.
www.cranearts.com/2017/08/a-corporeal-orchestration-of-sounds-and-xcambo-pink/
July 2017
Christopher Andricola, James Childs and Christian Dalonzo (seniors in graphic design) developed a wrap design for a 22-foot utility trailer for the City of Glassboro. Their solution, based on the idea of classic summer tourist postcard, is currently in production and will be seen around town soon.
Caitlyn Clements (adjunct faculty) will be at Odysseys Artist Residency in Costa Rica for July and August. She will be artist-in-residence along with another fine artist and a writer.
Nancy Sophy (adjunct faculty) is participating in two group exhibitions in Philadelphia this summer. One is at Cerulean Arts new gallery space; the other is at Fleisher Art.
June 2017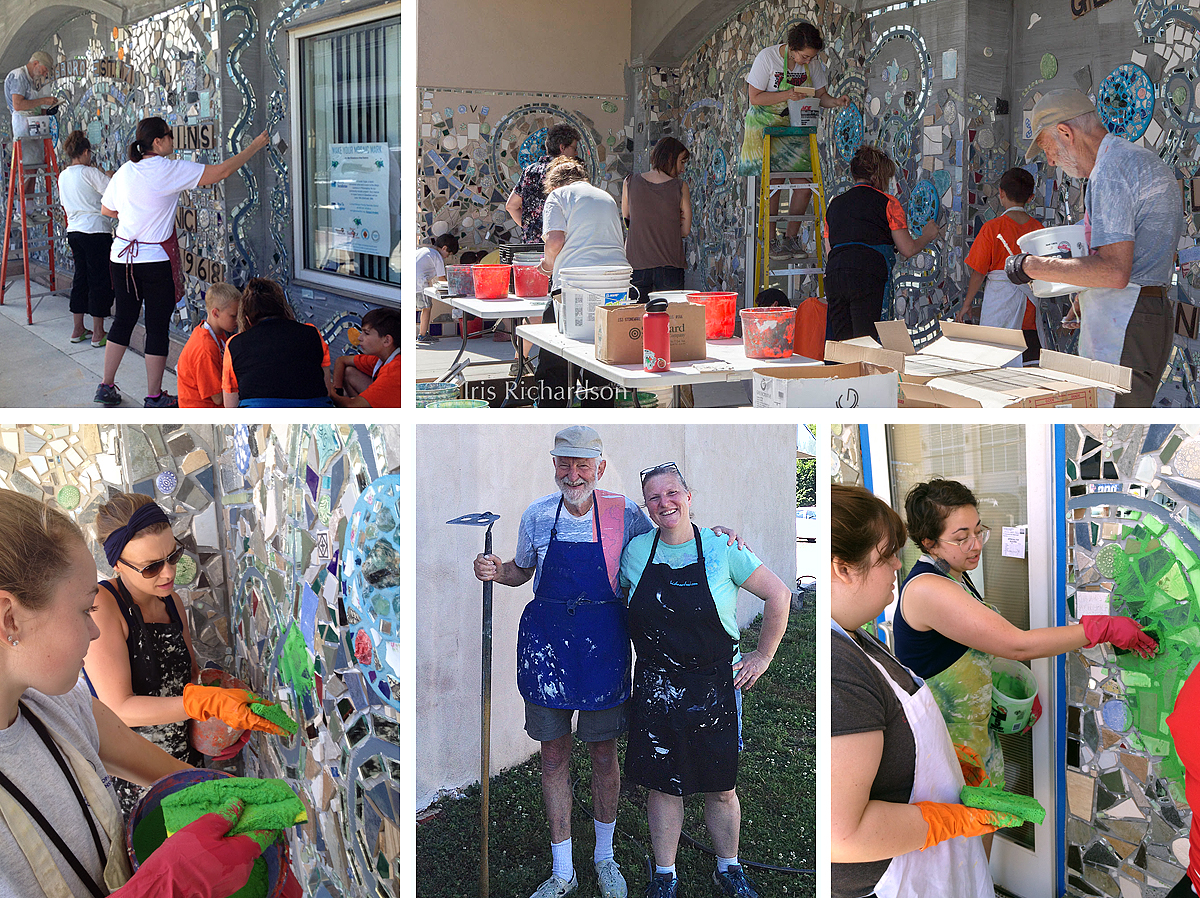 Art students, alumni, and faculty are working at a unique mosaic mural project to brighten the facade for the Mosaic Family Success Center in downtown Glassboro. Designed by Isaiah Zagar (Magic Garden, Philadelphia), the project is a joint effort with Creative Glassboro, The Robin's Nest, Mosaic Family Success Center, and the Glassboro community. Art alumni Sammy Kovnat and Iris Richardson interned with Isaiah in Philadelphia and assisted with a community tile-making workshop and installation of the mural. Faculty Jill Gower and Skeff Thomas worked with Melanie Stewart and the Robin's Nest to facilitate the project, and Cait Clements also helped with installation. Channel 4 news coverage is here.
Jenny Drumgoole (faculty) has an exhibit "Show The People What They've Won" at the Delaware Center for Contemporary Art through July 2nd.


May 2017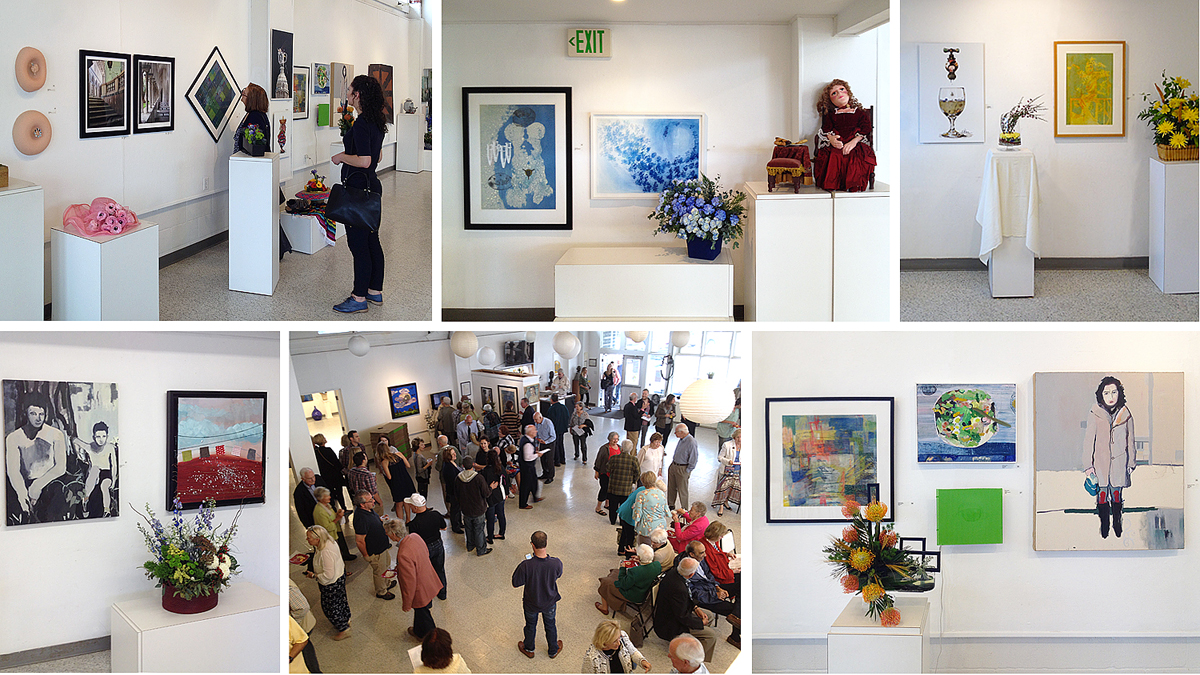 The art department made a splash at the shore by installing an exhibition, We Create, at the Long Beach Island Foundation of the Arts & Sciences in Loveladies, NJ. Organized by Fred Adelson (faculty) it included over 60 works by twenty Department of Art faculty and staff. Dr. Adelson also wrote a booklet documenting the history of Rowan's Department of Art. Jan Conradi (faculty) designed the booklet and developed promotion materials for the exhibition. The gallery talk and opening reception brought out a big and upbeat crowd on May 20. The exhibit ran until June 1.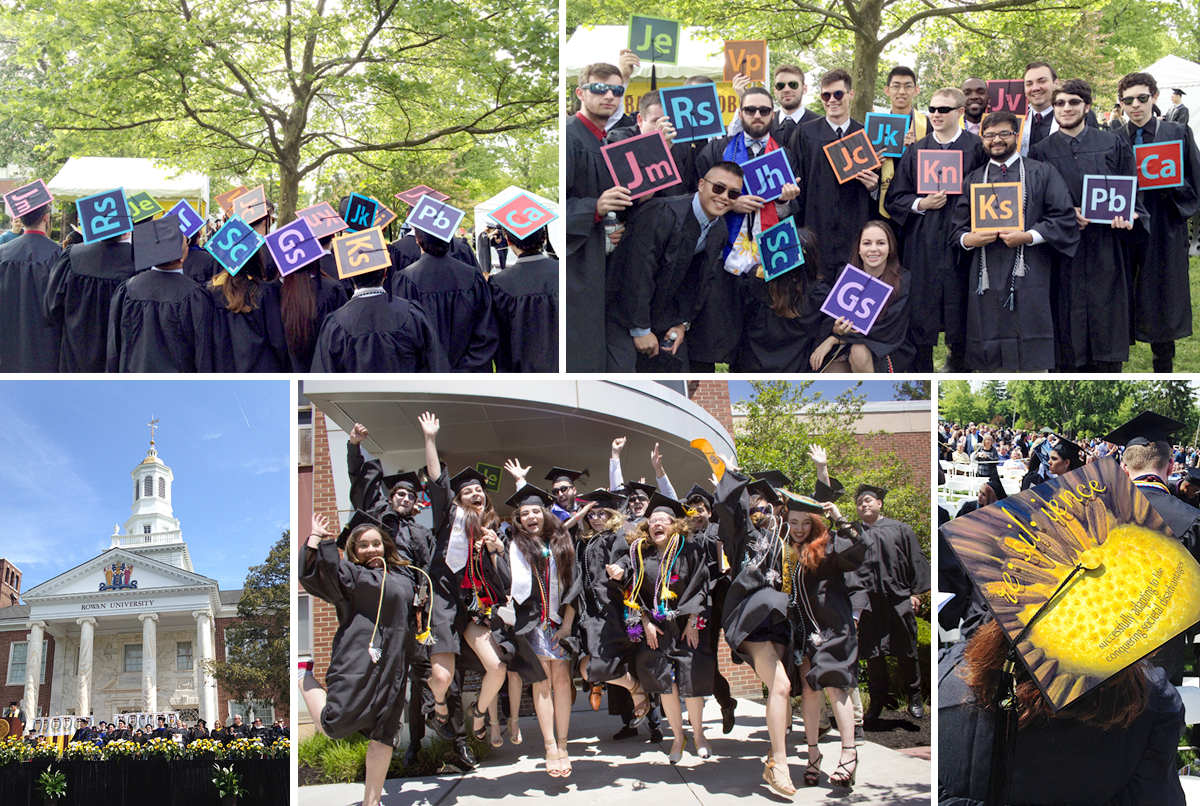 Graduation 2017. Another academic year raced past and we say congratulations and goodbye to a great group of seniors. We wish them the best of luck in putting all that they've learned to use as productive artists, designers, educators and fantastic supporters of the arts.
April 2017

Travels with Art History. Some of the students enrolled in art history courses enjoyed museum and gallery trips under the guidance of Fred Adelson (faculty). One class visited the Metropolitan Museum of Art in New York last week, and another group traveled to Washington D.C. this week. Great art experiences for all!

Graphic Design 8 (seniors) working with Jan Conradi and Robert Whyte (faculty) installed an exhibition of 19 large-format posters with the theme "Celebrate Glassboro" in the lobby of Phleeger Concert Hall. We thank the College of Performing Arts and Department of Music for supporting this project and hosting a reception coming up later this month. Stop over and take a look at the work brightening the brick hallway; it'll stay in place through the summer.

Left: Juror Jay Walker shares comments at the opening. Right: Award winners Rylee Jacobs, Megan Fleischer, Paul Bayruns, Kayla Earnst
Rylee Jacobs (art major) headed the Rowan Arts Collective Juried Exhibition which featured work of students in the department in High Street Gallery. Our Artist in Residence, Jay Walker, juried the show. The winners were: Best in show—Rylee Jacobs; 2nd Place—Kayla Earnest; 3rd Place—Paul Bayruns; E-Board's Choice—Megan Fleischer
Jooahn Kwon (art major) designed the identity for The SHOP (Students Helping Other Profs), a new resource center dedicated to enhancing the quality of life for Rowan University students. With a particular focus on addressing issues of food insecurity, The SHOP offers a range of support services that can connect students in need with appropriate on campus and community resources.
March 2017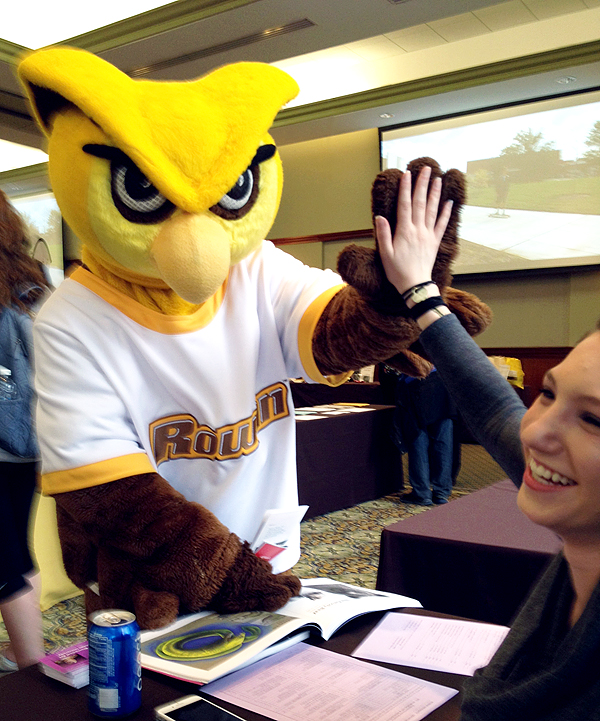 Rowan's mascot checks out The Gallery book and shares a high-five with student Alyssa Stern
The art department promotes "Major Madness." On March 1st art students and faculty joined other departments at the Student Center Ballroom to showcase academic and career-related programs.
Aubrey Levinthal (faculty) has an exhibit, Refrigerator Paintings, at The Painting Center in NYC (through January 28) with positive reviews in ArtNews and The New York Sun. And she has two paintings in Cake Hole, a group exhibition in collaboration with Doppelgänger Projects; this exhibit is February 11 – April 1, 2017 at Mrs. Gallery in Maspeth, NY.
February 2017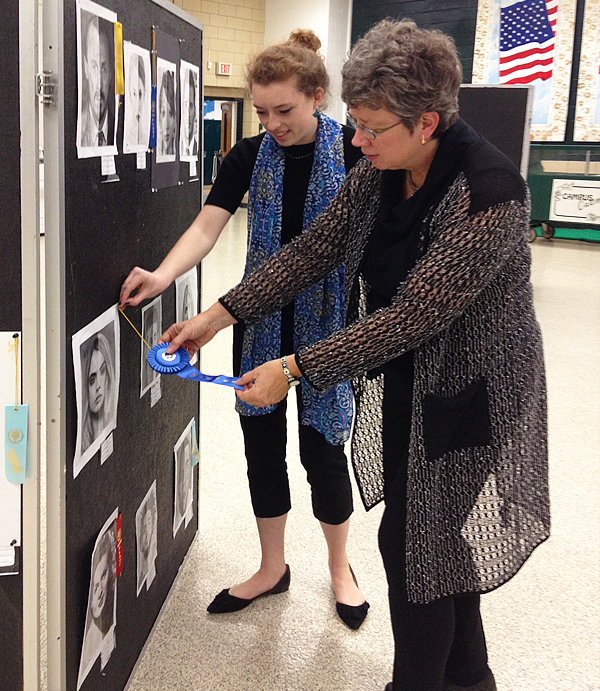 Jan Conradi (faculty) and Elizabeth Coradeschi (art education major) were invited to be jurors for West Deptford High School Art exhibition on Friday, Feb 10. In addition, Jan was the keynote speaker for the National Art Honor Society Induction ceremony at West Deptford.


January 2017
Congratulations to Lisa Toman! After a long formal process, Jill and Jan are pleased to announce that as of the start of 2017, Lisa is officially hired as fulltime office clerk for the Department of Art.
Jill Baker Gower and alumnus Nicolette Absil (2011) have work in the Society of North American Goldsmith's online juried exhibition, We Are SNAG: (Up) Setting the Stone. Nicolette's work was chosen as the postcard cover image.

Rowan University President Ali Houshmand asked the Department of Art to display new art works outside the President's office. Currently artwork by Metals and Jewelry students is on display in the cases. Stop by Bole Hall to take a look!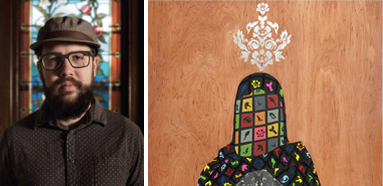 Welcome Jay Walker, our 2017 Artist In Residence. Philadelphia-based artist Jay Walker is a multi-disciplinary artist creating tape installations, mixed media painting/drawings, and carved sculptures. He has had solo exhibits at the Abington Art Center (Abington, PA), James Oliver Gallery (Philadelphia), Gordon College (Wenham, MA) and the Crane Hall (Philadelphia). He has also been in group exhibits at Pentimenti Gallery (Philadelphia), DCCA (Wilmington, DE), Space 38|39 (New York, NY), Neurotitan Gallery (Berlin Germany), and Baden-Wuerttemberg Arts & Cultural Center (Heidelberg, Germany). Walker has a BFA from Texas A&M at Corpus Christi and a MFA from Pennsylvania Academy of Fine Arts.

As part of his residency, Walker will be creating a short animated film (inspired by William Kentridge's stop motion process) that captures his process by photographing each moment as he moves from a blank wall in the studio to completed work. The final product will be projected alongside actual installations in the gallery space. For more information on the artist: http://www.jaywalkerstudio.com.




December 2016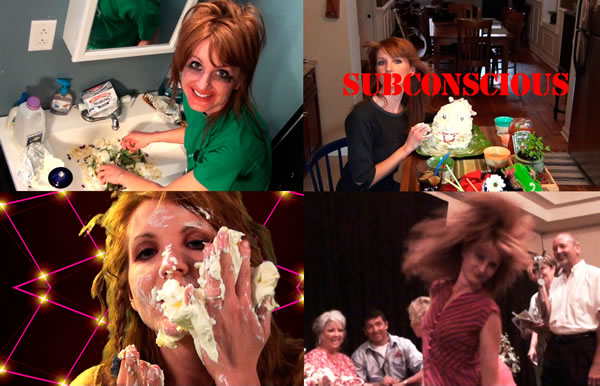 Jenny Drumgoole
Photography instructor Jenny Drumgoole's work is the subject of a chapter in the recently released A Companion to Public Art (part of the Blackwell Companions to Art History texts). The 512-page text is comprised of 19 essays and is the first scholarly volume to examine issues, theories, and practices of Public Art on a comprehensive scale. Drumgoole's "Cream Cheese Contest" is the subject of chapter 20: "The Marketing Frame: Online Corporate Communities and Artistic Intervention", written by Jonathan Wallis. Her project began in 2010 when Kraft Foods launched an online recipe contest entitled "Real Women of Philadelphia" hosted by celebrity chef Paula Deen. Women across the country were asked to submit recipe videos over the course of eight weeks that featured themselves cooking with Philadelphia Cream Cheese. At the urging of her mother, Drumgoole entered the contest. Her humorous, bizarre and sometimes terrifying recipe videos (which featured reoccurring references to action star John Rambo and "hair flipping") garnered surprisingly positive attention from the other contestants as well as Paula Deen herself.
After finishing her recipe videos, Drumgoole got to meet other contestants, contest producers and Deen herself. Her final video in the series, "Q&A with the Real Woman of Philadelphia", addresses the nature of celebrity, product endorsements, and the growing trend of consumers as "brand ambassadors" in advertising. As Wallis writes, "In the end it is not only about outing Deen, or Kraft, or those who worked for them. It was about proving through hard evidence to her fellow community contestants that genuine enthusiasm, hard work, and admiration of celebrity was, in this case, a hollow pseudo-relationship." The 12 videos in the "Cream Cheese Contest" series can be seen at: jennydrumgoole.com/creamcheese


November 2016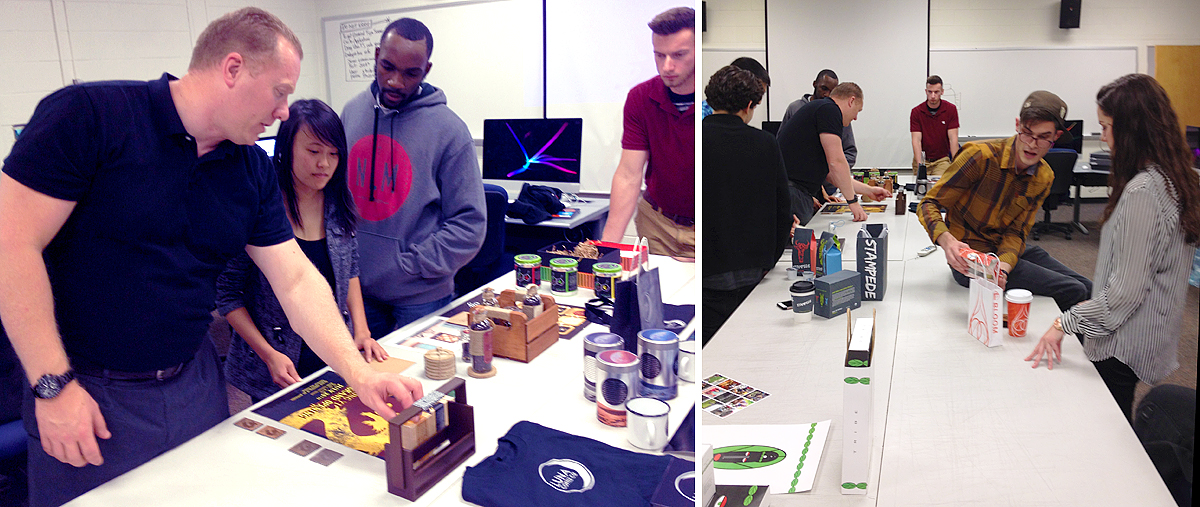 Visiting designers offer packaging critiques. Aubrey Condon (10Red Design) and Andy Schweitzer (Chase Design) came from update New York to talk about their work in packaging and merchandise display design. After their informative presentations, the designers shared suggestions with students who are studying package design with Steve DeCusatis.


John Bousatt exhibited a powerful senior show featuring a fully immersive installation of large scale prints in Westby Hall's Black Room.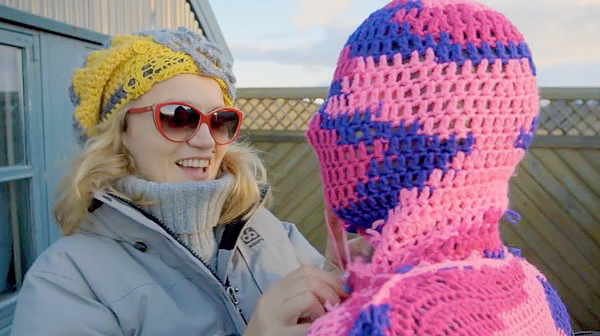 On October 15, Rowan University Art Gallery hosted a screening of the film YARN, by Una Lorenz, about the public art practice of yarn-bombing. In collaboration with this presentation, the gallery engaged the community in its own yarn-bombings around campus and surrounding Glassboro in November. These events were coordinated with Between the Threads, a exhibition by women artists utilizing yarn, string, hair, and thread in non-traditional ways to explore issues of identity, sexuality, power, control, and self-determination. The exhibit features: April Dauscha, Nancy Davidson, Melissa Madonna Haims, Jesse Harrod, Elizabeth Mackie, and Diane Savona. At Rowan University Art Gallery through January 7th.
October 2016   

A selection of 100 posters from the AIGA Design for Democracy initiative was installed in Westby by Jan Conradi (faculty) along with 20 illustrations of syndicated political art by Nancy Ohanian (faculty) until after election day. A pair of public lectures were coordinated with this display too: Nancy Ohanian, "The Power and Influence of Contemporary Visual Imagery" on September 28, and Jan Conradi, "Propanda Posters as the visual voice of WWI and WWII" on October 3.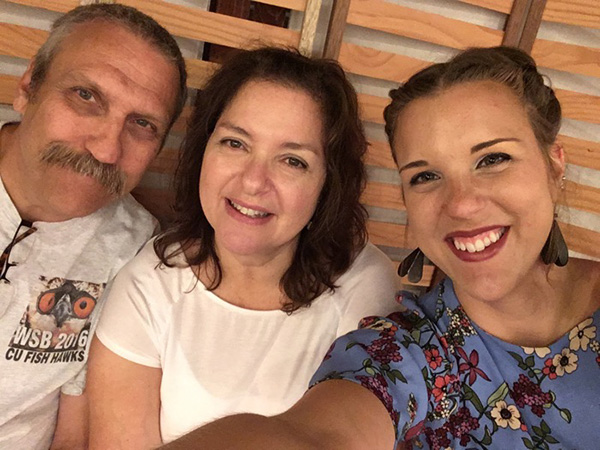 Jim Greenwell, wife Jackie Sandro-Greenwell and daughter/Rowan alum Daisy (2016) are exhibiting together: Three Artists, One Family in The Gallery at Bayshore Center at Bivalve, NJ. The exhibit closed October 3rd.



September 2016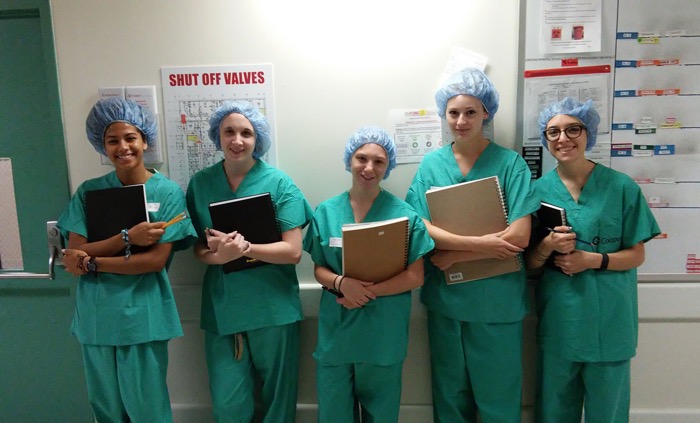 (left to right) Martha Matthews, MD, Plastic Surgeon; Dorothy Bird, MD, Plastic Surgery Fellow; Catherine Zatorski, medical student at CMSRU; Elizabeth Thompson, Biomedical Art and Visualization major at Rowan.
Photo by: Paul Rogers, CMI, Adjunct Instructor, Surgical Illustration and Media.
Students in the new Biomedical Art & Visualization major are sketching bilateral breast reduction surgery in a Cooper University Hospital operating room in Camden. Students in the upper level Surgical Illustration and Media class research surgical procedures and then observe, sketch and photograph them live. The students ultimately illustrate the steps for the purpose of teaching surgeons, medical students or laymen via medical books, journals, brochures and web pages.



August 2016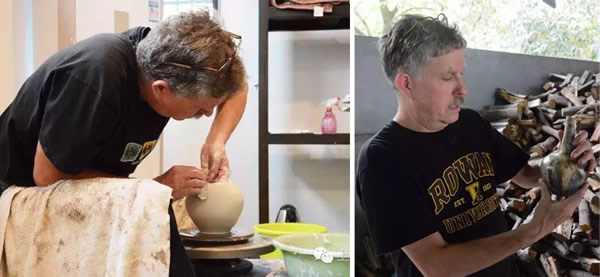 Professor Skeff Thomas participated in a summer residency at the Shangyu Celadon Modern International Ceramics Art Center in Shangyu. Jiexiang province, China. His work will be exhibited in The First Shangyu Celadon Modern International Ceramic Exhibition, Sept. 30, 2016 - Dec. 31, 2016 at the Center.


June 2016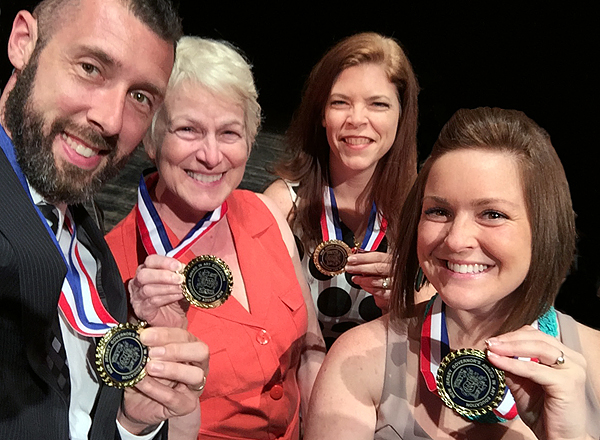 (left to right): Dave Johnson (art teacher, Timber Creek Regional HS, Sicklerville); Dr. Jane Graziano (Art Education professor, Rowan University); Kelly Digioia (art teacher, Patrick McGaheran Elementary, Lebanon); and Dawn Carson (art teacher, Haddon Hts Jr/Sr. HS, Haddon Heights).

We're number one! The Department of Art is celebrating with good news from the New Jersey Governor's Awards in Arts Education ceremony held in Trenton on May 26. We were given "National Art Education NJ State Art Educator of the Year" awards representing all levels of art teaching from elementary to higher education. It is a first in the history of this awards ceremony, 30 years strong, that Rowan alumni swept the awards at all teaching levels. These awards are sponsored by the New Jersey Arts Education Partnership, the NJ Dept. of Education, Art Pride NJ, and the New Jersey Council on the Arts. Kudos to all of our faculty and especially to our Art Educators for setting high standard in studio and pedagogical studies. We're proud of our alumni who maintain those standards in their own teaching.

May 2016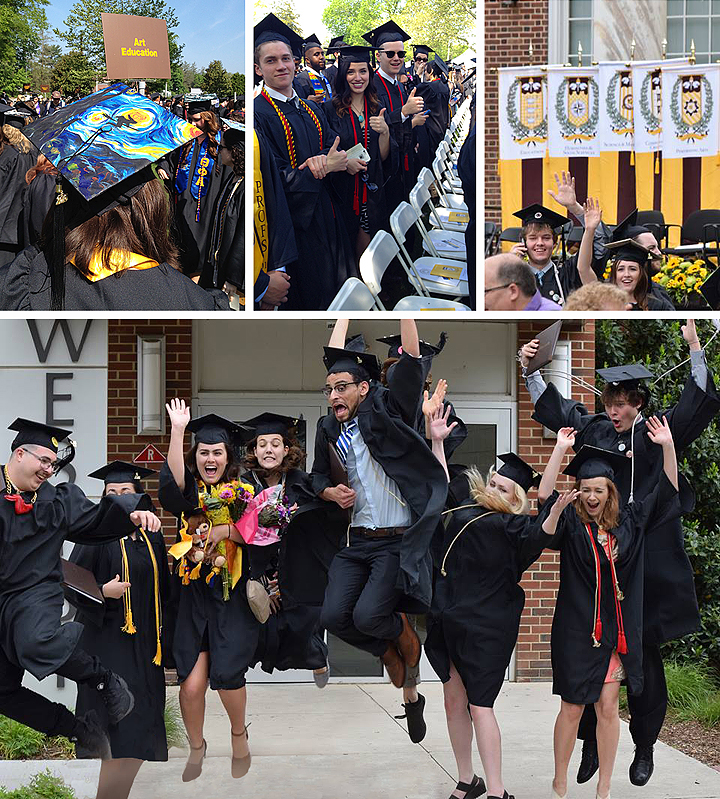 Congratulations to all of our 2016 Department of Art graduates. We were lucky to have a rare day of sunshine as we shared goodbyes and good wishes this week. Keep in touch, and make us proud as you conquer that big wide world!
April 2016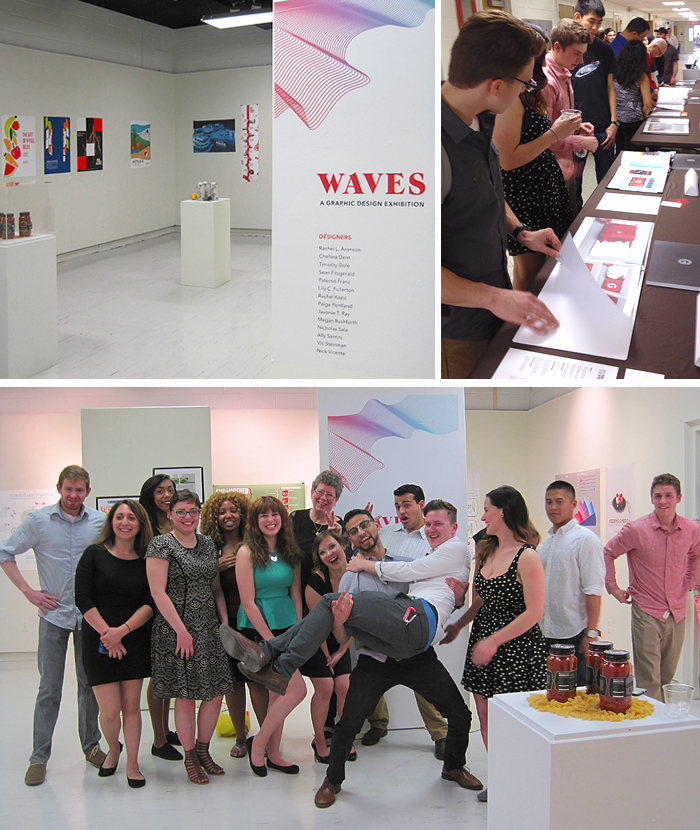 The Graphic Design seniors held their annual portfolio night and reception for their final exhibition on April 21st. The event attracted an enthusiastic crowd of design professionals, family and friends into Westby Hall.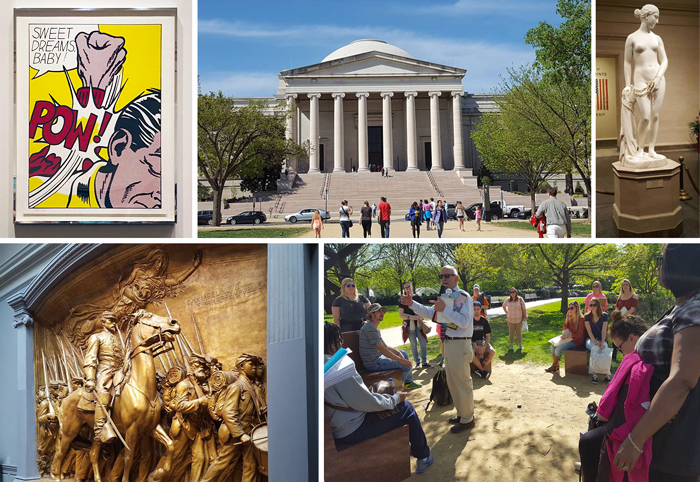 The History of American Art students had a perfect spring day to enjoy art (indoors and out), sunshine and camaraderie on their trip with Dr. Fred Adelson and Professor Herb Appelson. They visited the National Gallery of Art and the National Sculpture Garden in Washington, D.C. Thanks to Rachel Kozic for sharing these photos.
March 2016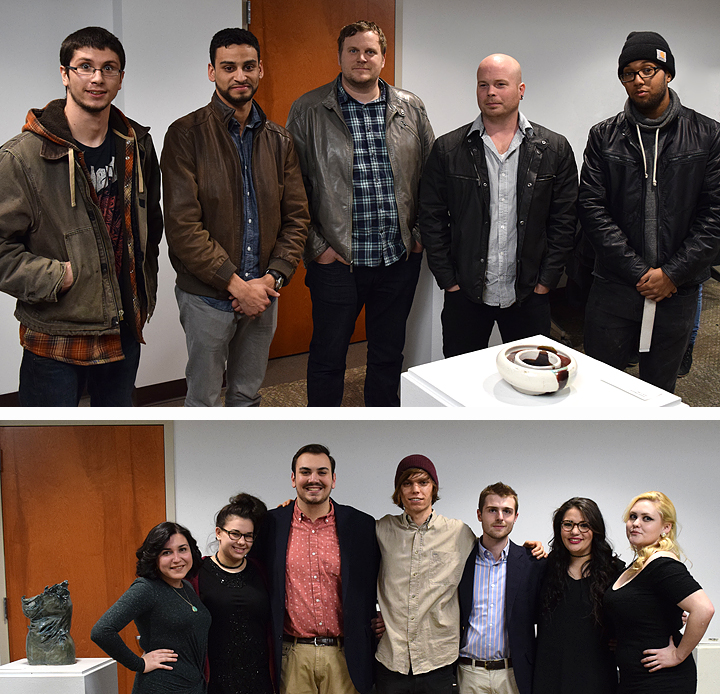 The Third Annual Juried Art Exhibit was hosted by The Rowan Arts Collective in the Chamberlain Student Center on April 5th. This year's jurors were Timothy Belknap and Ryan McCartney from the Icebox Gallery in Philadelphia. The top photo documents the winners and jurors (left to right): John Bussott (Third Place); Nick Vicente (Second Place); Timothy Belknap (Juror); Ryan McCartney (Juror); and Khalif Church (First Place). The second photo is the 2015-2016 TRAC Executive Board BOARD (left to right): Nicole Eadie, Dylan Weiss, Justin Visentin, Brent Galen Adkins, Ben Webster, Rylee Jacobs, Sarah Hay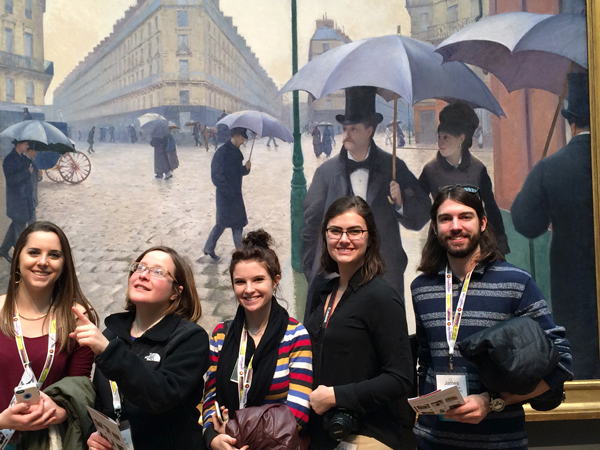 Left to right: Nicole D'Urbano (Vice President), Karen Donnelly (President-Elect), Erin O'Malley (Treasurer), Allyson Cook (President), and Jesse Solanik (Senator)
Representatives from Rowan's student chapter of National Art Education Association (NAEA) took over Chicago! At the annual national conference, they could choose from over 1,000 interactive and information sessions led by successful artists, researchers and educators from around the country. In addition, NAEA provided free access to the Art Institute of Chicago and other local museums.
January 2016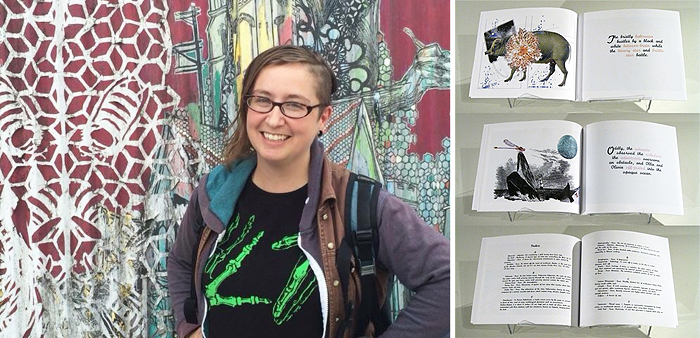 Welcome J. Pascoe, our 2016 Artist In Residence. Pascoe is a Philadelphia-based artist working in book making, printing, drawing, sculpture, and illustration. For the last several years she has been working on a project, Social Navigation, based upon how social settings and urban spaces are navigated by the general populace as well as her own anxiety and discomfort from interactions originating at these sites. Often finished work takes the form of paper as prints, or artists books and zines with occasional site-specific or temporary installations. As Artist in Residence at Rowan University, Pascoe plans to continue these investigations, expanding her work with sculptural installation-based elements.
She completed a collaborative artist residency program at D'Clinic Studios in Lendava, Slovenia, July 2014, and more recently was a Visiting Artist at Maine College of Art, Portland, Maine. She has had work exhibited across the United States as well as Slovenia, Hungary, and South Korea. She is currently working towards completion of new work for Liber Mundi, an internationally traveling group show of artist books and zines debuting Spring 2016. She received her MFA in Book Arts and Printmaking from The University of the Arts, Philadelphia (2013) and her BFA in intermedia from Pacific Northwest College of Art, Portland, Oregon (2004).
We look forward to having her in our department to share ideas and inspiration with students and faculty. Learn more at her website: jpascoe.com

December 2015
Sammy Kovnat was chosen as a finalist for works submitted to the 7th edition of the Julia Margaret Cameron Award for women photographers. As a result of that recognition, she has been invited to participate in the 4th Biennial of Fine Art & Documentary Photography to be held in Berlin in August 2016.

November 2015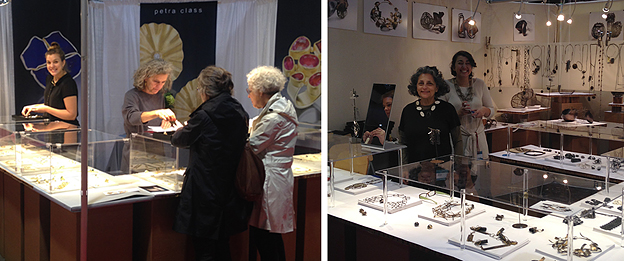 Students Daisy Greenwell and Sammy Kovnat assisted internationally-known artists at the Philadelphia Museum of Art Contemporary Craft Show. Daisy worked with artist Petra Class, and Sammy assisted Biba Schutz.

September 2015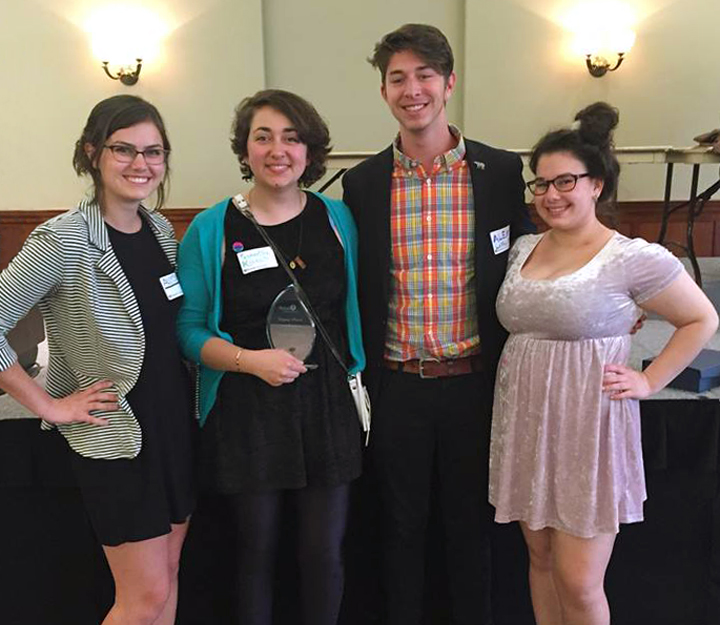 Awards Night at the Rowan Leadership Summit. Left to right: Allyson Cook, Sammy Kovnat, Alex LaVallee and Dylan Weiss

Get On TRAC! The Rowan Arts Collective (TRAC), the resident art club on campus, is kicking off fall semester with an invitation to join and make a difference. TRAC does lots of art-focused events and activities like field trips, art parties, gallery openings, and other art-culture things at Rowan/the surrounding area. The first meeting is September 9th. Also, we're congratulating our TRAC President, Sammy Kovnat, for being honored with the Legacy Award at The Rowan University Leadership Summit Conference in April. Her advocacy for visual arts at Rowan (including TRAC, The Juried Exhibition, The Gallery, Dusk 'til Dawn, and advocacy for Westby Rejuvenation) has made a difference for Rowan University, the students, and the Art Department.

August 2015
Daisy Greenwell enjoyed the summer as the Studio Assistant in the Fine Metals studio at Peter's Valley School of Craft in Layton, New Jersey. She maintained the shop and worked closely with visiting instructors who taught a wide range of classes in metalsmithing and jewelry during several five-day summer workshops, "I oversaw and assisted with the projects of individual students, often on a one on one basis. When the studio was not occupied by classes, she had access to the studio and all its equipment, with her own workspace to complete personal projects. Greenwell said, "I gained immeasurable teaching experience and realized the incredible learning opportunities that result from instructing and guiding others."

June 2015
Several Rowan art majors are keeping busy and gaining professional experience with internships this summer:
Rachel Aronson is Graphic Design Intern at 20/10 Solutions in West Chester, PA.
Tyler Cheli has just completed a semester as Interpretive Technologies Intern at Philadelphia Museum of Art, assisting in design and presentation of digital interfaces for various exhibitions in Philadelphia, PA.
Jonathan May was selected as Graphic Design Intern at Mole Street, an event planning, marketing and branding agency in Philadelphia, PA.
Vic Steinman is the Graphic Design Intern at Anne Klein Communications Group in Mt Laurel, NJ.

May 2015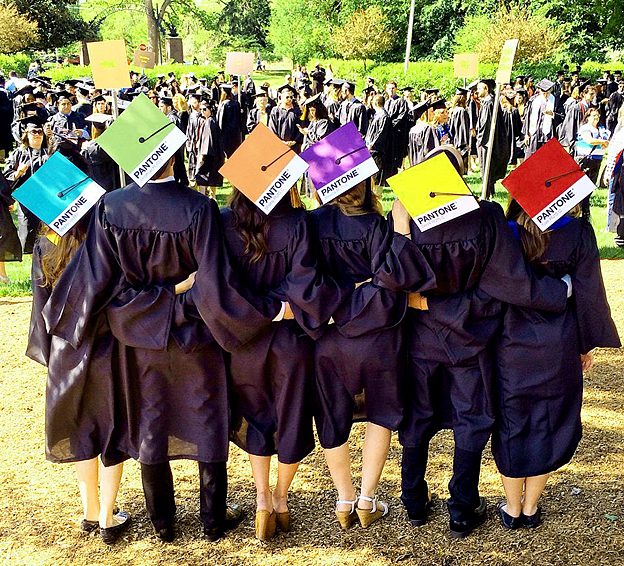 Congratulations to all of our 2015 Department of Art graduates. A colorful bunch… off to seek new challenges and adventures. We'll miss you!
April 2015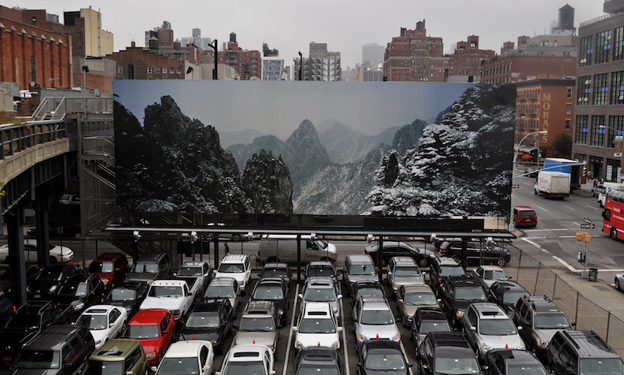 Associate Professor Keith Adams won third place in the Places category of "One Shot: One World" competition sponsored by International Photography Awards (IPA). His entry, "untitled #209," juxtaposes an exotic locale in the middle of a big city. "The photo was shot from the High Line in New York. I liked the contradiction it conveys of a mountain paradise placed in a major urban environment," said Adams. "It references a number of historical images from the 20th century, and makes a statement about the absurdity of contemporary life." In addition to that award, two more of his photographs were recognized with Honorable Mentions by the organization. The International Photography Awards competitions receive nearly 18,000 submissions from 104 countries. IPA is a sister-effort of the Lucie Foundation. The Foundation's mission is to honor master photographers, to discover new and emerging talent, and to promote the appreciation of photography.

Alumni share inspiring messages with current Rowan students. On April 28, we welcomed Graphic Designers/Printmakers Brianna Feola (2008), Jason Snyder (2007), and Mike Smith (2010) back to Westby Hall for an afternoon of printmaking and an informative evening of tales about life after college. They shared advice about collaboration, hustle, hard work, taking risks, and the basic necessities of paying the bills while having pride in their own work. Hearing their frank, honest, and often humorous realities of life as professional artists/designers was a great way to end another academic year in the Department of Art.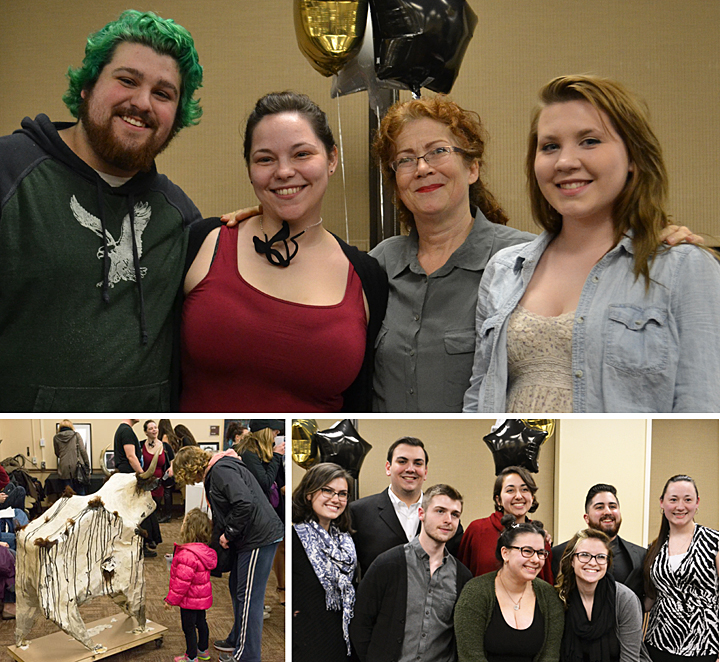 The Rowan Arts Collective (TRAC) 2nd Annual Exhibition was a great event. On April 9th, juror Lyn Godley, Associate Professor of Industrial Design at Philadelphia University presented awards to Megan Byrne (Best In Show), Olivia Callicoat (Second Prize), and Jarrett Edelman (Third Prize). Over 200 people attended the event in the student center, enjoying the variety in the works that were displayed. Godley said, "It was an impressive body of a wide range of techniques, aesthetic style, and skill sets. In addition to many examples representative of a solid art curriculum in observational drawing, illustration, painting, and printmaking there were also some provocative explorations in technical process worth noting."
March 2015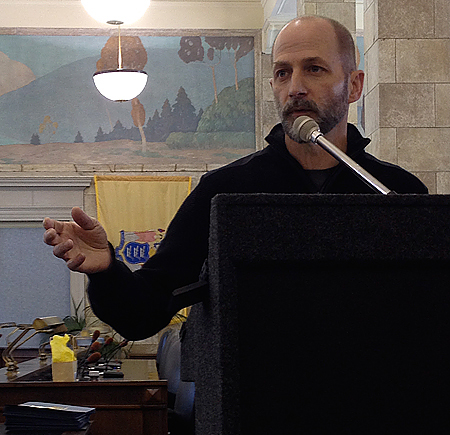 Charles Tucker was this year's featured speaker for Youth Art Month. The Art Educators of New Jersey (AENJ) recognize young artists in grades K-12 through an annual exhibition and awards ceremony at the New Jersey State House in Trenton. During the high school awards reception on March 6, Tucker presented his work, sharing ideas about what it means to be an artist and how skills in art add richness and value to many facets of life. Through discussing his career path, he inspired a large audience of students, parents and teachers.
February 2015

Jill Gower wins a NJ State Council on the Arts 2015 Individual Artist Fellowship. In recognition of her work in metals/jewelry, Associate Professor Jill Gower was selected as one of five recipients in the Craft category. The Artist Fellowships, in partnership with the Mid Atlantic Arts Foundation, are highly competitive awards given to New Jersey artists in 12 different arts disciplines. The decision is based on independent and anonymous peer panel assessment of submitted work samples. Awards are meant to help artists advance their professional art careers by producing new work.
January 2015

"The Gallery G" exhibit plays tricks with reality. Visitors to the Department of Art are enjoying the current exhibition in the Westby student gallery. "Gallery G" is an illusionary installation that only makes perfect sense from one specific viewing point. Aside from playing tricks with people's perceptions of depth and space, the purpose of this exhibition is to create awareness and encourage involvement in this year's Gallery publication. The Gallery is an annual promotion of juried student art and design, completely conceived, managed, designed and produced by Department of Art students. This year's publication (and the current exhibition) is led by the team of Tyler Cheli, Derek Koch, Stephanie Gerhard, Nick Vicente, Vic Steinman, and Paige Pentland. Watch the video about constructing this exhibit here.
December 2014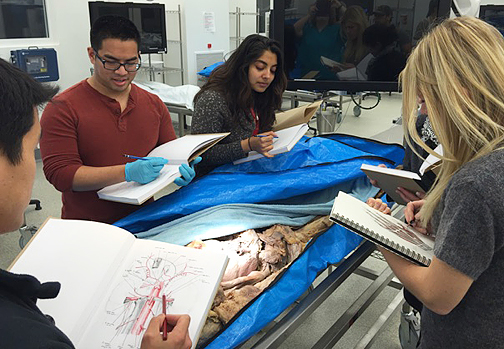 Cooper Medical Students hone their drawing skills. It takes more than medical knowledge to become a great doctor so the Department of Art has been partnering with Cooper School of Medicine by offering enrichment courses in design and art visualization techniques. Drawing anatomy and human form assists the medical students in strengthening their anatomical and clinical knowledge. Currently, Assistant Professor Amanda Almon is teaching Observational Drawing for Future Physicians; last year, Assistant Professor Charles Tucker taught Figure Drawing.
November 2014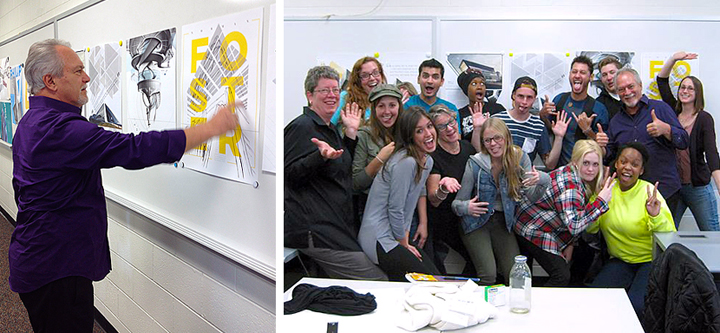 Designer Steff Geissbuhler comes to Rowan. Time passed quickly as Steff Geissbuhler shared ideas with Rowan graphic design students during a two-day series of one-on-one and studio critiques. His public lecture on November 12 provided insight into the process and thinking behind his award-winning work in international identity programs for NBC, Telemundo, Radio Free Europe, Mobil, TimeWarner, NYC Department of Cultural Affairs, and many other national and international corporate and civic clients. Learn more about him at www.geissbuhler.com.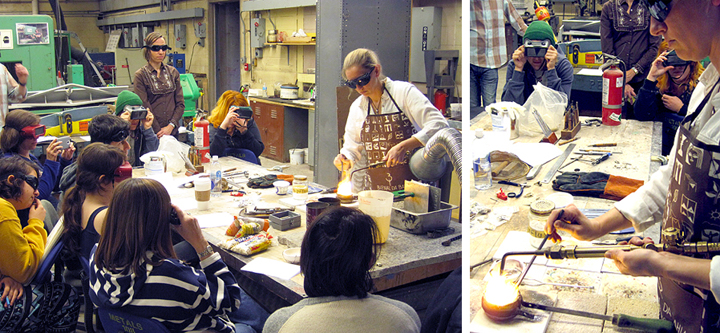 Lauren Selden, metalsmith and sculptor, visits the Department of Art on November 5 & 6. Demonstrating direct casting and sand casting techniques, Selden used an oxyacetylene torch to melt bronze, pouring it into different materials such as dry beans, rice, and spaghetti to create textures and unique formations in the cast metal. In a lecture for the Rowan community, she discussed her own metalwork and sculpture and its focus on creating narratives about the emotions of interpersonal relationships. Later, advanced metals/jewelry students benefitted from her individual critiques. Selden's work can be viewed at laurenmcselden.com.
October 2014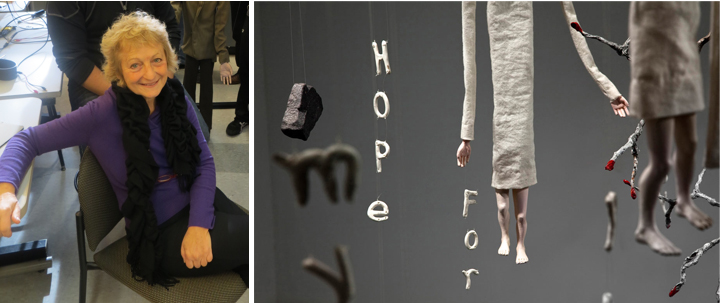 Welcome Jeanne Jaffe, our 2014 Artist In Residence. She will use her time at Rowan to create a multi-media, technological installation inspired by the life and work of the electrical engineer and inventor, Nikola Tesla. The integration of technology with sculpture, musical soundscapes, and theatrical sets will become a psychological dreamscape illuminating moments of his celebrity and his final misfortune. Jaffe's work has been widely recognized and exhibited nationally and internationally, with notable reviews in Art in America, The New York Times, and Sculpture Magazine. As the recipient of fellowship grants from the Gottlieb Foundation, Mino Artist Residency in Japan, the National Endowment for the Arts, and the Pennsylvania Council on the Arts, among others, she's had opportunities to work and travel to expand and share her ideas. Jaffe has worked on collaborative projects involving her sculpture at the Kitchen in New York City with video artist Peter Rose, and at the Painted Bride Art Center in Philadelphia with dancer Leah Stein. She is a Professor of Sculpture at the University of the Arts in Philadelphia. We look forward to having her in our department to share ideas and inspiration with Rowan students and faculty. Learn more at her website: www.jeannejaffe.com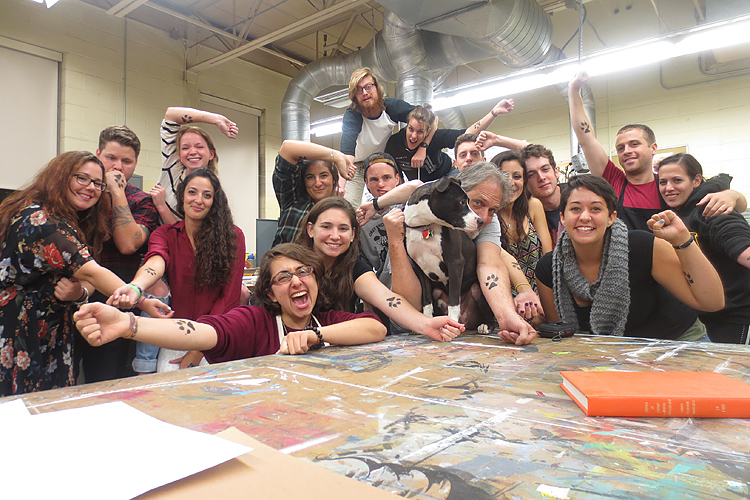 Dusk-to-Dawn creativity in Westby Hall. A lively Cult of Print crew, led by our own David Vaccaro, created new prints and we invite everyone to see the resulting exhibition in the student gallery this week. A lively mix of current students and alumni come together as a community, experimenting on new printmaking approaches and creating some interesting work. Student Daisy Greenwell said, "The Cult of Print provides a great camaraderie that you don't get during a normal day." Vaccaro said, "We've been doing the dusk-to-dawn event every semester for ten years now. It's getting tougher for me to stay awake for twelve hours, but the students manage just fine."
September 2014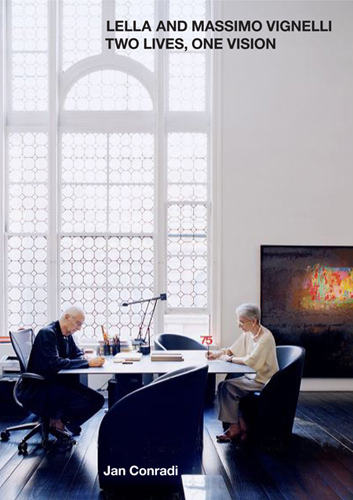 Jan Conradi, Professor of Graphic Design, publishes her second book. Her book, Lella and Massimo Vignelli: Two Lives, One Vision, by RIT Press, offers a portrait of two important twentieth-century designers whose careers intertwined for over a half-century of notable works. Vignelli design solutions surround us including: identity and information systems for the U.S. National Park Service, American Airlines, Brookstone and Ducati Motors; signage systems for the subways in NY and D.C., the Italian Railway stations, and for the Guggenheim Museum in Bilbao, Spain; Fodor's Travel Guides and many other books. They developed identity and interiors for SD26 Restaurant in NYC; exhibitions for The Louvre; train interiors for the Great North Eastern Railway in Britian; showrooms for Artemide, Poltrona Frau, Chicago's Italcenter, and the World Trade Center in Amsterdam. They designed furniture, housewares, jewelry and watches, and even a line of clothing. The Vignellis promoted a modernist philosophy of designing for a better society: resourceful use of space and materials, clear communication, lasting quality, and logical functionality. Through a mix of archival research and personal interviews with Lella, Massimo, and many others, Conradi documents the Vignellis' nuanced approach to "cleaning up" an often chaotic and messy society by adhering to a minimalist and structured design method. She notes that the Vignellis' sustained pattern of working and living has influenced, and continues to inspire, generations of designers worldwide.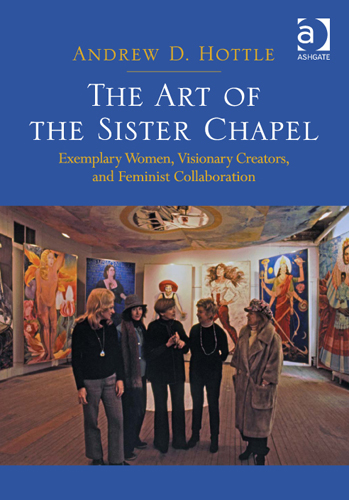 A new book by Andrew D. Hottle, Associate Professor of Art History, has just been published. Hottle authored The Art of the Sister Chapel: Exemplary Women, Visionary Creators, and Feminist Collaboration (Farnham, Surrey: Ashgate Publishing Limited, 2014). "The Sister Chapel" (1974-78) was an important collaborative installation that materialized at the height of the women's art movement. Conceived by Ilise Greenstein as a nonhierarchical, secular commemoration of female role models, "The Sister Chapel" consisted of an eighteen-foot abstract ceiling that hung above a circular arrangement of eleven monumental canvases, each depicting the standing figure of a heroic woman. The choice of subject was left entirely to the creator of each work. As a result, the paintings formed a visually cohesive group without compromising the individuality of the artists. Contemporary and historical women, deities, and conceptual figures were portrayed by a group of accomplished New York-based painters, including Alice Neel, Sylvia Sleigh, and May Stevens. Among the role models depicted were Artemisia Gentileschi, Frida Kahlo, Betty Friedan, Joan of Arc, and a female incarnation of God. Although last exhibited in 1980, "The Sister Chapel" has lingered in the minds of art historians who continue to note its significance as an exemplar of feminist collaboration. Based on previously unpublished archival materials and featuring dozens of rarely seen works of art, Hottle's comprehensive study details the fascinating history of "The Sister Chapel," its constituent paintings, and its ambitious creators.
August 2014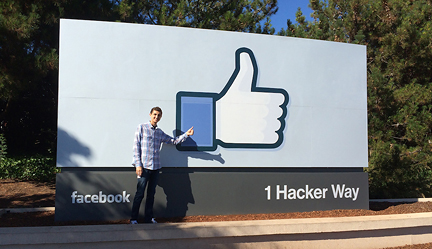 Christian Dalonzo interns with Facebook. Christian Dalonzo, BFA Specialization in Graphic Design, spent his summer on the west coast, working with Facebook's Mobile Messenger team. Now he's back on the Rowan campus and continuing his studies. "Christian is smart, thoughtful, and willing to push himself out of his comfort-zone to expand his skills. He's a quietly determined kind of guy and he definitely has a bright future ahead," said Jan Conradi, one of his graphic design professors. For more information about his summer internship, see the article on Rowan Today.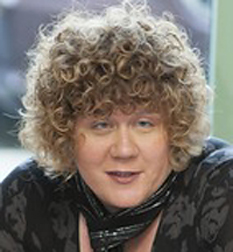 Welcome to our new Assistant Professor, Amanda Almon. After conducting a national search, the Department of Art, with assistance from people in the Cooper School of Medicine and other areas across Rowan University, is pleased to announce that we hired Amanda Almon as the driving force for our department's new Biomedical Art and Visualization specialization. Almon has a track record of success in her work and her teaching. Her animations and illustrations have been seen on The Discovery Health Channel, National Geographic, and the Oprah Winfrey Show. Novartis Animal Health, Merck, Bayer Pharmaceutical companies and ThatsNice Productions have used her medical and scientific illustrations, as have many leading book publishers. Most recently, Almon has expanded her research and work to include educational game design for kids, patients and doctors. Her instructional design, animation and illustrations are being used in collaboration with Lemming Labs LTD. to design new methods of interacting with information that turn play into learning.
Prior to joining our faculty, Almon worked at the Cleveland Institute of Art eight years. There, she served as the Chair of Biomedical Art, Animation, Game Design, building departments and innovative curriculum in arts education. We are excited to work with her in advancing new opportunities at Rowan University. Almon's credentials, combined with her energy and vision, will provide a great foundation for this new area of study at Rowan. Built on the traditional field of scientific and medical illustration, the specialization in Biomedical Art and Visualization will operate at the intersection of art, science and medicine. Students will establish skills in digital media techniques, interactivity, and animation and educational game design.
April 2014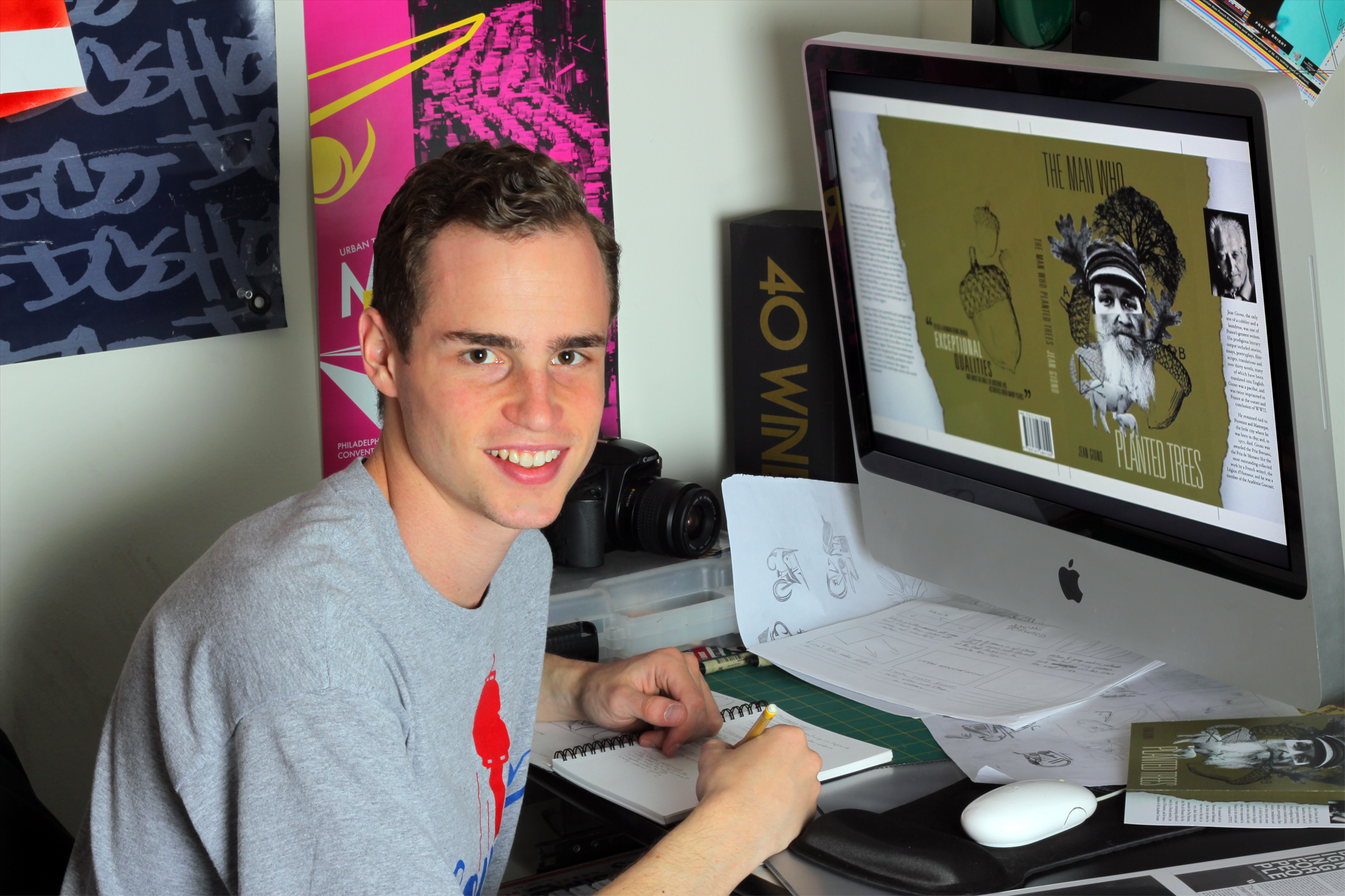 Congratulations to junior Derek Koch, BFA Specialization in Graphic Design. He was awarded The Nikki Pedersen "Best of the Fest" Award at this year's scholarship competition by the Art Director's Club of New Jersey.
December 2013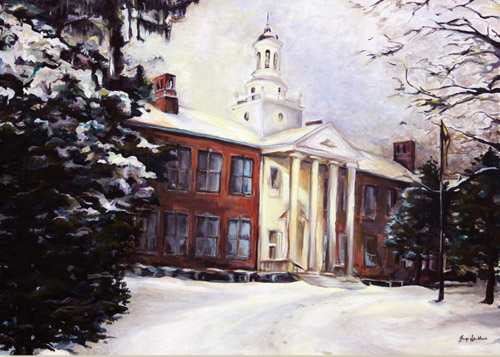 Congratulations to Paige Stecklair. Her acrylic painting of historic Bunce Hall was selected by President Houshmand for this year's Rowan University holiday card. Paige is currently a junior in the Department of Art, studying for her Bachelor of Fine Arts in Studio Art with a concentration in painting. She shares a favorite view of this landmark building by focusing on the impressive tower and the graceful Ionic columns of the front entrance. Bunce Hall, circa 1922, was the first academic building on the Glassboro campus.
November 2013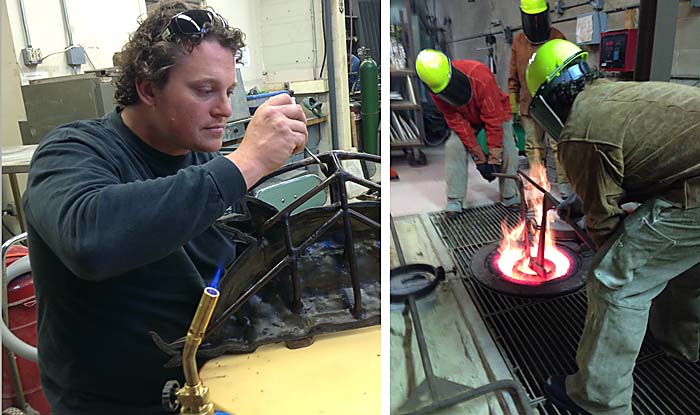 There is a foundry in the Department of Art and at 2200 degrees, it is HOT! Congratulations to Jim Greenwell and Charles Tucker for getting the foundry up and running again. On November 4, there was a successful test pouring for pieces that will be produced in the sculpture area over the next several weeks. Charles initiated a collaboration with internationally recognized artist Mel Chin and his assistant, Bradley Tucker (pictured, no relation to Charles). An edition of the bronze sculpture "Shape of a Lie," which will be poured in our foundry, is scheduled to be included in Mr. Chin's upcoming retrospective "Rematch" at the New Orleans Museum of Art in February 2014.
Please visit http://www.melchin.org/ for more information on Mr. Chin's work.
September 2013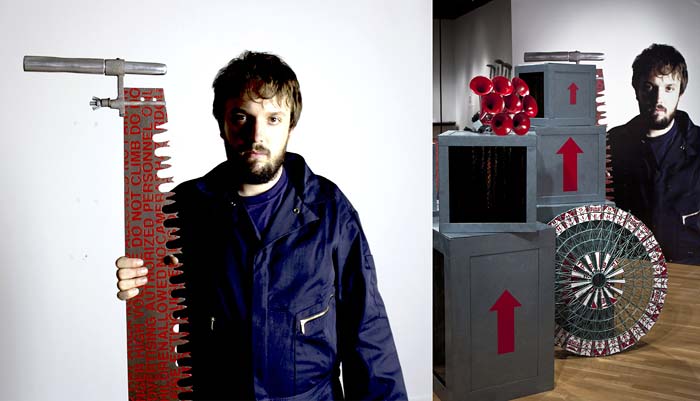 Welcome Joseph Leroux, our 2013 Artist In Residence. Joseph Leroux was born and raised in the small town of Newton Falls in the Adirondack Park of upstate New York. He attended The State University of New York at Potsdam in hopes of putting together a band and pursuing a career as a professional musician. In his freshman year, Leroux took his first sculpture class and was instantly addicted to the creative process and expansive techniques and materials associated within the field of sculpture. Sculpture was instantly a familiar practice to Leroux due to his family's long lineage of hand laborers. He continued his studies at the University of Wisconsin-Madison where he earned a Master of Fine Arts in 2010. While at Madison, he began to utilize his personal narrative and allowed the freedom he felt in his music-making to influence his art works. Leroux combines images, objects, and performances into a single practice that defies the traditional categories within art. Leroux currently makes artwork, plays music, and teaches sculpture courses at Moore College of Art and Design in Philadelphia, PA.
June 2013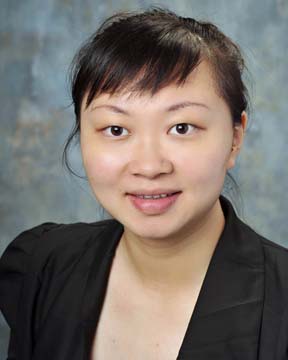 Congratulations to Dr. Tingting Wang! Her proposal, "Use of Digital Technologies and their Teaching and Learning Effectiveness at Rowan University Saturday Morning Art Classes" received Rowan University Seed Funding. A review panel appointed by the Senate Research Committee approved her grant proposal, awarding $10,000 for purchasing electronics and hiring research assistants to implement this research project. The project was one of 17 awarded in the university for the academic year of 2013-2014.
May 2013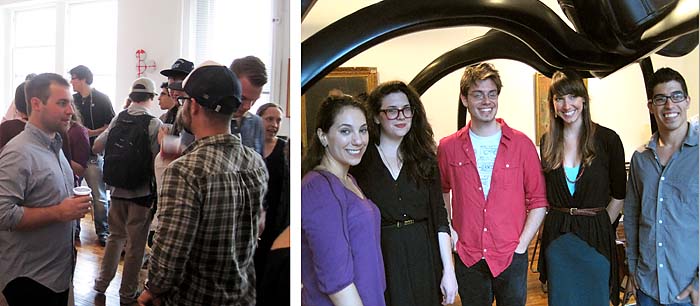 Rowan designers do it together! On May 11, more than 30 alumni and current design students gathered in a New York gallery apartment for a graphic design reunion. It was a great afternoon of sharing stories, showing portfolios, catching up with old friends and making new connections. The photos above show part of the mingling group (left), and present and former directors of The Gallery publication (right).
May 2013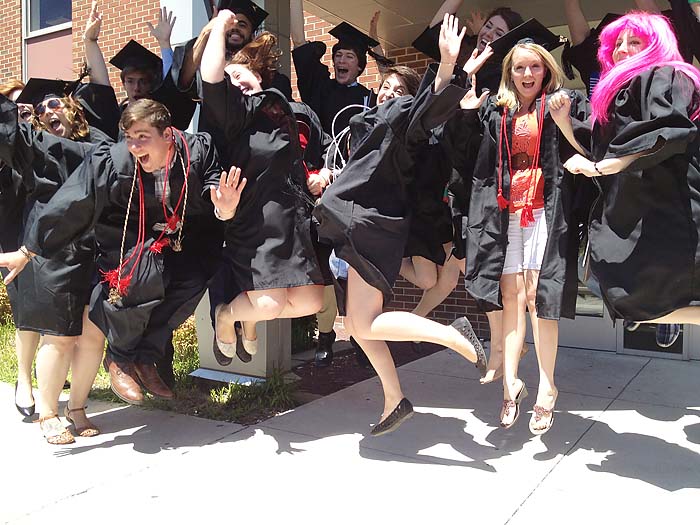 Congratulations to our 2013 Department of Art graduates! Here's to success and new adventures. We'll miss you!