Symposium for Interdisciplinary Arts (SIA)
Symposium for Interdisciplinary Arts (SIA)
About SIA
The Rowan University Symposium for Interdisciplinary Arts (SIA) is a week-long program of workshops for students run by faculty teaching introductory studio art courses. The event was started by Assistant Professor Mina Zarfsaz in 2022 to encourage reflective thinking on how different media/processes may be applied to participants' art practice.
SIA 2023

This year's SIA, made possible with funding from IMMaD, was organized by Adjunct Professor Elizabeth Shores and Lecturer Marisa Watanabe. A total of 148 students participated in workshops run by 10 Art Faculty, the Campbell Library Archivist, and the student group Women of Westby, listed below.
"Alma Thomas Lesson" with Rowan student group Women of Westby

"Caricature: O, the Wisdom of a Face!" with Instructor Adam Gustavson & Adjunct Professor Kyle Margiotta

"Creative Coding & Letter-Forming" with Lecturer Marisa Watanabe

"Forged Copper Bracelets" with Instructor Maureen Duffy

"Handmade Recycled Sketchbooks" with Adjunct Professor Carol Schottenfeld

"Hands on Animation Techniques" with Assistant Professor Robby Gilbert

"Intro to Fiber Arts and Sewing" with Instructor Kate Testa

"Jazmyn Crosby Artist Talk + BioDesign Workshop" with Adjunct Professor Elizabeth Shores

"Paper Quilling 101" with Adjunct Professor Iris Richardson

"Reading History: What Can Our Past Tell Us about Our Present?" with Archivist Sara Borden

"What's in the bag? Collage and the Creative Process" with Instructor Alicia Finger
With special help from Lecturer Nancy Sophy, the event concluded with a pop-up exhibition and pizza party in the Studio Art building showcasing work made by students across the different workshops. 
SIA 2022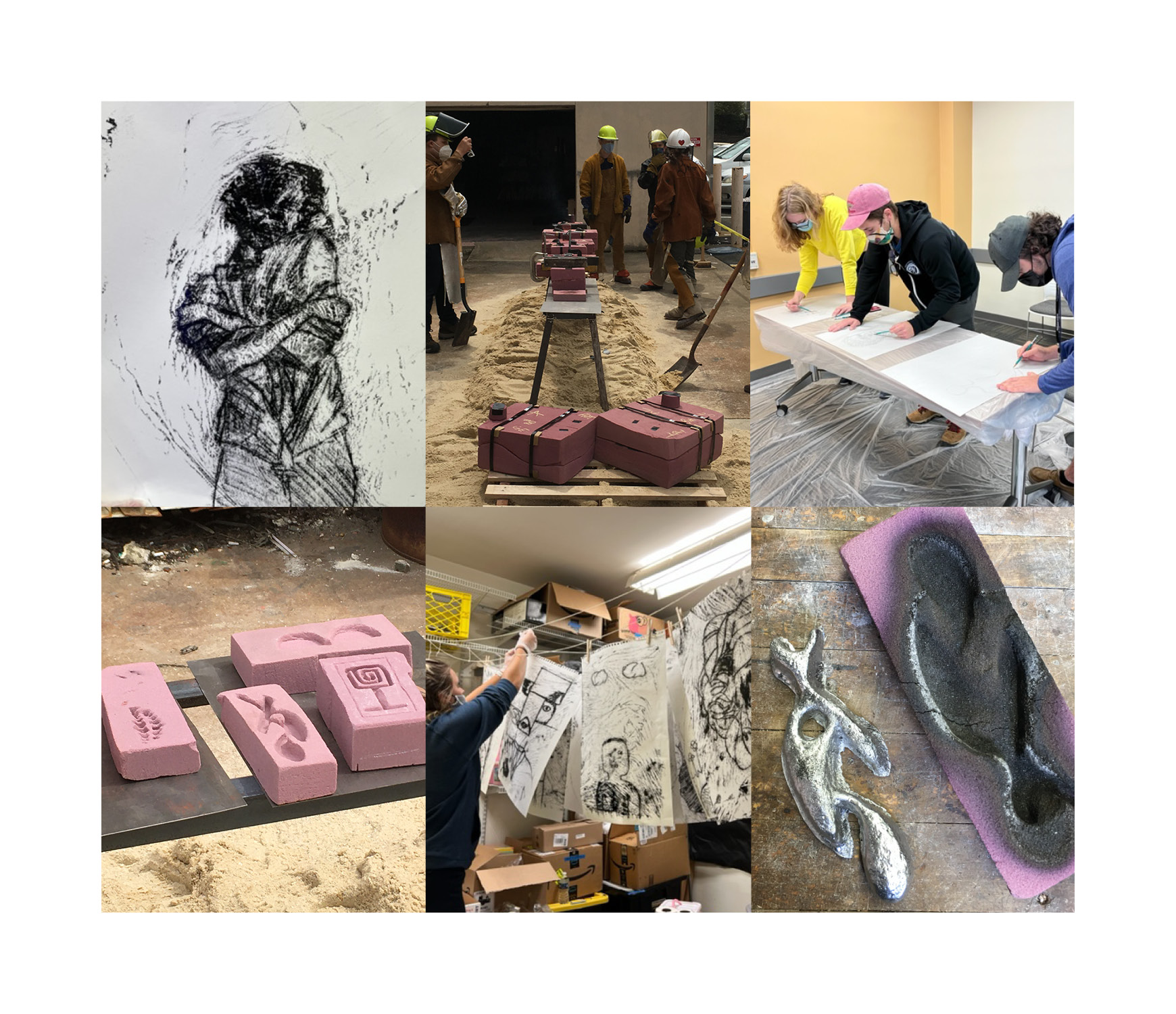 The "Symposium for Interdisciplinary Arts" offers a hands-on approach in introducing other areas of making and thinking to Rowan students at the Art department and beyond. There are 14 different workshops to be conducted by various Arts Faculty through April 4th-8th, 2022. 
Free to all, but limited space is available.
Registration is required; Please sign up here: https://bit.ly/RSfIAS2022
For any questions please contact the program head: Mina Zarfsaz at zarfsaz@rowan.edu
Program Guide for Rowan Symposium for Interdisciplinary Arts Spring 2022
Poster for Rowan Symposium for Interdisciplinary Arts Spring 2022
Session Details
Intro to Paper Quilling / Westby 103
Session 1 (Tuesday April 5, 2022 8:00AM-10:30AM)
Session 2 (Thursday, April 7, 2022 8:00AM-10:30AM)
Professor: Iris Richardson
Paper quilling is the art of cutting paper into long thin strips, rolling and pinching the pieces into different shapes, and then gluing the shapes together to create 3D art. We will create a 5X7 work of art.
What's in the bag? Collage and the Creative Process / Westby 205
Session 1 (Monday, April 4, 2022 2:00 PM-4:45 PM)
Session 2 (Wednesday, April 6, 2022, 2:00 PM - 4:45 PM)
Professor: Alicia Finger
If you love experimenting and being surprised, this workshop for you! In this workshop we will being focusing on the creative process through the use of collage. Together we will discuss the history of collage, how collage fits in our contemporary art world, and spend some time creating and collaborating.
What's in a picture: Illustration as visual storytelling / Westby 219
(Friday, April 8, 2022, 9:00AM - 1:00PM, followed by (optional) additional studio time.)
Professors: Adam Gustavson & Kyle Margiotta
Illustration is a discipline in the visual arts that pulls from nearly every other studio area. It is not relegated to a single style, medium, or market; rather, it is visual art with the responsibility of communication.
What it communicates can often be distilled into a punchline, a narrative, a mystery... even just a feeling. An illustration often serves as support for written media, but even this is not always the case. At their essence, illustrations are pictures made through a collaborative process, which serve a purpose and communicate an idea.
In this workshop, students will learn the steps involved in this collaborative process, through a creative exercise involving archival photo reference, observation, memory, and the influence of art history.
Fabricating Forms: Collaborative Textile Installation / Westby 103
Session 1 (Monday, April 4, 2022, 2:00PM - 4:45PM)
Session 2 (Wednesday, April 6, 2022, 2:00PM-4:45PM)
Professor: Addison Namnoum
In this workshop, we will make material interventions on fabric (weavings, braidings, knottings, and cuts) as well as learn how to make photographic dye transfers to create dynamic sculptural forms using fabric.
Each participant will have the opportunity to work individually on their own component, then later we will assemble the work collaboratively with the entire group to make a final installation. Through the collaborative installation process, we will explore formal questions of visual mass, space, line, form, and color. We will also discuss the rich conceptual language and histories of textile art that is available for us to tap into: how textile is craft, how textile is political, and how textile binds us together.
Sand Carving and Aluminum Casting / Westby 103
Session 1 (Thursday, April 7th, 2022, 11:00AM)
Session 2 (Thursday, April 7th, 2022, 2:00PM)
Professor: Emily Baker
I will be doing a carving activity on Thursday where students can come in and carve a big block of resin-bonded sand. Then, we will cast the piece on Saturday. The carving will all be done on one block so the piece will be communal.
Casting Concrete: Making a Geometric Planter / Westby 103
(Tuesday, April 5, 2022, 8:00AM-10:30AM)
Professor: Kate Testa
In this one day workshop students will learn the basics of mold making and casting while creating a geometric concrete planter. As an introduction into building 3-dimensionally, each participant will will build a single use hollow form molds that will be cast with concrete. Other mold making processes and materials will be discussed.
Artist talk with Jess Aquino - dying workshop to follow / TBA
(Friday, April 8, 2022, 10:00AM-11:00AM)
TBA
Mind & Body Monoprinting / Westby 111
Session 1 (Tuesday, April 5, 2022, 12:30PM-1:45PM)
Session 2 (Tuesday, April 5, 2022, 3:30PM-4:45PM)
Professor: Elizabeth Shores
Following a slide presentation about self-portraiture and movement activities, participants will monoprint their most powerful self. Previous artmaking experience not required.
NITE-LITE / Westby 219
(Wednesday, April 6, 2022, 5:00PM-9:00PM)
Professors: Jen Kitson & Mina Zarfsaz
Come play with light and sound! We will prototype ideas in a collaborative setting and activate a public space or structure. Bring a cell phone or camera to document, a laptop if you have one; wear appropriate clothing for outdoor activities.