Rui Shi
Rui Shi
Rui Shi

Assistant Professor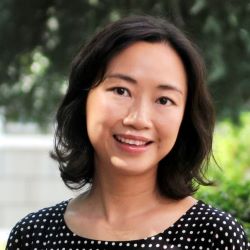 Communication Studies
Contact Info
Biography
Assistant Professor, Communication Studies
Health & Science Communication
Ph.D. University of Pennsylvania
Dr. Shi joined Rowan in Fall 2018. Her research focuses on the use of new media in health communication in the area of anti-tobacco policies, campaigns, and interventions. Her current project explores how to correct health misinformation with persuasive messages using multiple media platforms including Virtual Reality. Dr. Shi also has an active research agenda in quantitative research methods, specializing in experiment design and computational social science.
Courses
CMS 04380 - Health Communication
CMS 04383 - Communication in Health Campaigns and Interventions
CMS 04270 - Persuasion and Social Influence
CMS 04350 - Communication Research Methods
Research Interests
Health communication, campaign evaluation and message design
Misinformation correction
Computer-mediated communication and new media
Machine learning and computer assisted content analysis
Mass communication and media effects
Experimental design and quantitative research methods
Ongoing Projects
Nicotine Misinformation Correction
This project examines smokers' existing misperceptions of the health risks associated with nicotine per se, and with three nicotine products, namely electronic cigarette, nicotine replacement therapy, and reduced nicotine content cigarettes. Health communication messages that aim at addressing these misperceptions are developed and tested. Findings from the study can inform the FDA about potential communication strategies to improve smokers' understanding of nicotine products.
Misinformation and Uncertainty in the COVID-19 Pandemic
COVID-19 is not only a pandemic, but also an infodemic. The abundance of misinformation in the public communication environmentcalls for an urgent intervention. This project examines persuasive strategies that could effectively correct misinformation and encourage compliance to health guidelines during the COVID-19 Pandemic. In addition, the study explores how to help the scientific community communicate uncertainty to the general public while promoting health behaviors.
Recent Publications

Kidanu, A., Shi, R., Cruz-Cano, R., Feldman, R., Butler, J., Dyer, T., … Clark, P. (2022) Visual Attention to Health Warning Labels on Waterpipe Venue Menus in Immersive Virtual Reality. Nicotine & Tobacco Research. https://doi.org/10.1093/ntr/ntac030
Shi, R., Liu, J., & Cappella, J. N. (2021). Influence of online comments on smokers' E-cigarette attitude: Opinion climate, review fraud, and resistance to persuasion. Psychology & Health. https://doi.org/10.1080/08870446.2021.1893320
Kidanu, A., Shi, R., Cruz-Cano, R., Feldman, R., Butler, J., Dyer, T., … Clark, P. (2021). Health information on waterpipe lounge menus to educate young adults: Pilot study findings. Health Education & Behavior. https://doi-org.ezproxy.rowan.edu/10.1177/10901981211020990
Shi, R., Feldman, R., Liu, J., & Clark, P. I. (2020). The dilemma of correcting nicotine misperceptions: Nicotine replacement therapy versus electronic cigarettes. Health Communication, 1-11. https://doi.org/10.1080/10410236.2020.1800288
Liu, J., & Shi, R. (2018). How do online comments affect perceived descriptive norms of e-cigarette use? The role of quasi-statistical sense, valence perceptions, and exposure dosage. Journal of Computer-Mediated Communication, 24(1), 1-20.