News from Our Alumni
News from Our Alumni
News from Our Alumni
November 2019
Alumni Dinner in Florence, Italy with Dr. Fred Adelson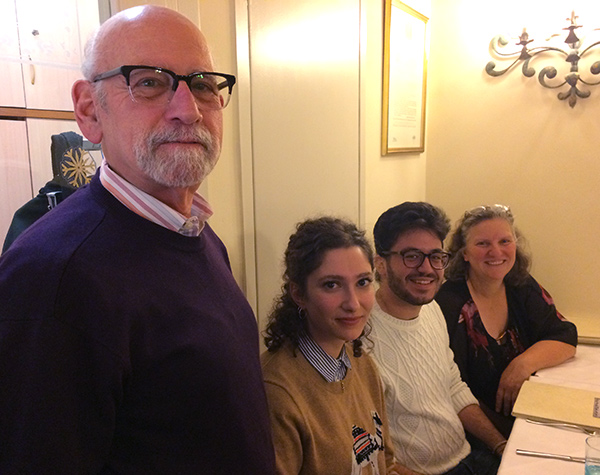 Elisabeth di Mauro (Rowan graduate in December 2017), Joseph Cimino (Rowan graduate in May 2019, and Iris Richardson (Rowan graduate in May 2017).
Elisabeth graduated with MA degree in art history from SACI in summer of 2019. She is currently working as an art teacher in an Italian-English school in Florence. Joseph Cimino and Iris Richardson are both currently graduate students in the MFA Studio Arts degree program at SACI.
---
Iris Richardson - SACI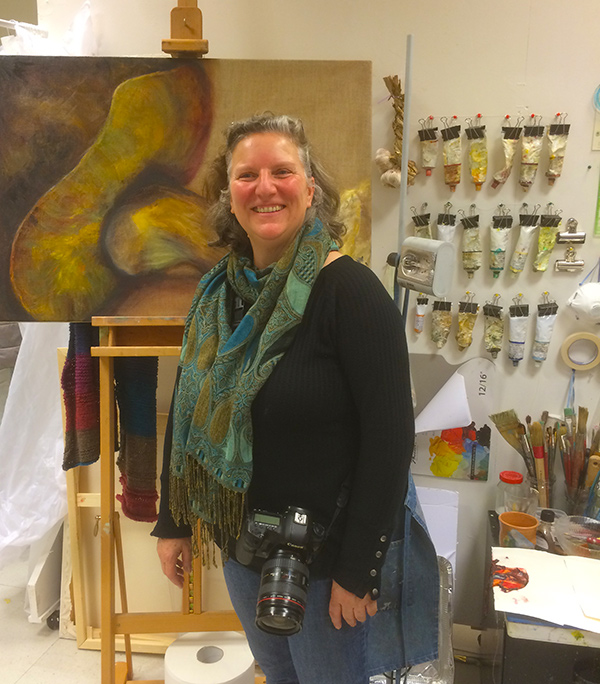 Iris Richardson (Rowan graduate in May 2017) is a second-year student in the MFA Studio Arts degree program at Studio Arts College International. She is standing in her studio with her works-in-progress in the Jules Maidoff Palazzo for the Visual Arts in Florence during the Open Studios held on November 14, 2019.

Statement by Iris Richardson that was included in a pamphlet to accompany the Open Studio Session.
She remarked:
"My artwork takes a critical view of social and cultural behaviors towards objects they see of less value, therefore dismiss or ignore. I visually deconstruct the meaning of the objects to the point of being an unrecognizable representation of its original purpose and assign a new value."
---
Joseph Cimino - SACI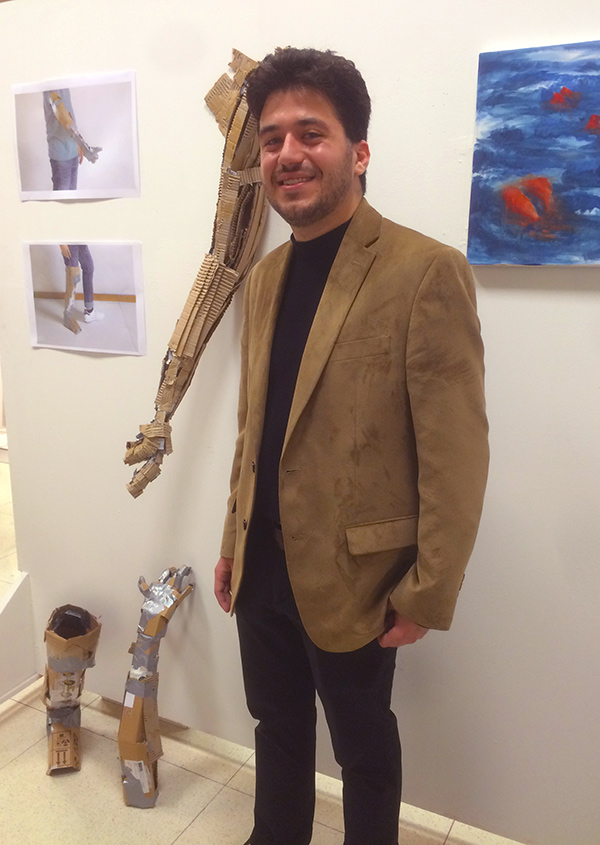 Joseph Cimino (May 2019) is now a first-year graduate student in the MFA Studio Arts degree program at Studio Arts College International (SACI) in Florence, Italy. He is seen in his studio space during the MFA Open studio session in the Jules Maidoff Palazzo for the Visual Arts at SACI that was held on November 14, 2019.​

Statements about the works-in-progress that appeared in a pamphlet that was prepared for the Open Studio session.
Jo Cimino had stated:
"Dealing with empathy in response to our desensitization on global conflicts."
June 2019
Seth Booker (2019) has accepted a position as Graphic Designer/Signage Production Artist at Fast Signs in Marlton, NJ. He will be working on banners, posters, signs, and vehicle wraps.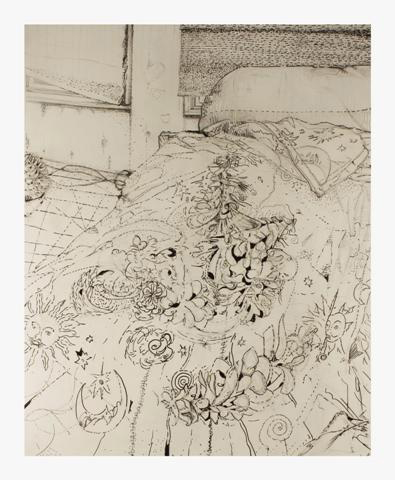 Shannon DeAngelis, Drawing No. 12, graphite and ink on archival paper, 24" x 18"

Shannon DeAngelis (2019) will display her work in the Cerulean Arts 7th Annual Juried Exhibition in Philadelphia, PA. The exhibition runs from June 19 through July 27.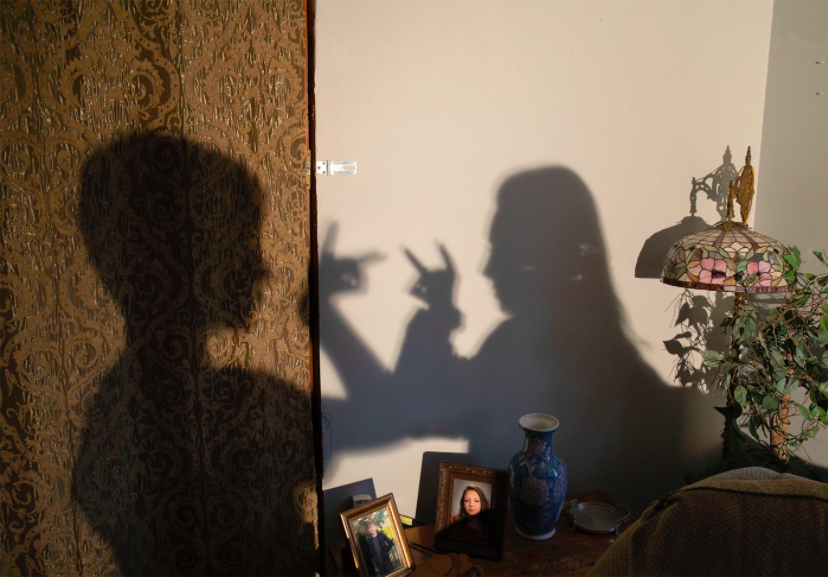 Shaun Pierson, photo from Alvine Road series.
Shaun Pierson (2019) Working with Professor Jenny Drumgoole during spring semester, he began to loosely recreate childhood memories by utilizing immediate family members as well as locations from his youth in his first photo series, the autobiographical fantasy "Alvine Road." His work is now featured on two internet sites:   
https://fotoroom.co/alvine-road-shaun-pierson/
http://magazine.thebosco.com/shaun-pierson/
May 2019
Joe Cimino (2018) represented Rowan at Star Wheel Printers fifth annual exhibition of graduating printmakers First Edition 2019: New Philadelphia Printmakers. The exhibition is from May 20 - 31 in the UArts Book Arts & Printmaking Gallery, in Philadelphia.

Sarah Perez (2018) began working at Digistream Investigations as Assistant Graphic Designer in February. She writes, "Currently, we are working on a huge website redesign and in the summer we will be working on our company newsletter. I'm also responsible for numerous other projects too, including getting more comfortable with video editing.
April 2019
Daniel Palladino (2018) is working as a long term Substitute at Mary F. Janvier Elementary School in Franklinville NJ while applying for full-time teaching positions.
March 2019
Rachel Kozic (2016) is a Graphic Designer at Astor Chocolate in Lakewood, NJ. She designs packaging for chocolate bars, truffle boxes, and various promotional materials for multiple industries across the country, ranging from Hospitality, Travel Retail, Corporate Sales, and Gourmet retailers. Rachel writes, "Courses at Rowan taught me the essential tools to be a graphic designer, plus extra tips and tricks my professors learned in their own careers. Rowan taught me how to take a design past simple aesthetics, and give it real thought, function, and purpose. Westby will forever be my home-away-from-home."
February 2019
Kiran Sudarsanan (2017) is now working as a graphic designer at the medical communications consulting agency Arcus Medica in Philadelphia. He says that he is developing a range of design solutions "and so far it's been great. It seems like a really good fit for my skills and interests."
January 2019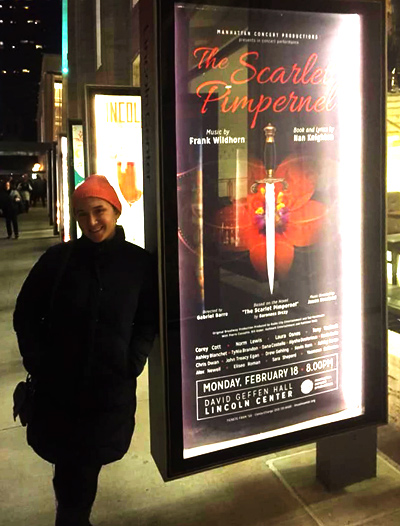 Meaghan on Broadway with one of her posters.
Meaghan O'Toole (2018) is a designer with Manhattan Concert Productions in New York City. She's working on a range of projects including concert and event posters, brochures, and a rebranding for a 2020 marketing campaign.
December 2018

Jenn Consoli (2013) has launched Pedal Pusher Press, a line of stationery, paper goods, and gifts. She says "the spirit of Pedal Pusher Press is founded in loving life's daily pleasures: having a cup of tea, riding a bike in the sunshine, enjoying an ice cream cone, laughing until your stomach hurts, and finding the beauty in all things. Our patterns and prints are color centric and jam packed with fun and optimism." Visit her website: pedalpusherpress.com
November 2018
Christian Dalonzo (2017) started a new job as a Human Interface Designer at Apple Inc. in Cupertino, California.
Jooahn Kwan (2017) accepted an offer from Workman Publishing Company in New York as the Junior Designer for their Children's Book Department. He said, "Funny that I got into and learned chalk lettering from a book this company published. Who would have known that my curiosity in hand lettering would develop into a passion and into a standout feature for future employers." He started his new job at the beginning of November.
Stuart Lopez (2012) has just been promoted to Creative Director at Donovan/Green in New York. He joined the design group soon after graduating from Rowan.
October 2018
Brianna Jarzyna (2018) is now working as a designer at AAJ Design in Philadelphia.
Natasha Olivero (2013) is a multimedia designer in the Learning Curriculum and Design office at BAYADA Home Health Care in Pennsauken. "So far I've created instructional materials for classroom training, instructional videos, interviewee videos, eLearning modules, and photography. They asked if I would be interested in the role of an Instructional Designer, so I am also doing additional studying in photography, videography, and graphic design. I am currently content and appreciative of what Rowan has done in my life and looking forward to the contributions I can make as an alumni."
September 2018
Tyler Cheli (2015) has joined GHD Partners in New York as a mid-level designer. "My focus is in environmental graphic design but I work in other fields of design as well. We do a lot of workplace graphics which are pretty cool. Workplace graphics are large scale murals for workplace environments which help inform, direct, or celebrate the everyday users of the space. Some graphics even highlight history, can provide interesting information which can challenge the users to learn something new. Working at Piscatello Design Centre for almost three years, I did similar work in the large-scale donor walls and donor programs, signage and wayfinding."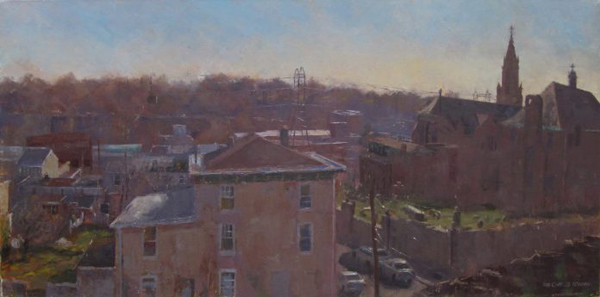 Charles Newman, View From Churchview Street, 2015, oil on linen, 20 x 40 in.
Charles Newman (2002) is a featured artist in Plein Air Magazine (August/September 2018). He says "The play of light and urban decay are things I'm drawn toward. I like to paint the overlooked, something that a passerby may pass every day but not even notice. Recently I've been painting in an industrial section of Southwest Philadelphia called Forgotten Bottom, where the Schuylkill River runs through." See more of his work at charlesnewmanarts.com


August 2018
Melissa Kirk (2017) has completed her Masters in Art History at SACI in Florence, Italy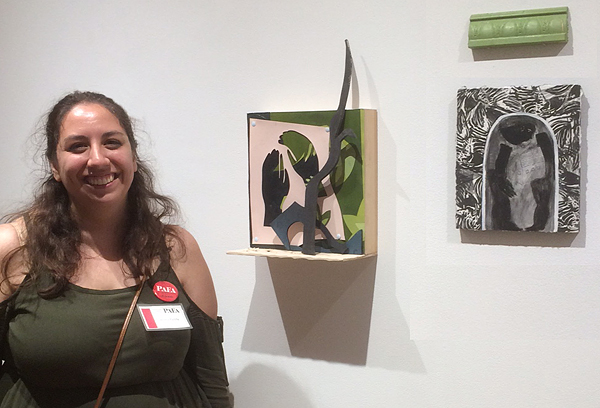 Jessica Padilla (2013) exhibited work from her MFA studies at The Pennsylvania Academy of the Fine Arts (PAFA). Jessica graduated from Rowan with a BFA in Studio Art and a BA in Art Education; she was also the recipient of the Seward Johnson Scholarship for study at SACI in Florence in 2011.
JayJ Walsh (2018) is working as a design intern at Donovan/Green in New York. He says, "I am working with Stuart Lopez (Rowan 2012) and it has been a really amazing experience. I am learning a whole lot, especially the business sides of design which have been very helpful."
June 2018
Daisy Greenwell (2017) has a new job as a Monument Conservation Technician with the Central Park Conservancy in New York. She's working as part of a team with four other technicians, doing conservation treatments and condition assessments of the outdoor monuments and works of art in Central Park.
Nick Vicente (2016) is now Art Director at The Perception in Philadelphia. He says accepting this position "was an opportunity for me to have a larger footprint in a smaller place. I'm able to be a part of and have a hand in its growth." theperception.co


May 2018
Carol Taylor Kearney (1994) had an exhibition, American Prayer Flags, on display at the Atlantic Gallery in New York, NY. in April and the exhibit will travel to the Cerulean Arts Gallery in Philadelphia, PA from June 16 through July 14. Previously, she made art works from found windows and doors. Her current exhibition uses worn American flags and other materials to "mine messages in found objects." ceruleanarts.com/pages/carol-taylor-kearney
Samantha Kovnat (2016) is working part time for muralists in Philadelphia on a range of mural arts related projects. She has also been active with the Monument Lab project that promotes public engagement about ways of imaging the future of shared spaces.


April 2018
Michael Jasorka (2007) Besides creating his own comic books, Michael is a Teaching Artist with Venice Arts, a non-profit arts organization in Venice, California that helps youth ages 10 to 17 focus in creative arts. In his comics workshop at Venice Arts, his students are creating "Traders Paradise", a comic book anthology consisting of 1-page stories about trading card collectors. Each comic page features an actual trading card from the past and will focus on a character's connection to the trading card ephemera. www.venicearts.org
Nicole Schmitt (2017) has been accepted into University of the Arts and will begin work on her MFA in Exhibition Planning & Design in the fall.
Elaina Unger (2012) announces her newest comic-cover releases for Betty and Veronica: Vixens #5
March 2018
Elisabeth DiMauro (2017) has been accepted into the MA degree program in art history at SACI (Studio Arts College International) in Florence, Italy, beginning in September 2018.
Danovench Jean (2017) began working as the Jr. Graphic Designer for Visionary Brands Inc., West Berlin, NJ, where he works on a range of design for websites, print media, product and packaging design, and displays. He writes, "My favorite part about the job is that I get to work on a team. It's nice because we can bounce ideas off each other, give advice and share experiences, and talk about what's going on in the design world.
Iris Richardson (2017) has been accepted into the MFA Studio Arts program at SACI (Studio Arts College International) in Florence, Italy, beginning in September 2018.
February 2018
Paterno Franz Cappelli (2017) is currently working in SoJo Spa Club in Edgewater, NJ as their in-house designer. Prior to that he worked on contracted design for Nourison in Saddle Brook, NJ, and at the Pulse Creative agency in New York, NY. Paterno says, "So far it has been a great experience working in different areas of the field, and I've definitely learned a lot! Where I am at now, I'm implementing my knowledge of design and brands while learning so much about marketing and project management. I'm looking forward to more challenges and exciting projects in the future."
November 2017
Josh Carter
(2012) is working with
Steve DeCusatis
(faculty) and Mario Zucca on PhilaMRKT. PhilaMRKT is a one day pop-up curated Artist Market promoting and selling works from over 20 Graphic Designers and Illustrators in the Philadelphia area. He says, "I think it will be an interesting look into the state of design and art in Philadelphia in 2017. Check it out on November 25th!" philadelphia.aiga.org/event-internal/philamrkt/
Lily Fullerton
(2016) has been promoted to a new position at Brandshare in NYC. She is now Digital Creative Lead after proving her skills as the Junior Graphic Designer for six months. In her new position, she continues to design, using her knowledge of code and web development, and she is also responsible for managing freelance designers, developers and digital projects.
Alex Gencarelli
(2011) earned her Master of Fine Arts in Photography from Rhode Island School of Design (RISD).

Jason Moya (2011) is Senior Designer with the DSM Group in Mahwah, NJ, but now he's also keeping busy with his own apparel and illustration company, Lift Me Up, that he founded in 2016. "It's nice to be my own boss. I have all the freedom in the world to create what I want and it is going well." liftmeupapparel.com
October 2017
Samantha Canter (2017) has accepted a fulltime graphic design position with Source4Teachers in Cherry Hill starting this month. Up to this time she's been doing a variety of freelance design jobs through The Creative Group.
It was nice to catch up with several Rowan alumni at the AENJ annual conference in Long Branch, NJ. Here are some of the Rowan grads who are inspiring the next generations of art students around the state:
Dorothy Amme, (1994) continues to teach art at Piscataway High School in Piscataway, NJ. See some of the great work from her students at http://artwithmrsamme.weebly.com/home.html

Leanna Crisofulli (2012) Linwood Middle School in North Brunswick, NJ.

Tricia Deal (2004) general art classes for grade 8, Winslow Middle School in Atco, NJ.

Chris Hrycenko (2011) Donovan Catholic High School in Toms River, NJ.

Katina Lampropoulos (2011) art teacher at Janvier Elementary in Franklinville, NJ.

Laura (Schiavo) Materio (1992) Millville Memorial High School in Millville, NJ.

Jaymee Miller-Dobbins (2000) Oakcrest High School in Mays Landing, NJ.

Megan Richards (2014) is in her 4th year at Hartford School in Mount Laurel, NJ. She teaches 6th grade art.

Melissa Silvestri (2015) Mount Olive Middle School in Budd Lake, NJ.

Niki Williams (2006) teaches art for grades 6 - 8 at Mastery Cramer Hill Charter School in Camden, NJ.

Carly Yoast-Broomhead (1996) Attales Middle School in Absecon, NJ.
September 2017
Derek Koch (2015) is one of five partners (four designers and a marketing manager) in the new design firm Herter Design Group in NYC. The group formed after the principals of their previous organization, Poulin + Morris Inc., decided to retire. "Needless to say we've been extremely busy, working 12-14 hour days, and we recently received the articles of incorporation in the state of NY. We're full steam ahead, learning the ins-and-outs as we go along but it has been a fantastic experience. We have a lot of awesome clients that are willing to put their faith in us, and we're excited to show them what we can do! herterdesigngroup.com
Iris Richardson (2017) was again invited to participate in Rittenhouse Square Fine Art Show in Philadelphia, September 15 - 17. iris@irisrichardson.com
Jonathan Shepard (2016) started his studies in the MFA program at The Pennsylvania Academy of the Fine Arts (PAFA).
August 2017
Jerry Ortiz (2013) is now a full-time graphic designer for Rowan University's Division of Global Learning & Partnerships at Rowan University after previously working part-time with the division. He keeps busy with projects large and small, from billboards to web updates, banner ads and a wide range of publications and print materials.
July 2017
Emma Abad (2013) is Gallery Manager at the Mikhail Zakin Gallery in Demarest, NJ and she's sharing a catch-up list of activities. She was in a group exhibition, Process: The Altered Image, at the Helikon Gallery in Denver, CO in April 2017 and had a solo show, Been Here Before, at the Art Views Gallery in Bronx, NY in July 2016. One of her prints was shown on season two of Unbreakable Kimmy Schmidt on Netflix and another on season two of Billions on Showtime. In addition, Emma has raised over $200 for the organizations ACLU, UltraViolet, and the Human Rights Campaign with the sales of illustrations created from photographs of the Woman's March in New York City. 
See more at http://www.emmaabad.com
Kayla Earnest (2017) and Virginia Ann Scriboni (2017) are representing Rowan's printmaking program in Star Wheel Printers third annual exhibition of graduating printmakers First Edition 2017: New Philadelphia Printmakers. The exhibition is at the Fleisher Art Memorial's Center for Works on Paper in Philadelphia through August 11.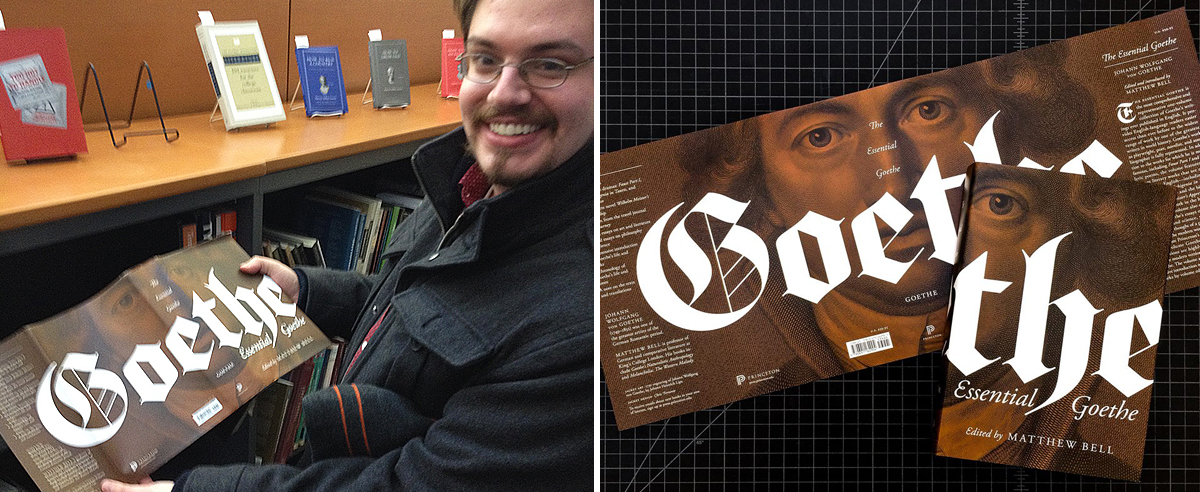 Chris Ferrante (2013) earns another award for one of his books at Princeton University Press. His cover design for The Essential Goethe has been added to the AIGA Design Archives as a winner in this year's 50 Books | 50 Covers annual competition.

Tom Reed (2016) is in the midst of a 4,000+ mile bike ride to raise funds and awareness for the fight against cancer. His team departed from Baltimore's Inner Harbor on June 4th, planning to arrive in Portland, Oregon on August 12th. The riders cycle between 50 and 100+ miles each day over diverse terrain. Tom dedicates each day's ride to someone special; June 21st was dedicated to Professor Herb Appelson (Doc). Tom said, "He was a driving force during my art education and he is like family to me." said Tom.
June 2017
Paterno Franz Cappelli (2017) accepted a full time position at Nourison Industries, a high-end rug manufacturer in Saddle Brook, NJ. He is designing digital marketing material and promotional ads.
Allyson Cook (2016) completed her first year teaching at Highland Regional High School in Blackwood, New Jersey. She teaches Ceramics/Sculpture, Computer Graphics, and Art and Design. Two other Rowan grads: Nicole Smedile (2015) and Hope Welch are also art educators at Highland Regional. Allyson says "One of the coolest parts about my job is working so closely with all of the other art teachers. We are constantly supporting and challenging each other in education and also in our own personal artwork. I thank Rowan for providing me with the education and tools to be successful at my job.
Christian Dalonzo (2017) is now a full-time product designer at Facebook in San Francisco.
James Halasy (2017) is working as design intern at Donovan/Green in New York.
Justin Visentin (2017) is now Junior Designer at 4 Elbows LLC, an independent boutique agency based in South Orange, NJ. He previously held summer internships at the firm and has been involved in logo exploration, branding, and web design.
Jason M. Stewart (2009) has a solo exhibition, Negotiations of Place, in the Monmouth Museum's New Jersey Emerging Artists Series. Lincroft, NJ ​(June 2 to July 2, 2017).  
May 2017
Melissa Kirk (2017) won the Student Excellence Award at the Rittenhouse Square Fine Arts Show. She also exhibited work at the Twenty-Two Gallery in Philadelphia on June 2-4, 2017. Melissa is accepted into the Masters in Art History program at SACI in Florence, Italy for the coming year.  
Iris Richardson (2017) and Elisabeth DiMauro (2017) also participated in the Rittenhouse Fine Art Fair and both of them sold works during the event.
Nicole Smedile (2015) teaches art, design, and fashion/interior design at Highland High School. She is also working at Artbox Studio in Wildwood and selling her paintings at Chora Leone Gallery in Somers point.
James Adam Taylor (2004) had a solo photography exhibition, 40° West, at the Ocean City Arts Center in Ocean City during May 2017.
April 2017
Nicolette Absil (2011) is a Saul Bell Design Award Finalist in the Enamel category for 2017. See more about this international competition here: http://www.saulbellaward.com/2017-winners
Claire Cossaboon, (2010) is currently manager of membership at Grounds for Sculpture in Hamilton, NJ
Jignesh Patel (2015) is busy as a designer, developing a redesigned logo, new website and a direct mail marketing campaign for a private company that specialized in Pavement services. He also works for an apparel company. "I branded a entire new identity, website design, promotional materials, and am designing some clothing too."
March 2017
Lily Fullerton (2016) recently accepted a job offer as a designer with BrandShare—a small design team on Madison Avenue in NYC. With a focus on creativity and precision, the company creates packaging and other promotional materials for national and international brands.
Carol Taylor Kearney (1994) participated in Clio Art Fair in March 2017. This event is a curated fair in NYC to showcase independent artists.
February 2017
Chris Ferrante (2013). learned that three of his books designed at Princeton University Press recently won four awards in the 2017 AAUP Book, Jacket, and Journal Show. Village Atheists: How America's Unbelievers Made Their Way in a Godly Nation by Leigh Eric Schmidt was selected for both book and jacket design. Reading Cy Twombly: Poetry in Paint by Mary Jacobus was selected for book design in the Scholarly Illustrated category. Money Changes Everything: How Finance Made Civilization Possible by William N. Goetzmann was selected for jacket design.
January 2017
Nicole Roth (2010) was published in the 2017 issue of Art Education, 70:1, 8-14. Her article is titled, "Stories of Exploration in a Student-Centered Learning Environment." Nicole earned her BA in Art | BA in Education at Rowan and earned the MA in Art Education at Maryland Institute College of Art (MICA). She is an art teacher in the Bridgewater-Raritan Regional School District.
Paige Pentland (2016) has been working as a graphic designer at AYC in Conshehocken for four months. "I have worked on branding projects and have designed a few websites. We do a lot of work for restaurants too. I really miss classes—the 9-to-5 life is hard to get used to."
Stephanie Francis (2012) continues to work in New York. She began working as a mid-level graphic designer on Bloomingdale's print team for cosmetics and fashion accessories in July 2016. "A great thing about my job is the people. Everyone is so different, they are all very talented, and I am learning a lot. I think it is cool that even though creative is split into department teams, we collaborate so well and get to put our own touch on other projects not specifically related to our department. Stephanie continues to have an active freelance business: stephaniefrancis.net
Nick Vicente (2016) just began working as a graphic designer at 160over90 in Philadelphia. He says that his experiences in graphic design at Rowan and through internships made a big difference: "They're bringing me on as a mid-level designer instead of a junior designer so I'm pretty excited!" Nick also does freelance design work: www.nickvicente.com
DECEMBER 2016
Meg DeMora (2016) has completed the first semester in the MFA program in Sculpture at William Paterson University. She is working in 3D modeling and printing as well as CNC carving and virtual reality design.

Rachel Aronson (2016) started as a contracted junior graphic designer at Vanguard in July. She says, "I have been here in Philadelphia for about six months now and I have worked on a variety of projects from print, to emails, to story boarding for advertisements. The work environment is great and my coworkers are always willing to help. I am gaining confidence in being able to share my design concepts as well as being able to articulate how I solved the problem."

Nicole Roth (2010) was published in the 2017 issue of Art Education, 70:1, 8-14. Her article is titled, "Stories of Exploration in a Student-Centered Learning Environment." She is an Art Teacher in the Bridgewater-Raritan Regional School District. Nicole earned her BA in Art | BA in Education at Rowan and earned the MA in Art Education at Maryland Institute College of Art (MICA).
OCTOBER 2016
Sydney Melnick (2016) is pursuing her master's degree in Art Therapy at the School of Visual Arts in New York.

John Mitchell (2011) is a current Rowan adjunct instructor. He participated with five other painters in the exhibition, Noon. at Kamihira Gallery in Philadelphia.

AUGUST 2016
Paige Pentland (2016) moved to Philadelphia and started work as a graphic design for AYC Media, an interactive design agency in Conshehocken. "So far I have worked on branding projects and on a few websites. Our clients include Anheiser Busch and 7-Eleven, and we do a lot of work for restaurants too."
JULY 2016
Vic Steinman (2016) is an Associate Designer at Allen & Gerritsen in Philadelphia. He is working with clients such as Sunoco, Yuengling, and the Philadelphia Museum of Art. He is learning more about digital and UI/UX design and he also continues to operate his freelance design business at http://www.vicsteinman.com

MAY 2016
Kevin Alves (2014) is currently a designer at Horizon Group in Warren, NJ. On the design team in the craft section of the company, he's been involved with packaging, design production, and product development for products for leading national retailers. He says, "I've learned to be meticulous and to aim for perfection in this job."
Shelby Clouser (2015) is now Graphic Designer for 23k Agency in Wayne. PA. "I'm currently working on designs for the Philadelphia Freedoms professional tennis team," said Shelby. "Elton John and Billie Jean King host a charity event, Smash Hits, every year at Villanova and a fellow designer and I have been working on all the signage and promotions for it. I think the neatest part is that I am still learning little tips and tricks that are helping my designs out daily and everyone is willing to help me learn as I go-and I can wear yoga pants and sneakers to work."
Matt Goold (2009) is the Lead Designer at P'unk Avenue, a South Philly design studio focused on doing good work with good people in the fields of urbanism, education, arts and culture, and wellness. Check it out at http://punkave.com/.
Jon May (2015) is currently interning into a full time position at S. Walter Packaging in Philadelphia, PA. "As a designer/production artist I am responsible for recreating artwork and preparing dielines and templates for printing and production. The coolest thing about the job is getting to work on projects for some major companies and universities around the country. Also I enjoy being in a large company because it allows me to work with a variety of different people including web designers, sales reps, and printers."
Gwendolyn Salas (2014) is continuing her position as Graphic Designer for several medical communication franchises within Michael J. Hennessy Associates in Plainsboro, NJ. Specializing in publication and marketing design, she's worked with the company since June 2014. She is currently working on the corporate rebranding of the company.
Nicholas Vicente (2016) is now working at the Philadelphia design studio, Smith & Diction. The company, founded by Rowan graduate Mike Smith (2010) is currently working on a design, branding and signage overhaul of the Independence Visitor Center in Old City, and was recently selected to design the branding and wayfinding for The Rail Park (Philly's newly-developing version of the NYC Highline Park.) Nick will be working with Mike on the creative development of these projects as well as others.


APRIL 2016
Emma Abad (2013) has been the Gallery and Administrative Assistant at the Art School at Old Church in Demarest NJ since November 2013. She helps to select and organize incoming shows, hang and install new exhibitions, and do promotional work for the gallery. Two of her prints will be shown on season two of Unbreakable Kimmy Schmidt on Netflix. She is represented by Sugarlift, an arts collective in Brooklyn, NY.
Kathryn Messinger (2014) has successfully launched her business, The Messinger, designing original cards, prints and home goods. Her work can be purchased in regional galleries and craft fairs, in her online shop, and by special commission. "I wasn't happy in a traditional work setting and I always wanted to be my own boss so I'm excited that this adventure is working. I've learned a lot in starting this company and hopefully it'll keep expanding," she said. On the side, she works as a graphic designer and event coordinator for another local entrepreneur. Visit Kathryn's shop: www.etsy.com/shop/TheMessinger
Emily Peterson (2014) is a Jeweler at Jared Jewelers in Deptford, NJ. since April 2015. "I'm proud to be working for one of the largest US companies (Signet). My favorite aspect of the career is to find creative solutions every day using my hands and all the skills I developed in school. And I still have time to work on my own artwork. Right now I'm on a week-long paid business trip to Ohio, learning how to set diamonds more efficiently."
Roy Townsend (2013) and his fiancé Mary Veterano recently relocated to Jacksonville, FL. They started their photography business in 2011 and they've had success (and fun) while photographing weddings, including supplying a photo booth and doing custom print designs for their clients. Their photos have been featured in print and on numerous websites, and they've published articles about portfolios and creative business plans. See some of their work at MaryandRoy.com
Eric Tran (2009) moved to Chicago a few months ago to work at Netherrealm Studio, part of Warner Bros. Interactive Entertainment. He says "I am working on user interface art, storyboarding, brainstorming animated sequences and helping to test and balance our games. If you would have told me a year ago that I would be working in my favorite studio, working on my favorite franchise, and working with the original creators of Mortal Kombat, including Ed Boon, I would have never believed it. Post-graduation I worked retail at an art store just trying to pay off bills, but I never gave up drawing and never gave up my dreams of working for video games. All the stuff you guys taught me in school really paid off." Eric's instagram is @sketchbrah
MARCH 2016
Sam Guerrero (2012) is gaining recognition as an accomplished illustrator. He became Senior Designer at The New York Daily News in January. His Engine 9 Studios also serves as consultant for other divisions in the NY Daily News company including US News and World Report, Viva Magazine, and their advertising division. See his work at engine9studios.com
Tyler Cheli (2015) has a full-time position as Graphic Designer at Piscatello Design Centre in New York since January. She said, "I'm having a great experience as part of a great team. I remember when I first heard Rocco [Piscatello] speak at Rowan University, thinking how lucky I would be to work for someone who was so passionate about design."
Sara Glover (2014) has been focused on Jewelry Repair and Sales for Haddonfield Fine Jewelers in Haddonfield, NJ, since August 2015. She says, "I get to share a lot of special moments with customers. Every day I learn something new; whether it's about a piece of jewelry, a jewel, a trend or technique for repair. There is always something new and I am enjoying learned the business side of things because one day I plan to make and sell my own creations."
Jennifer A. Perez, MPS, ATR-BC, LCAT (2006) is a Creative Arts Therapist practicing in New York City since 2011. She is currently an Art Therapy Supervisor for a non-profit organization assisting Art Therapy Graduate students in their Internships and provides psychotherapy for adolescents and their families. The practice of Creative Arts Therapy and mindfulness has provided her with the opportunity to connect with various cultures throughout the life cycle spectrum as well as address the therapeutic needs for Military Veterans. She regards Wassily Kandinsky as a major influence in her pursuit of art therapy and claims his essays to solidify art's cathartic value.
Jessica Williams (2014) is now working as a Jeweler for Steven Lagos in Philadelphia, PA. Previously she worked for Jared Jewelers in PA and Joy Stember Metal Arts in PA.
FEBRUARY 2016
Gabi Previtera (2014) is now a Production Artist at S. Walter Packaging in Philadelphia, PA. She says, "So many important and popular retailers get their products from here and it's so cool to be preparing the artwork for their printing orders. I get to see the whole process because we have the printshop right here"
Matt Williams (2011) has been a ui/ux designer at Azavea in Philadelphia since March 2015. Azavea specializes in the creation of geographic web and mobile software, as well as geospatial analysis services. "I just completed a grant project for NASA creating a user interface that allows users to take satellite earth imagery and apply map algebra algorithms to do high level computations. It is the most conceptually difficult project I've had to date. I had to learn the basics of map algebra in a week and that is a topic that is taught to PhD students."
JANUARY 2016
Brianna Brennan (2014) is the Graphic Designer at Kona Surf Co. in Wildwood, NJ. Along with rebranding the company, she designs and manages the production of some of their products and the accompanying marketing materials. "A project that I just completed was using CAD to build the structure and images for surfboards and stand-up paddle boards that are now in factory production. There is always something new in my job, so it's a really fun environment!"
Erin Ewasko (2013) joined Bellia Print & Design in Glassboro, NJ. As Graphic Designer, she works with business and community leaders and local residents to develop and produce a wide range of communication materials.
DECEMBER 2015
Krista DeMato (2014) is the new Interactive Designer at iCIMS, a talent acquisition software company in Matawan, NJ.
Kendra DeSimone (2015) has accepted a position as graphic designer/creative specialist at Harris Tea in Moorestown, NJ. As part of the marketing team she will be doing design, photography and some promotional writing for their packaging and identity programs.
NOVEMBER 2015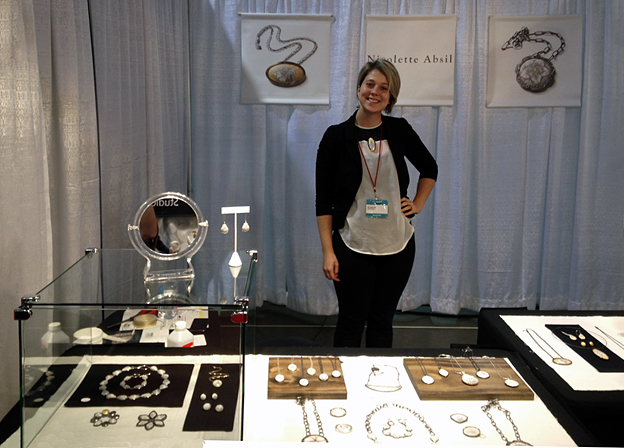 Nicholette Absil (2011) was juried as an Emerging Artist into the highly competitive Philadelphia Museum of Art Contemporary Craft Show.
Stephanie Gerhard (2015) has accepted a position as graphic designer at Keystone Industries in Gibbstown, NJ. She will be doing creative work for the pharmaceutical company's dental department.
OCTOBER 2015
Kristin Cosmo (2015), is Art Teacher at the International Academy of Trenton, Trenton, NJ.
Madeline DeFino (2014), is Art Teacher at Hampton Public School, New Milford, NJ.
Natalia Navarro (2014), is Art Teacher at Timber Creek Regional High School, Sicklerville, NJ.
Nicole Smedile (2015), is Art Teacher at Highland Regional High School in Blackwood, NJ.
SEPTEMBER 2015

Olivia Callicoat (2015) is now an Apprentice Jeweler for Jared Jewelery in Paramus, NJ. She will be starting diamontology courses soon and she is continuing to build her design portfolio for 3D modeling. One of the best aspects of her job is designing custom jewelry for customers.
Josh Carter (2012) has been selected for a 6-month Fellowship at The Huffington Post in NYC. He will be assisting with graphic design and motion graphics. He said, "Being involved in the design community after you graduate pays off! A couple years ago I was at an AIGA Start Up event and I was the designer/ motion graphics person on one of the business teams. I didn't actually sign up for this Fellowship; the owner of that Start Up business referred me for the position."
Cayla Crowell (2014) has been employed as a Jeweler at Jared Galleria Of Jewelry in Cherry Hill, NJ, since December 2014. "I enjoy being challenged each and every day. I often work on jobs that have a high sentimental value to the customer and usually appear to be past the point of repair, so I consult with my mentor and we figure out a solution. It's rewarding when people thank me for fixing the piece, so I guess you could say I like that challenge as well as making people happy."
Rebecca Stirner (2011) started working at CLP Jewelry in Denver, CO, in March 2015. She says: "I'm loving my job every day. It still amazes me that I get to show up to work and play with a torch and gemstones as a regular routine."
Elaina Unger (2012) is interviewed about her path to illustration and her work as a colorist working for Archie Comics on such books as Mega Man and Sonic the Hedgehog. You can listen to the podcast here:
http://www.capesandscowlspodcast.com/2015/09/interview-colorist-elaina-unger/.


AUGUST 2015
Alexandra Barilotti (2011) is Art Teacher at Larchmont Elementary, Mt. Laurel, NJ.
Caitlyn Clements (2009) is 1/2 Day Art teacher at Glassboro High School. She is also teaching Introduction to Painting as an adjunct instructor at Rowan University.
Derek Koch (2015) has been hired as Graphic Designer at Poulin + Morris in NYC. The design firm is recognized for work on environmental graphics, donor recognition, wayfinding sign programs, and exhibitions.
Corey Petit (2014) has a new position in the Bridgeton School District. He is teaching K-8 Art at West Avenue Elementary School in Bridgeton, NJ.
Megan Richards (2014) is the Art Teacher at Hartford Elementary, Mt. Laurel
Jessica Zellers (2012) is now Fine & Performing Arts teacher at Burlington Township High School


JULY 2015
Tyler Cheli (2015) is working as Marketing and Digital Media Intern at Jacob's Pillow Dance Festival in Beckett, MA. Some of her projects have included branding the Cafe and Pub on the festival grounds, creating an interactive Instagram game to see what is going on at Jacobs Pillow each week (thisweekatjacobspillow) and designing for two events, Free Fun Friday at Jacob's Pillow and National Dance Day campaign. She says, "I have worked on quite a bit since I have been here, especially with promoting the international dance companies that come each week. I also assist with ticket sales, marketing promotion and give tours, and I am learning a lot about digital marketing. Needless to say, they keep us very busy, but I am enjoying my experience."
Jane Gandenberger Medio (2010) teaches art at Egg Harbor Township High School. She won a scholarship for an Artist Teacher Institute program at Stockton University to take a printmaking course this summer.
Mike Smith (2010) has returned to Philadelphia after several years in New York. He has started Smith & Diction with his fiancé and copywriting partner Chara Odhner.
James Viola (2009) is working full-time as a freelance graphic designer and blogger specializing in brand and logo development for companies around the USA. He also designs posters and other merchandise under a new initiative: Damn Good! Brand.
Thuy Vo (2010) continues to work as a graphic designer in University Publications at Rowan. She has also developed an online jewelry site, ShamelesslySparkly.com

JUNE 2015
Nicolette Absil (2011) was the featured artist in a Philly.com article about her enamel jewelry and her process and influences.
Jessica Genarie (2015) is now the fulltime Designer/Photo editor for the consumer electronics company Mobilestar (or Aduro Products as the online division) in Metuchen, NJ. She began as an intern in February and was hired full-time after graduation. Genarie says, "I am currently doing a lot of photo editing. It is my responsibility to photograph the products and create/retouch product images. I also create the lifestyle photos that are seen for our products on Groupon, Amazon, etc."

May 2015
Danielle Brazinski (2012) earned her MA in Art Therapy/Counseling at The College of New Rochelle in New Rochelle, NY. Currently she is recreational art therapist at The Abramson Center for Jewish Life in North Wales, PA.
Tyler Cheli (2015) will be interning for the summer festival season at Jacob's Pillow in the Berkshires, Massachusetts.
Krista DeMato (2014) is Graphic Design Manager at Likeable Local, a social media marketing software company in NYC.
Matheus Fiuza (2014) is now Senior Designer at Busch Gardens Tampa.
Jessica Genarie (2015) is beginning her new job as designer for Aduro Products in Metuchen, NJ.
Jon May (2015) is the summer design intern at Mole Street in Philadelphia.
April 2015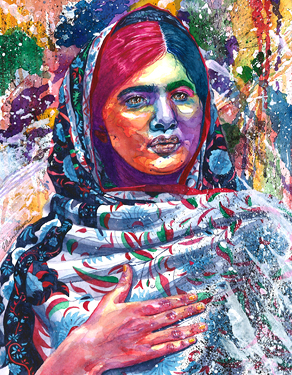 Elaina Unger (2012) painted a portrait of Malala Yousafzai because she was inspired by Malala's story of courage and persistence. After posting it on Tumblr, Elaina has watched it go viral when the Malala Fund shared it on Twitter and Facebook a few days ago. "I am humbled to know that people think I have done justice to Malala by honoring her in my painting. I think she a subject worth portraying because she has done so much with her life to support women's education, and she always seems to have a positive outlook on things in spite of her harsh experiences with the Taliban." The portrait was also on display in an exhibition at Rowan's Osteopathic Medical School in Stratford. Currently, Elaina is working with Archie Comics on their Mega Man series and their upcoming "Worlds Unite Battle" books.

David Benjamin (2014) has been accepted into the MFA Studio Art program at UArts in Philadelphia, Pennsylvania.
Jenn Consoli (2013) has been accepted into the MA program for History of Design and Curatorial Studies at Parsons The New School for Design in New York.
Claire Cossaboon (2010) Since November 2013, Claire has been working as Development Associate at The Studio Museum in Harlem, raising institutional and individual support for the Museum's contemporary art exhibitions, education and public programs, and the Artist-in-Residence program. She earned her Masters in Museum Communications from UArts in early 2013 and published her thesis, "Communicating Brand Identity and Commodity Experiences to Diverse Audiences through Effective Image Usage." Prior to that, in 2012 she worked in Public Programs and Membership at The Barnes Foundation and completed an Audience Analysis for Institute of Contemporary Art. In 2010, she was Curatorial Assistant, and later Interim Director, of the Career Development Program at The Center for Emerging Visual Artists (CFEVA) in Philadelphia.

Alex Gencarielli (2011) has been accepted into the MFA program for Photography at RISD in Providence, Rhode Island.
Alexis Novak (2012) has been accepted into the MFA Photography program at MICA (Maryland Institute College of Art) in Baltimore, Maryland.
Jessica Padilla (2013) has been accepted into the MFA program of study at SACI (Studio Art Centers International) in Florence, Italy.

March 2015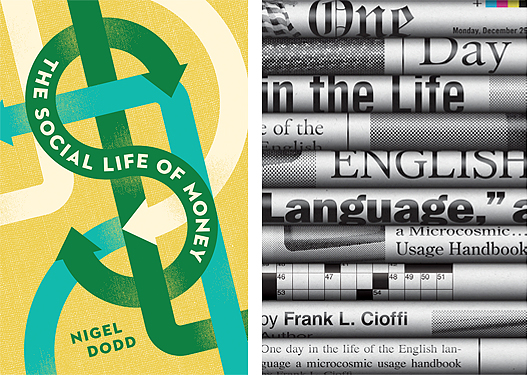 Christopher Ferrante (2013) is winning recognition for his work at Princeton University Press. His book design for Nigel Dodd's The Social Life of Money was selected in the Trade Typographic category of the 2015 Association of American University Presses (AAUP) Book, Jacket & Journal Show. His cover design for Frank L. Cioffi's One Day in the Life of The English Language was featured on the popular books, design, and culture blog, The Casual Optimist, as a book cover of note for March 2015. www.casualoptimist.com/blog/2015/03/03/book-covers-of-note-march-2015/
Charlie Castilla (2013) is now the Graphic Artist at Custom Graphics in Vineland, NJ. He develops digital graphics for laser-cut, embroidered, screen-printed, and vinyl products.
Krista DeMato (2014) is Graphic Design Manager at Likeable Local, a social media marketing software company in NYC.
Jerry Ortiz (2013) is a Graphic Designer for Rowan Global Department at Rowan University. He is working on print, web media, and billboard promotions for the University.
Matt Williams (2011) has accepted a new position as UI/UX Designer (User Interface and User Experience Designer) with Azavea, a company that creates GIS web and mobile software in Philadelphia. Previously, he was lead designer at Every Merchant in Cherry Hill, NJ.

February 2015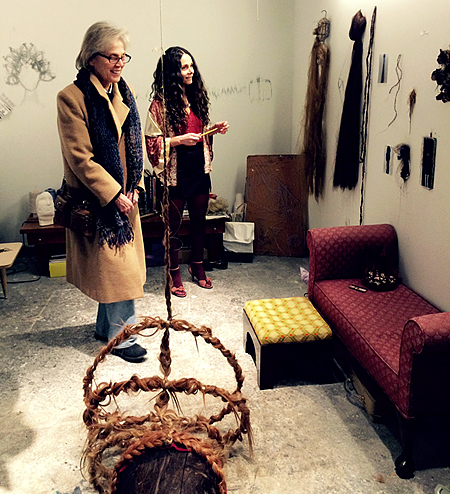 Alexis Dispensa (2014) is enjoying the challenges of her first year in the MFA graduate program at PAFA. She exhibited some of her new work at PAFA Open Studio Night on February 20.

Charles Korang (2013) is currently employed as a Graphic Designer with CustomED in Collingswood, NJ. Charles notes, "The skills that I developed in Rowan's Department of Art put me in a position to do something I am truly passionate about. My time in Rowan's Visual Art department played a major part in shaping who I am today, both as an artist and as a professional."
Renée Martelli (2013) is now the Graphic Designer at Netherland Bulb Company in Vineland, NJ. She is responsible for designing packaging, catalogs, advertisements, and more.

Jessica Williams (2013) is currently Bench Jeweler for Sterling Jewelers and metalsmith for Joy Stember Metal Arts, Abingdon, PA.

January 2015

Caitlin Clements (2009) earned her MFA from PAFA (Pennsylvania Academy of Fine Arts) in 2014. In June, she was one of three graduate students who assisted Brooklyn-based artist Markus Linnenbrink in the creation of a large-scale wall painting in the lobby of the PAFA building.
Jackie Kollar (2011) is the Digital Strategist at ChatterBlast Media in Philadelphia, and she is also Digital Marketing Strategies Teacher at UArts in Philadelphia. As Digital Strategist, she assists in the creative development in digital campaigns, often working with designers in the execution phases. In her spare time, Jackie is currently on the planning and marketing committee for the Elixir Gala (annual fundraiser held by Mazzoni Center to support and provide comprehensive health and wellness services in an LGBT-focused environment.)
Elizabeth Rosemiller Nemerofsky (2012) is lead chef, creative menu planner, and social media content manager at Coventant Church Cafe in Carrollton, Texas.

December 2014


Amanda Brewer (2012) is an art teacher at Whitman Elementary School in Washington Towanship, New Jersey. Since last summer, she's been getting worldwide attention for a photo she took of a great white shark while volunteering in South Africa with the ecotourism group, White Shark Africa. Good Morning America, The Today Show, and National Geographic were among the organizations that shared her photo and story. Yes, a copy of the photo hangs in her art education classroom. For more information, see the Whit article.
Matt Mansolino (2013) has a job that combines his three favorite passions: video games, graphic design, and New York. He is the graphic designer and front-end developer for Genie Quest, an augmented reality shopping app company located in Manhattan. He is responsible for the graphic UI for new app features as well as creating 3d models and concepts for many retailers and manufacturers.

November 2014

Iris Leibowitz (2011) is now the Client Relations Lead and template designer at Signazon, Dallas, TX. She is also the owner of a design/photography business: www.irisdesignandphotography.com

Tina Martin (2014) is a Graphic Designer at Mole Street, Philadelphia. She is the lead designer for "Taste of 3 Cities," developing the logo, website, and marketing collateral for the a food truck festival and competition in DC, Philly, and Baltimore.
Meghan Mihalchick (2013) is now Graphic Designer at Breaking Glass Pictures, a film distribution company in Philadelphia. Her job is promoting movies by designing posters, theatrical packets, DVD covers, and websites.

October 2014

Maxfield Diehl (2010) is the Woodshop Manager for BDDW American Furniture, Philadelphia, PA.
Ashley Oldakowski (2013) has been Graphic Designer at Fox Business Network since she graduated. She says, "the best part of my job is being able to see the all the projects that I worked on air on TV. It is both very rewarding and exciting."
Jaimi (Belfi) Talarico (2011) is in her third year as the Marketing & Design Manager at Morristown-Beard School in Morristown, NJ. She is responsible for designing and approving all visual elements that represent the school, including website and the twice-yearly Crimson Magazine.

September 2014

Megan Richards (2014) is finding success in her career as an illustrator. Her second illustrated book, Run, Faredy, Run, by Kathleen D. Lindsey, has just been published. Her first illustrated book, Eleanor the Cook, by Ellie Kirk, was released in 2013.
James Viola (2009) won the IMAX Godzilla Fan Art Contest with his original poster. The designer, who is employed with the ad agency One Trick Pony, won an all-expenses paid trip to Los Angeles to the premier of the movie. For more information, see the Whit article.

August 2014

Jenn Consoli (2013) is now the Printmaking Studio Technician at Parsons The New School for Design, in New York City.
Katherine (Kat) Garcia (2014) is employed as a graphic designer with SJ Magazine. She is developing a range of design for publication, invitation, and advertising for the organization.

Corey Petit (2014) is putting his art education studies to good use. He is now working as a full-time long-term substitute art teacher in the Vineland High School system.

July 2014

Nicolette Absil (2011) has been selected as the 2014 Metals Resident Artist at Touchstone Center for Crafts in Farmington, PA. She is currently an instructor at the Main Line Art Center and Abington Art Center, and she was one of the top five finalists for the Halstead Grant in 2013 and a finalist for the Saul Bell Award in the enamel category in 2014. Nicolette is a juried member of the Pennsylvania Guild of Craftsmen.
Eric Clark (2011) earned an MFA from PAFA (Pennsylvania Academy of Fine Arts).
John Mitchell (2011) earned an MFA from PAFA (Pennsylvania Academy of Fine Arts).

June 2014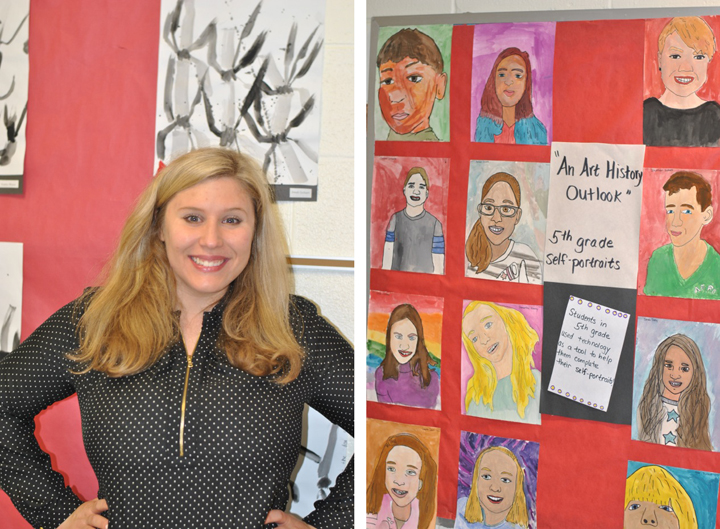 Alexandra Barilotti (2011) is art education teacher at Walls Elementary School in Pitman, NJ. She formed The Curators Club as an after-school program whose mission is to create artwork and display artwork around the school. The club has created a student-run gallery in the basement that rotates artwork from the Curators every couple of weeks. During the annual Spring Arts Festival, the Curators were responsible for giving guided tours of the show.

Jason M. Stewart (2009) will be exhibiting his work at the Newark Museum this summer in "Ready or Not: New Jersey Art Annual." He continues to teach at Ridge High School in Basking Ridge, NJ, while pursuing an MFA degree at MICA in Baltimore. www.jasonmstewart.net

May 2014

Joe Lifrieri (2008) is now a product designer at Facebook in San Francisco, CA. He was formerly a senior web designer at Vimeo.

April 2014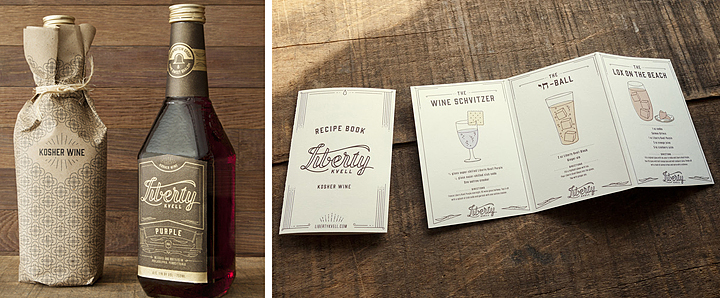 Justin Spinozzi (2012) worked with the creative team and designed an April Fool's Day packaging campaign to promote the Brownstein Group. The tongue-in-cheek creative campaign was recognized with an FPO Award by UnderConsideration, celebrating the best print work from around the world. www.underconsideration.com/fpoawards/online/2013/packaging-by-for-brownstein-group/

March 2014

Vanie Konneh (2013) works as a graphic designer/UI designer at the Party City Corporate office in Rockaway, NJ. His favorite part of the job is the brainstorming process while developing design solutions for the Party City app and website.
Elaina Unger (2012) is freelancing and exhibiting her illustration work in Philadelphia galleries. Some of her artwork has been licensed through Puttiko for use on checks, bankbooks, and address labels. www.studioelainaunger.com

February 2014

Alexis DiSpensa (2013) has been accepted into the MFA program at the Pennsylvania Academy of Fine Arts (PAFA). She was also awarded a merit scholarship and a graduate grant to assist with her MFA studies.

December 2013

Christopher Ferrante (2013) is now working at Princeton University Press in Princeton, NJ. As junior book designer, he develops covers and interiors for a range of academic titles.

March 2013

Stuart Lopez (2012) accepted a graphic design position with Donovan/Green in New York. This consultancy provides branding, marketing communication and information design solutions for diverse worldwide clients.