Faculty & Staff
Faculty & Staff
Meet our Award-Winning Faculty & Staff
All faculty and staff offices are located at 301 W High St., Glassboro, NJ 08028.
Dr. Joseph N. Basso, Professor, Professor and Chair, basso@rowan.edu
B.A. Rowan University, M.A. Rowan University, Ph.D. Texas A&M, J.D. Widener University, APR
Dr. Basso is a practicing attorney who also serves as a consultant in the areas of business writing and organizational planning. He is co-author of The Writer's Toolbox. Dr. Basso's research interests include media law, corporate training and business writing.
Nancy Dunn, Department Secretary
dunn@rowan.edu, 856-256-4312
Lori Brucker, Professional Advisor
block@rowan.edu, 856-256-4459
---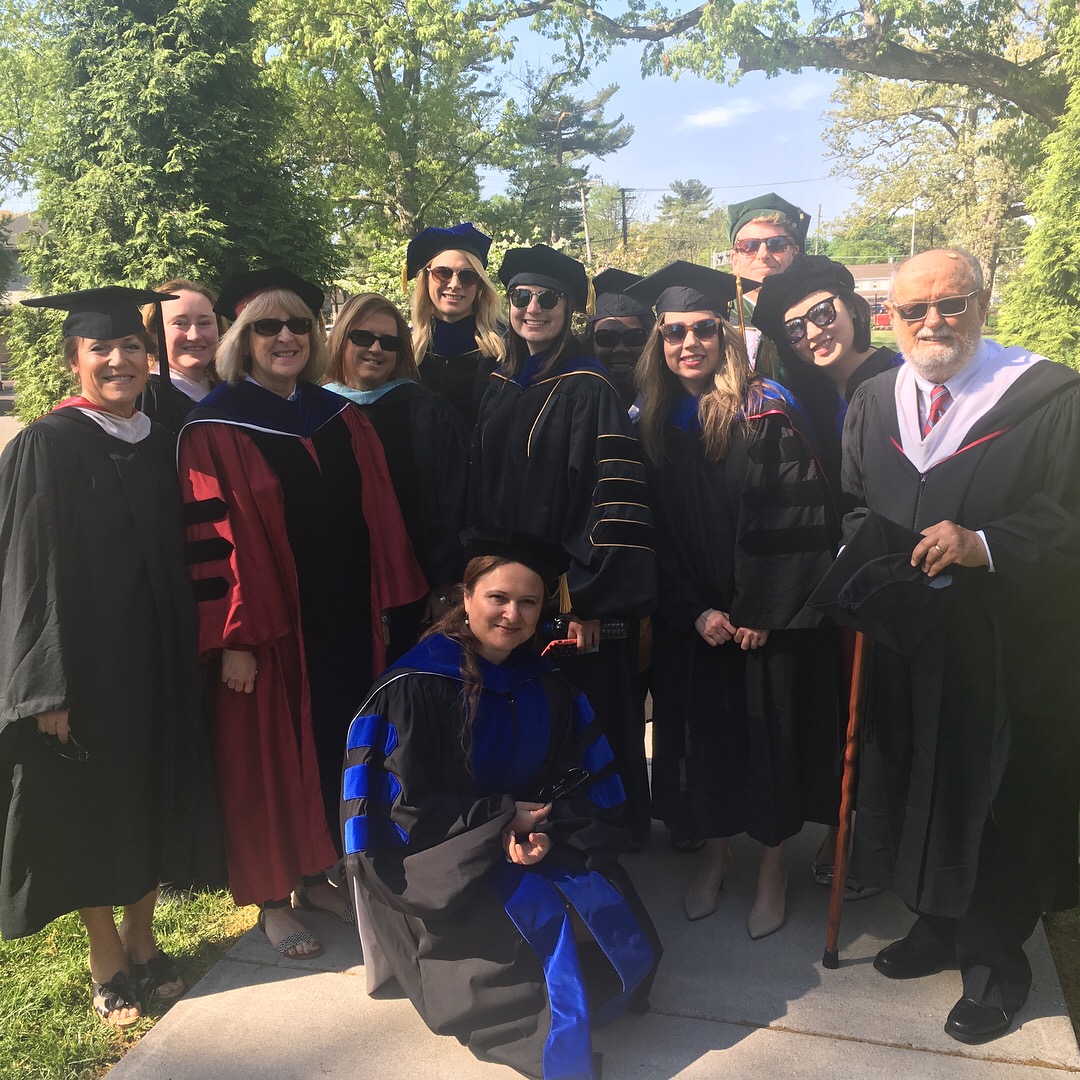 Meet our faculty!
Dr. Suzanne Sparks FitzGerald, Professor, APR, Fellow PRSA sparks@rowan.edu, 856-256-4265
B.A. Eastern University, M.S. Drexel University, Ph.D. Temple University
She serves as accreditation chair for the Philadelphia Chapter of PRSA. Dr. FitzGerald's research interests include credibility of PR and advertising and PR education.
Susan A. Bowman, Professor bowman@rowan.edu
B.F.A. San Francisco Art Institute, M.F.A. Mason Gross School of Art, Rutgers University, M.P.S. Pratt Institute
Professor Bowman is an active freelance graphic designer in her studio in New York City, 1985—present, with over 35 years of experience. Bowman began her career as an Assistant Art Director at Woman Magazine Harris Public, 1987—1988. She worked as an Associate Art Director Child Magazine New York Times Magazine Group, 1987—1994. Bowman worked as the Creative Director Sesame St. Parents Magazine Sesame Workshop and Creative Director Custom Publishing, 1994—2001. Susan Bowman came to Rowan University in 2001 and served as the Chair of the Department of Art from 2008—2016. Bowman designed the curricular program for the Specialization in Graphic Design, BFA/BA Studio Art. Her current research focuses on Wayfinding, Experiential Graphics and Publication Design.
Dr. Olga Vilceanu, Associate Professor vilceanu@rowan.edu
B.A. University of Bucharest, M.A. University of Bucharest, Ph.D. Temple University
Dr. Vilceanu's teaching is informed by her international background and experience in communication and management in industry, political organizations, and higher education. Her research interests include semantic network analysis of advertising and media coverage of major issues in science and technology, and communication campaigns using fragmented media, as well as framing, international, and interpersonal communication.
Dr. Bokyung Kim, Associate Professor kimb@rowan.edu 
B.A. Handong Global University, M.A. Michigan State University, Ph.D. University of Missouri. Dr. Bokyung (Bo) Kim currently teaches graduate and undergraduate public relations courses and serves as the Graduate Coordinator of the M.A. in Strategic Communication Program at Rowan. Her scholarship is based primarily in corporate communication research and consulting, including corporate transparency, relationship/reputation management, and social media public relations. Kim's research has been published in 15 leading preferred journals and 35 peer-reviewed conference papers, including International Journal of Strategic Communication, Journal of Medical Internet Research - Formative Research, Journal of Contingencies & Crisis Management, Journalism & Mass Communication Quarterly, and more
Dr. Kristine C. Johnson, Associate Professor johnsonkr@rowan.edu
B.S. University of Texas, M.S. Texas Christian University, Ph.D. Florida State University
Dr. Johnson teaches advertising and marketing courses at the graduate and undergraduate level. She has professional experience in strategic communication, and her research focuses on consumer attitudes and behaviors, especially in relation to developing meaningful strategic approaches. Dr. Johnson also has a background in radio, both public and commercial. She has presented her research at multiple conferences and her work has been published in journals such as the Journal of Applied Marketing Theory and the Journal of Radio and Audio Media. ​
Dr. Alison Novak, Associate Professor novak@rowan.edu
B.A. Marist College, Ph.D. Drexel University. Dr. Novak teaches courses in the graduate and undergraduate public relations program. Her scholarship includes looking at public engagement in policy advocacy campaigns and third-party review websites. She has presented over 50 peer-reviewed conference papers at the National Communication Association and International Communication Association and published in journals such as Public Relations Review. She is the author of three books including Media, Millennials, and Politics  and The New Review Economy.
Dr. Celine Seoyeon Hong, Associate Professor hongs@rowan.edu
M.A. Michigan State University, Ph.D. University of Missouri. Dr. Hong currently serves as Dean's Research Fellow. She explores the effects of computer mediated communication messages on public perception. Before attending the Missouri School of Journalism, she worked at a Fortune 500 company's marketing division. She has published 30 peer reviewed journals about health communication, public health intervention, corporate reputation, crisis communication, corporate crisis, risk communication, organizational communication, advertising, social media and online marketing communication. Dr. Hong also conducted various externally and internally funded projects while she shared 60+ research papers at International Communication Association (ICA), National Communication Association (NCA), Association for Education in Journalism and Mass Communication (AEJMC) and International Public Relations Research Conference (IPRRC).
Dr. Julia Richmond, Assistant Professor richmondj@rowan.edu 
Ph.D. Drexel University. Dr. Richmond teaches undergraduate Public Relations and is affiliated with Rowan's interdisciplinary Sports Communication and Media program housed in the Ric Edelman College of Communication and Creative Arts. Before completing her Doctorate, Dr. Richmond worked as a social media coordinator and communication consultant for various clients in Philadelphia. Her academic research is situated at the intersection of crisis communication, sports communication, and critical studies. When she is not teaching or researching, she enjoys watching Rowan's Women's Basketball.  
Asi Nia-Schoenstein, Assistant Professor, APR schoenstein@rowan.edu
B.A. Clark University, M.S. Boston University. Professor Nia-Schoenstein has 25 years of experience in international, corporate, and agency public relations. She has worked in various European and Middle Eastern countries. Professor Nia-Schoenstein's scholarship is focused on international public relations and advertising and cross-cultural communication.
Gina Audio, Lecturer audio@rowan.edu
B.A. Rowan University, M.A. Rowan University, M.A.Ed. University of Phoenix
Professor Audio has 20 years of experience in public relations in the for-profit and non-profit sectors in southern New Jersey. She's currently conducting her doctoral research at the University of Phoenix. Professor Audio's scholarship is focused on cultural diversity, poverty and social problems.
Louis F. Rodolico, Lecturer rodolico@rowan.edu
B.S. Drexel University, M.A. Temple University
Professor Rodolico has over 25 years of experience in the communications industry including management positions in marketing, advertising, research, promotion, sales and public relations. Professor Rodolico ties his industry experience and academic background to the classroom in a creative and informative fashion.
John J. Moscatelli moscatelli@rowan.edu 
Professor Moscatelli is a Fellow of the Public Relations Society of America and accredited in public relations by PRSA. John served as a U.S. Air Force public affairs officer for 20 years. Upon his retirement, he returned to the Philadelphia area and led two major Philadelphia area public relations agency for 15 years. He has taught a variety of public relations classes at Rowan University since 1988, and was recently recently recognized by the Philadelphia chapter of PRSA with its Anthony J. Fulginiti Award for Outstanding Contributions to Public Relations Education.
Lisa Fagan fagan@rowan.edu 
Professor Fagan (M.A. La Salle University) leverages her 25+ years of marketing experience into her life's dream of sharing her expertise with graduate and undergraduate students. Versed on everything from marketing strategy through execution, she has worked for advertising and public relations agencies, a media company, nationwide casinos, a global hospitality company and even a world-class amusement park. She recently presented "The Total Hospitality Experience; Marketing and Event Planning Strategy" at the National Business Education Association and she was a marketing panelist at the Casino Journal Table Games Conference in Las Vegas, Nevada.
M. Toni Buckley buckley@rowan.edu
Professor Buckley's (M.A. University of Pennsylvania) teaching is informed by over 20 years' experience working in advertising and public relations firms in NYC and Philadelphia, supporting Fortune 40, 100, and 500 firms and celebrity brands. Her research explores public relations theory in the context of higher education. 
Claire Riggs, APR riggs@rowan.edu
Professor Riggs (M.A. Rowan University) has more than 20 years of experience in corporate communications, community relations, crisis management, and government affairs, primarily in the energy and petrochemical industry. Her scholarship focuses on community engagement, effective partnerships, and philanthropic outreach. In addition to teaching, she currently consults as a strategic communication consultant for an integrated marketing and design firm, chairs of the Appel Farm Arts & Music Center Marketing Committee, and serves on the United Way of Gloucester County Campaign Committee. 
David Cheatham, M.A., APR, CCMP Cheatham@rowan.edu  
Professor Cheatham joined the Rowan University faculty in 2008 and teaches advertising, public relations and strategic communications.  His research and practice focus on strategic messaging and organizational change management (OCM) that create genuine social impact.  Since founding Transform Communications, LLC in 2010, he has helped leaders navigate product, service, technology and culture transformations in 12 industries, including clients such as American Water, Bristol-Myers Squibb and State Farm Insurance.  Cheatham earned his M.A. from the University of North Carolina at Chapel Hill, and is accredited by the Public Relations Society of America. He also serves on the faculty of the School of Business at Rutgers, The State University of New Jersey.
Sherry Hicks hickss@Rowan.edu
Professor Sherry Hicks is experienced in all aspects of communications and marketing. She has been responsible for media relations, internal communications and marketing and community relations for a wide range of both for profit and nonprofit organizations throughout the Philadelphia region and Washington, DC. At Rowan, she teaches account, planning, integrated marketing & communications, introduction to advertising, and copywriting. In addition to her teaching responsibilities, she also does communications consulting and is the public relations coordinator for Rowan College of Humanities & Social Sciences. She holds an MA in public relations, an MA in Student Personnel Service, and a BA in Communication, all from Rowan University.
Edward Ziegler ziegler@rowan.edu 
Professor Ziegler is a nationally known, award-winning expert in the field of educational marketing. As the former director of university marketing at Rowan University, he was responsible for developing and implementing the strategic marketing plan and image enhancement strategies for the University. During his 37 years in the field, he has received over 180 awards for excellence in marketing, writing, graphics and advertising, including a prestigious Gold Quill from the International Association of Business Communicators. He is a recognized scholar in the field of higher education marketing. He has presented workshops at several professional national conferences on marketing, public relations management, market research, and time management, consistently earning a "Heavy Hitter" score. He has written articles for several professional journals and was twice featured in Communications World, the official magazine of the International Association of Business Communicators. He currently teaches the online Introduction to Advertising course.
Vanessa Valore valore@rowan.edu 
Professor Valore has more than 15 years of experience as a marketing and communications professional, and currently serves as a Marketing Executive for a not-for-profit educational organization that offers training, education, research, innovation and networking opportunities for those interested in risk management and insurance. She has experience in marketing strategy; digital and customer experience strategy; building brands; developing and implementing crisis communication plans; rebranding; and creating and implementing multi-million dollar integrated advertising and public relations strategies. Additionally, Professor Valore has significant hands-on experience leading and teaching about strategic communications, integrated marketing and branding, as well as about professionalism, accountability and teamwork.
Linda Pollock pollock@rowan.edu
Professor Pollock teaches Public Relations Writing, Impact of Public Relations on the News, and a variety of other public relations and business communications courses.  She brings nearly 40 years of PR experience to the classroom, having worked for GlaxoSmithKline for 20 years. Before that, she served in a variety of roles including VP for AKCG Public Relations, media relations manager for a university-based hospital, community relations manager for a suburban teaching hospital, and employee communications editor for a nationally known retailer. A longtime member of the Public Relations Society of America, she's worked in the Philadelphia region her entire career.  She is an inductee of Rowan University's hall of fame for teaching excellence, nominated by her former students for this proud honor. She graduated from Rowan University with a master's degree in 1992, and earlier received a bachelor's degree here in 1983.
Cristin Kastner Farney farneyc@rowan.edu
Professor Farney is a public relations practitioner since 2003, with a focus on nonprofit organizations and education, Cristin Kastner Farney teaches Introduction to Public Relations as an adjunct instructor. She enjoys helping to shape the foundation of future practitioners' understanding of public relations, showing students how and why communication theories are relevant. Kastner Farney shares with her students current experiences and projects she's working on as Assistant Director of Content Strategy within Enrollment Management & Marketing at Rowan. She earned her BA in communication and her MA in Public Relations from Rowan University. 
Prof. Edward H. Moore, Faculty Emeritus mooree@rowan.edu
Professor Moore (M.A. Rowan University) has more than 20 years of experience as a communications executive and educator. His most-recent books include: The School and Community Relations (Allyn Bacon), School-PR Research Primer (NSPRA), Mastering E-Newsletters (NSPRA), and School Public Relations for Student Success (Corwin). Professor Moore's research interests include educational public relations and technology in PR and advertising.