Edward Howell
Edward Howell
Edward Howell

Lecturer of Writing Arts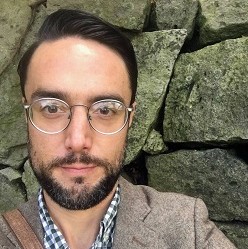 Contact Info
Biography
Ph.D. Temple University
Ted Howell teaches primarily in Writing Arts, specializing in Honors courses and Sophomore Engineering Clinic. His teaching focuses on environmental and sustainability issues, specifically climate change. He helps students develop their capacity for ecological thought and enables them to find actionable solutions to incredibly complex problems. Ted is currently a Teaching Fellow with Rowan's Center for Responsible Leadership, where he's developing a module that introduces students to the UN Sustainable Development Goals through an attention to their local environments and communities. His course on climate change fiction, which is often called "cli-fi," has been featured in Reuters, The Atlantic and The Chronicle of Higher Education, and he leads workshops for local libraries about what novels can teach us about climate change.
Within the HSC major, he teaches:
HSC 08200: Developing Health and Science Literacy

WA 01335: Environmental Writing & Rhetoric

CMS 04313: Environmental Communication
Research Bio
Ted's PhD research focused on British modernist fiction, early ecology, and the Anthropocene. He is interested in how philosophies of nature are reflected in works of fiction, and by how scientists, reformers, and literary authors collaborate to form and frame ideas about the environment. His work has been published in Modern Language Quarterly and is forthcoming in the edited collection Modernism and the Anthropocene. He's currently working on an article about the speculative fiction of Octavia Butler, its engagement with climate change science, and what it means to call cli-fi a form of environmental communication.
In addition to his scholarly work, Ted also presents and writes about teaching and pedagogy, including recently at the 2021 KEEN National Conference and the 2020 UN PRME NE Conference on Sustainable Development Goals. He co-authored the conference paper "Integrating Entrepreneurial Mindset in a Multidisciplinary Course on Engineering Design and Technical Communication," which was presented at the 2020 ASEE Virtual Annual Conference, and has created a series of freely available learning modules through his work with Rowan's Cultivating the Environmental Humanities group.