juried call
juried call
CALL FOR ENTRIES
The Rowan University Art Gallery in collaboration with the photography program welcomes the submission of photographic works from college/university students nationwide for the Fall 2022 juried exhibition titled, Expanded View.  Approximately thirty works will be selected for display in the Rowan University Art Gallery from November 16 - December 10, 2022.  Works will be juried by Genevieve Gaignard.
Expanded View is seeking work from college students that both formally and conceptually question: 
How can ideas of representation be expanded beyond the one dimensional media images we are used to seeing?  

How can a sense of play and theatricality complicate and transcend  assumed narratives of identity?  

Can the light hearted and the serious be harmonious? 

Can we celebrate and mourn simultaneously?  
Works selected for Expanded View will be displayed in the Rowan University Art Gallery in conjunction with the exhibition Multiplicities, featuring the artists Naomieh Jovin, Tommy Kha, Wendy Red Star and Leonard Surajaya whose works explore and reframe cultural, racial and gender representation through celebration, humor, playfulness and theatrics.  Multiplicities will be on view in the Rowan University Art Gallery from November 7 - December 21, 2022.
Students are invited to submit up to five images. All photographic genres, including traditional and non-traditional photographic and digital post-production processes are welcome for submission.  There is no fee to submit.  Selected works will be hung salon style and printed free of charge by the Rowan University photography program.  
Eligibility: All college/university undergraduate level students are eligible to apply.  Students who graduated in the Spring of 2022 are eligible to apply.  Students in graduate programs are not eligible to apply.
Submission fee: Free, up to 5 images
Submission deadline: September 10, 2022
Acceptance announcement: October 1, 2022
Exhibition dates: November 16 - December 10, 2022
Reception: Thursday, November 17, 2022
Awards: First place $500, Second place $250, Third place $100
About the Juror: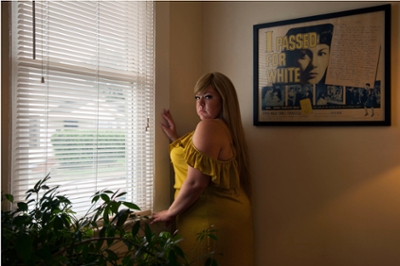 Genevieve Gaignard is a Los Angeles based multidisciplinary artist whose work focuses on installation, sculpture, collage, and photographic self-portraiture to explore race, femininity, and class. As a biracial woman in America, Gaignard investigates the aesthetic and cultural divide between black and white, a chasm as palpable as it is "invisible." She interrogates notions of "passing" by positioning her own female body as the chief site of exploration - challenging viewers to navigate the powers and anxieties of intersectional identity.
Gaignard's work has been included in numerous solo and group exhibitions including: The Smithsonian National Portrait Gallery, D.C.; Crystal Bridges Museum of Art, AR; The Studio Museum in Harlem, NY; California African American Museum, CA; Massachusetts Museum of Contemporary Art, MA; and Prospect.4, LA. Gaignard received her BFA in Photography from Massachusetts College of Art and Design, and her MFA in Photography from Yale University.